Churchill Downs Announces Plans for $200M Track in 'Neglected' Northern Kentucky, Seeks Dates from Nearby Turfway
Posted on: September 5, 2019, 10:20h.
Last updated on: October 3, 2019, 05:59h.
UPDATE (9/6 4:30 pm ET) – JACK Entertainment CEO Mark Dunkeson said in a statement they are "shocked and thoroughly disappointed by Churchill Downs' recent attack on Turfway Park." Turfway, currently owned by JACK, submitted its application for its traditional racing dates in July.
Dunkeson said Hard Rock is committed to invest more than $100 million in Turfway and add historic racing machines. Both companies will defend Turfway's dates.
"Churchill Downs' purported plan to relocate the 2020 winter racing dates to Louisville serves only the best interests of Churchill Downs as part of their desire to restrict competition within the Kentucky racing market for their own financial gain by interfering with the Turfway sale and blocking the Turfway enhancements without regard for the economic opportunity for Florence and Boone County or the traditional racing circuit," Dunkeson said.
"In addition to being a mainstay of the Kentucky racing circuit, Turfway Park's racing surface is specifically designed to run during the winter months and provides one of the safest environments for our human and equine athletes."
UPDATE (9/6 3 pm ET) – Hard Rock International just gave Casino.org the following statement regarding the announcement made by Churchill Downs:
"Hard Rock's Turfway Park project, that was recently presented to members of the Kentucky Horse Racing Commission, is a rewarding project, not only for Florence, but for all thoroughbred racing in Kentucky. We've heard of another company trying to take over the existing race dates, however, we are focused on bringing our world-class entertainment to Northern Kentucky, as well as working hard to keep those dates at our venue, which were submitted by the JACK team on July 30, 2019 to the Kentucky Horse Racing Commission.
"With venues in 74 countries, Hard Rock is a world-renowned entertainment company with proven success in restaurants, horse racing, hotels and casinos. In Phase One, we will invest significant dollars to provide a first-class facility for horse racing and we're excited to add historical horse racing machines, which will significantly increase purses and provide an improved horse racing experience in Northern Kentucky."
Original Article
A turf war is now underway in Kentucky, as Churchill Downs Inc. (CDI) announced Thursday it plans to invest up to $200 million in a new racetrack and historic horse racing (HHR) parlor in northern Kentucky and seek the racing dates Turfway Park, the region's existing track, currently uses.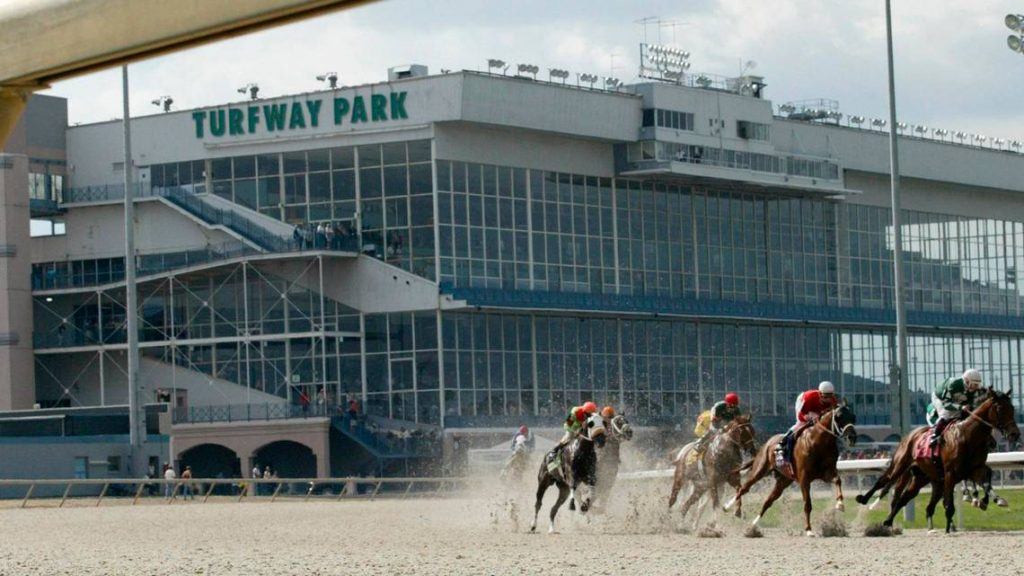 The announcement comes as Turfway is in the process of being sold by JACK Entertainment to Hard Rock International. JACK, which is looking to reduce its gaming footprint, reached an agreement to sell its Cincinnati casino and Turfway to Hard Rock International in April for $780 million. Turfway is located in Florence, Ky., a Cincinnati suburb less than 20 minutes from the downtown casino.
The Kentucky Horse Racing Commission (KHRC) has yet to approve the sale of Turfway, which will resume racing on Dec. 3. Traditionally, Turfway runs in December and from January to March.
However, in a release touting its proposal, CDI said it will seek KHRC approval for the winter dates in 2020 and beyond for a track it calls New Latonia. Latonia is a northern Kentucky neighborhood and site of a racetrack from 1883 to 1939. Twenty years later, the Florence track opened and was originally called Latonia in honor of the old venue. It was rebranded as Turfway in 1986.
As Turfway's sale has yet to close, officials at Louisville-based CDI see an opportunity.
Churchill Downs is stepping up to protect and grow Kentucky's Thoroughbred racing circuit," said Kevin Flanery, the president of CDI's namesake track in a release. "Our willingness to make a sizable investment in the neglected northern Kentucky market is our latest effort to improve Kentucky's valuable horse racing and agriculture industries."
Hard Rock International did not respond with a comment Thursday evening. An attempt to get more information from CDI officials was also unsuccessful.
Historic Racing Leads to Growth
The company's plans call for the 2020 dates to be run at Churchill Downs in Louisville while the new track is under construction. Once New Latonia is finished, that track would assume those racing dates.
While Churchill uses the name New Latonia, the release did not specify where in northern Kentucky it seeks to build the facility, which would offer a synthetic racing surface – like Turfway – and include up to 1,500 HHR machines.
"Just as Derby City Gaming's historical racing machines have supercharged purses at Churchill Downs Racetrack, we plan to do the same for northern Kentucky's racing fans at New Latonia," Flanery added in the statement. "Our goal is to deliver an ultra-competitive racing product, with more entries and high-quality horses that appeal to bettors and horse players nationwide."
According to the Paulick Report, KHRC officials have been frustrated by delays to install HHR machines at Turfway and make improvements to the grandstand. Turfway received state approval for HHR in 2015, and at a KHRC meeting last December, at least once commissioner felt that JACK Entertainment was holding Turfway hostage to protect the Cincinnati casino.
"You're either in as part of Kentucky racing, or you're out," KHRC Vice Chairman Mark Simendinger told JACK officials at the meeting, per the Paulick Report. "And that's OK. Being out's OK. Just let someone else come in and do it."
HHR machines have helped Churchill Downs, Lexington's Keeneland, Henderson's Ellis Park, and Franklin's Kentucky Downs boost purses and attract higher quality horses, jockeys, and trainers. Without them, Turfway has languished.
According to Ownerview.com, Turfway's average daily purse was $95,056 for a race card. The average at Churchill Downs was $935,787, while Keeneland's was $722,573.
"I just want a successful track with quality purses that reflect the growth in purses that have occurred across the state," state Rep. Adam Koenig, R-Erlanger, told Casino.org Thursday. Koenig, a northern Kentucky resident, chairs the House Licensing, Occupations, and Administrative Regulations Committee, which oversees racing.
Churchill Downs Rapid Expansion
CDI's northern Kentucky plans are just the latest for a company that is growing aggressively. Earlier this year, it completed the purchases of Pennsylvania's Presque Isle Downs and Casino and a majority stake of the Rivers Casino Des Plaines in Illinois.
The company also broke ground on a $150 million track and HHR parlor in western Kentucky that it will operate in partnership with Keeneland. In addition, it announced plans to expand Churchill Downs with an on-site hotel and HHR parlor within two years.
Churchill plans something similar in northern Kentucky, as it will invest up to $150 million in a first-phase that includes the track and HHR parlor. A second phase may include a hotel that would cost up to $50 million.