Chukchansi Gold Casino Closed After Tribal Power Struggle
Posted on: October 15, 2014, 01:16h.
Last updated on: October 26, 2021, 06:10h.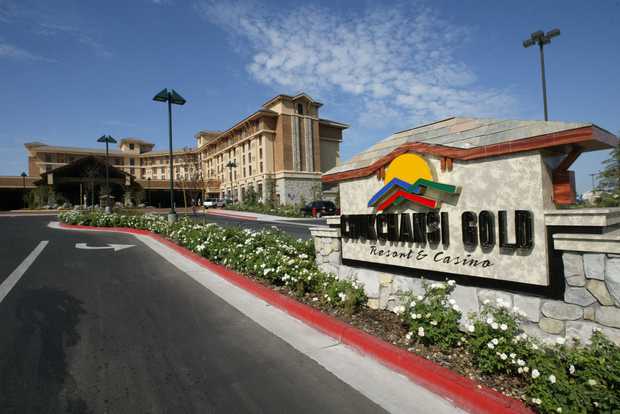 The Chukchansi Gold Casino in Coarsegold, California, just 40 miles north of Fresno, has been closed by order of a federal judge following a bizarre management power struggle that culminated in an armed invasion of the building.
A tribal faction that claims rightful ownership of the Indian casino had apparently been ousted to a local business park in August following a disputed election, but returned on Thursday, with guns drawn.
About 20 armed men entered the casino at around 6:30 pm, sending customers running for cover, and ordered security guards at gunpoint into a secure area of the building. Guards were reportedly handcuffed and assaulted, but no casino customers were hurt.
The target, it seems, were casino documents and accounts that are overdue for submission to the National Indian Gaming Commission. The Commission had threatened to close the casino down and issue it a $16 million fine if the necessary audits and accounts, some which are 18 months late, were not submitted. It would seem, then, that the ousted faction violently stormed the casino in order to do its accounts.
Standoff Filmed
Madera County Sheriff deputies soon arrived at the scene and evacuated the building of some 500 people; however, the men could not be arrested as they were on tribal land. A standoff ensued, much of which was recorded by security cameras, while additional footage was caught on camera by a local news crew.
In the footage, a man is seen attempting to leave the premises with a baggage trolley apparently filled with documents.
"They're trying to repossess or take control of the casino," says another man. "These are casino documents."
"It's a proven fact that we have the records that they removed $11 million dollars from our account," says the first man. "These are our tribal gaming authority documents. The deal was that we could take the boxes."
Shortly after, a woman is seen remonstrating with Sheriff John Anderson about law enforcement's inability to make arrests. "If somebody with a firearm tackles somebody and assaults them," she demands, "takes their keys off of their belt, and takes them and enters them into a secure area that they have no authority being in, is that not a crime? In what state is that not a crime?

"I have documents in there," she continues. "They are the documents of the Gaming Commission. They have removed files. You said you were going to treat the breaking and entering of the casino property as a crime."
Loss to Local Economy
Since the federal shutdown, a restraining order and a Memorandum of Agreement is now in place to keep both factions apart. Meanwhile, US District Judge Lawrence O'Neill said that the casino may have violated its compact with the state, which requires it not to endanger public health or safety. He set no date for the possible reopening of the casino, but scheduled a hearing to take place later this week.
In the meantime, the casino is shuttered and its 1,300 employees remain uncertain about their jobs, while the loss of revenue to the area is devastating. The casino is the tribe's largest source of revenue and the local business community relies heavily on the tourism it brings to the area.