Choi, The Bounty Hunter: Site Tracks Down Macau Gambling Deadbeats
Posted on: August 27, 2013, 05:30h.
Last updated on: October 22, 2013, 02:05h.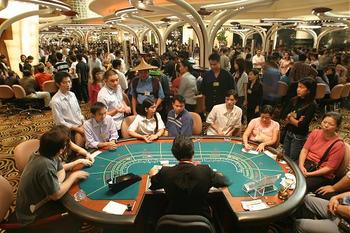 One of the ugly little secrets that the casino industry doesn't like to talk about too much is the reality that a lot of people usually owe them money at one point or another. Always walking a fine line between wanting to keep a customer, yet wanting to be paid on credit extended that turned into (sometimes huge) losses, casinos resort to having someone else play "bad cop" and most likely pay them a commission for collecting on what would otherwise be categorized as "bad debt" and written off as a loss.
What a "Wonderful World"
So it should be no surprise that casinos in Macau are using this tactic to collect winnings from their deadbeat customers.  A Singapore-based website – with the odd title of "Wonderful World" –  until recently even posted photos, with accompanying names, of such people for all to see, even including the amounts they owed.  About 70 such folks may have had their unfortunate faces plastered up; also included were their countries of origin, dates of birth, and marital status.  And although the amounts owed were listed, the site didn't specify the monetary units they are based upon, so it was hard to tell what form of currency was being denoted; but these amounts ranged from a low of 5,000 to a high of 1,000,000 whatever they were.
Then – drawing on the Puritan days of the Scarlet Letter  apparently – the photos were captioned with shaming phrases, things like "robber," "rogue," "thief" and "liar."
Odd though this may seem, apparently it worked; the site's operators claim that people have paid up to the tune of US $3.87 million so far in collections due casinos and junket operators. Site owner Charlie Choi Kei Ian said in an interview with Macau Business Daily that his "open disclosure" public shaming technique has pulled in debts paid in full from ten people in recent months. However, he claims, somewhat incredulously, that his site does not get "any service charge or commission" for this service. Sure, sure.
Privacy Violated?
Regardless, it appears some debtors were none too happy about having their faces, amounts owed, and addresses and phone numbers listed – violating local privacy laws – and the site has since removed this info.  Choi says he is happy to work with Macau's Judiciary Police on the matter, claiming he will "face any consequences" that might come out of their criminal reviews. In reality, there's probably not a lot the Macau authorities can do, given the Singapore location of the website. Choi seems to feel pretty safe, claiming that the information was given him by creditors and is accurate. Choi also removed what were actual bounties offered to anyone who gave these creditors info as to where debtors could be tracked down, although he continues to maintain he got no piece of that action.
Choi continues to tout his site – which is in Chinese – as the best way available to move in on deadbeat gamblers. He also says his site is not a debt-collection agency, but a "platform free-of-conditions for people bullied by cheaters."  It appears that most of his "clients" are the junket operators who get stuck in the middle of the casinos to whom they deliver customers, and the unpaid debts those customers leave for casinos to handle; so making the junket operators look good obviously works for everyone (except, possibly, the debtors).