China Embracing Capitalism, One Casino at a Time
Posted on: March 10, 2013, 05:13h.
Last updated on: March 10, 2013, 05:33h.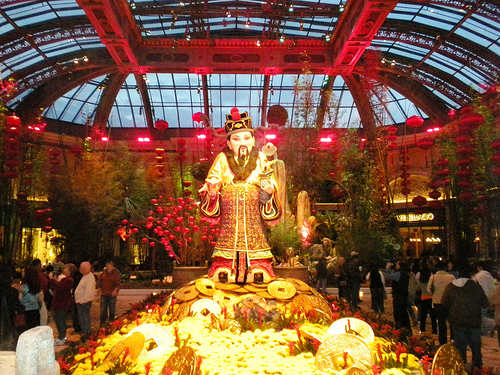 It's always the same old story with these ex-Communist countries; the minute they get a taste for the joys of evil capitalism, all hell breaks loose and the communal fervor is displaced by all kinds of things that money can buy. Gambling is no exception, as proven by the slow and steady creep of casinos onto, gasp, mainland China.
It's Not Just Macau Anymore
It all began, of course, with Chinese Special Administrative District Macau, now the highest revenue-producing gambling zone in the world (out-earning Vegas annually by double-digit billions); but now the island province of Hainan is joining the fray. The smallest and southernmost province of the People's Republic of China (PRC), Hainan is now poised to become the newest gambling region for China's betting-hungry populace.
Although the first entrant into the Chinese gambling juggernaut, the recently shut-down Mangrove Tree Resorts Sanya Bay, is temporarily closed, you can bet your last yen that that won't be the case for long.  According to iGamiX managing partner Ben Lee, the "cashless" casino (patrons were paid in some kind of rewards markers) was actually a test by Beijing authorities to see if locals would gamble closer to the home front than Macau (which gets its share of Chinese nationals of all income levels).  Lee says that nine more of the cashless casinos are waiting to be unleashed now that the powers that be see this stuff sells better than do-it-yourself furniture at Tarjay.
To Be Slowly Unfurled
Apparently some kind of furor ensued once word leaked out about the Jesters Casino Bar at Mangrove Tree, causing the speedy shuttering; but we know they're just counting 5-4-3-2-1 before they reopen not only Jesters, but many more as well. Not only that, but according to Lee, Beijing will ultimately turn these cashless casinos into real-money gambling joints, but he says that will happen in stages so as not to "dump the remaining licenses on the market in a short timeframe."
Lee also says the gaming licenses will be restricted to "domestic" companies, but with Caesars Entertainment and MGM Resorts establishing (for now) non-gaming presences in Hainan with new luxury resorts, you can bet they are thinking differently. After all, they're both in the gambling business, not just the hotel business. Back in September 2011, Caesars CEO Gary Loveman announced plans to build a $470-million  1,000 room luxury resort on Hainan called Caesars Palace Longmu Bay; the property is planned for a 2014 grand opening. Meanwhile, the MGM Grand Sanya is already open for business and wowing tourists. We're guessing that, like so many casino properties around the world, China will ultimately recruit Vegas-based operators to run their casinos as well, as let's face it: nobody does it better.
Similar Guides On This Topic