Cayuga Indian Tribe Could Stall New York State Casinos
Posted on: August 19, 2013, 05:30h.
Last updated on: August 15, 2013, 04:10h.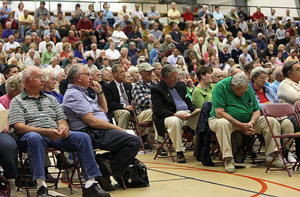 Nothing is ever simple, and when it comes to casino legislation, it's been proven time and time again that just when you think you are home free, a new glitch shows up. Such has been the case in New York State, where a seemingly unending war between the state's Governor, Andrew Cuomo, and tribal factions regarding what can and cannot happen in terms of new building now has a new wart; and that, after it appeared to all be settled and put to bed.
Coumo already had to do a rain dance with several tribal nations, including the Oneidas, the St. Regis Mohawks and the Seneca Nation; the governor thought that took care of the matter, but no such luck.
Cayugas Want a Piece of the Pie
Causing the ruckus is the point that the Cayugas say an area of land that Cuomo has been negotiating with the Oneidas includes Cayuga County – where the majority of the tribe resides – and therefore, offering a different tribe an exclusive casino rights deal is not legal.  The deal in question states that the Oneidas get exclusive casino rights in exchange for shared revenue with New York State, which is estimated to be about $50 million a year. The area being argued covers 10 counties in the State.
"It's being suggested that the Cayuga Nation is the roadblock to world peace,' said the Cayuga Nation lawyer, David DeBruin. "We are objecting to a provision that is illegal. We need to be here to be heard, and that is all we want – to be heard."
The new tomahawks are carried by tribal attorneys, and involve stays and writs.
"It will create an unworkable mess," said New York State attorney Mike Smith in federal court Syracuse. "This settlement would be suspended animation for years."
Legal Entanglements
What's really at the bottom of it all, from the Cayuga standpoint, is a desire to open their own casino on these lands, of course. And blocking Cuomo's Oneida deal is their best shot at ever having that happen. However, this is less advantageous for the Oneidas: they were told by Cuomo in no uncertain terms that all their legal land claims had to be dropped, including a challenge over 13,000 acres of trust land from the federal government. Although it would appear the Oneidas are willing to drop this claim, if the Cayugas join this land claim suit…well, you can see how it would tie things up. Probably for years, at the very least.
To add insult to injury, Cuomo had just signed the Upstate Gaming Economic Development Act days before the descent and dissent of the Cayugas.  The Act's purpose is to act as a framework for selecting the specific locales of the four designated upstate casino resorts to come, as long as New York State voters give it the go-ahead in the fall elections.
Now, it all rests with Magistrate Judge David Peebles, who says his decision will be made by mid-September. We're just not sure how.
Similar Guides On This Topic