Cambodian Online Gambling Arrests as Police Storm Villas
Posted on: September 6, 2013, 05:30h.
Last updated on: October 22, 2013, 01:22h.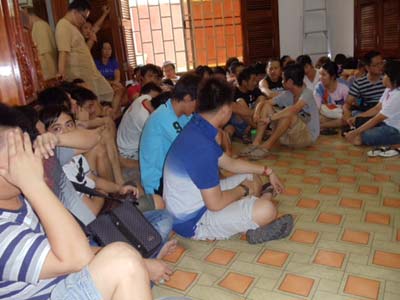 Capital city Phnom Penh was the scene of police raids to bust Cambodian online gambling rings taking place in three villas recently. Authorities moved in and made more than 60 arrests; the perpetrators were a bouillabaisse of Cambodians, Malaysians, Indonesians, Chinese, Thais and Vietnamese, forming a veritable Asian United Nations of illegal gambling ops.  An anonymous source told Cambodia Daily that numerous computers inside the villas gave gamblers otherwise unobtainable access to international gaming sites that are currently blocked by the Cambodian government for citizens.
Apparently, the Cambodian government is getting serious about putting the kaibosh on this kind of activity; they've been holding the suspects imprisoned in an effort to get to the bottom of exactly what games are being parlayed online by these operators. One unidentified security guard for the outfit (apparently not very good at his job) has already fessed up that the sites offered the undercover gamblers "many different kinds of games, including betting on football."
Military Ops Brought In
Interestingly, an actual military unit was brought in to conduct the raids, headed by Cambodian Major General Y Sokkly, who normally heads up anti-terrorism operations. With zero background in cracking online gambling rings, Sokkly and his henchmen may not even know exactly what questions to ask to get to the bottom of the whole situation.
Even more odd: online gambling isn't even technically illegal in Cambodia. And, like so many of their Asian brethren in other countries, Cambodians love to gamble, and on just about anything; but particularly on sports.  Due to this reality, numerous unsanctioned sports books have been popping up all over, but particularly around Poipet, a specially designated "economic zone" that borders Thailand, and that encompasses the new Dreamworld Club, which is part of Entertainment Gaming Asia.
The use of an anti-terrorism squad could mean curtains for a few major online sites that are partially situated in Phnom Penh.  Both operated under the umbrella of Creative Entertainment Ltd., the technically Curaçao-licensed sites – savanvegas999.com and clubvegas999.com – offer players the chance to play with live dealers and in multiple language offerings, including Thai, Mandarin or English, with play emanating for actual land casinos that are situated in Laos' Savannakhet province, just across from the Cambodian border.
Takedown or Shakedown?
Not surprisingly, money is involved in this messy situation. Laotian authorities took over one of these brick-and-mortar casinos, Savan Vegas, last November, claiming that previous owner Sanum Investments of Macau was recalcitrant in paying some $23m in taxes and penalties due. Sounds a lot like something the IRS would do, come to think of it; maybe Major General Y Sokkly is studying their "whatever we want is ours" method of pay-up coercion.
Needless to say, Sanum saw things a little differently. The company filed a lawsuit against the government of Laos with – get ready for this mouthful – the World Bank's International Centre for the Settlement of Investment Disputes – saying the takeover was little more than a shakedown for mo' money, and that it mirrored a similar takeover of the company's lucrative Thanaleng Slot Machine Club near Vientiane, Laos' capital. It appears the World Bank has opened what they call a "tribunal"; are the losers burned at the stake?  Nope; the modern version of a witch trial is simply delaying procedures for years and years and years.
Similar Guides On This Topic