Calls for Stricter UK Laws on Fixed Odds Betting Terminals
Posted on: October 3, 2013, 05:30h.
Last updated on: October 2, 2013, 04:29h.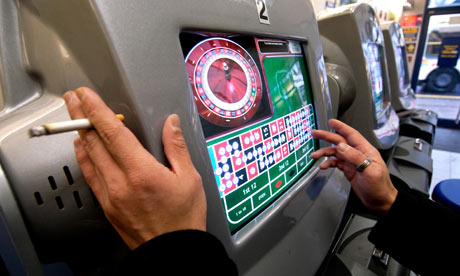 A gambling addict from High Wycombe in the UK has told the BBC that Fixed Odds Betting Terminals (FOBTs) – such as poker and roulette machines – need to have tighter betting limitations built in, to prevent what he calls the fallout from "the crack cocaine of the gambling industry."
Roger Radler's gambling addiction reached a pinnacle when he lost a whole month's wages in just a few hours playing on betting machines, where he says he could "bet £100 every 10 seconds" on roulette games, which equates to more than $160 for every 10-second interval, or around $57,600 per hour.
Sounds like Roger had a pretty good job to be able to lose that much.
Huge Losses, Very Fast
"You can get your high every 15 seconds and you are losing huge sums of money," explained Radler. "At my worst, I probably lost a month's salary in a couple of hours and that's horrendous."
As a result of his addiction to these gaming machines, Radler lost everything – his job, his wife, and his self-respect – all of which he now blames on the FOBTs. At least the speed of these machines may be somewhat accountable for more rapid, massive losses.
"On table roulette, everyone has their own set of chips, makes their own bets on the live table and it takes a minute or two to get the resolution," said Derek Webb, a fellow British gambler who became a millionaire from gambling, as well as inventing Three Card Poker.
"A player on an FOBT machine can bet up to £100 every 20 seconds so that is a totally different experience to live casino tables," added Webb, showing that the rate of gambling on FOBTs reaches more than four times the speed of play in a real casino. The millionaire gambler is currently funding a campaign to actually ban the gaming terminals, rather than simply placing stricter rules on the FOBTs.
In the UK, the fixed odds betting terminals were first brought out in 1999, when then Chancellor of the Exchequer and future Prime Minister Gordon Brown got rid of the tax on individual bets, and replaced it with a tax on bookies' profits.
FOBTs Found Loophole in the Law
While high stakes casino gambling is banned from the British high streets, bookies found a loophole with FOBTs, since they use remote servers, meaning the gaming was not technically taking place on the premises. However, the 2005 Gambling Act meant that the gaming machines were put under the same regulations as fruit machines, and £100 limits were placed, as well as limitations to four FOBTs per venue.
Nevertheless, the 33,284 FOBTs which sit in the 9,100 betting shops located across the UK are gaining usage, as according to the Gambling Commission, the average weekly profit of each machine rose from £760 ($1,231) in 2011 to £825 ($1,336) in 2012, with a total profit of £1.4 billion ($2.27 billion).
Defending the placement of FOBTs in betting shops, the Association of British Bookmakers, which represents the likes of William Hill, Ladbrokes and Paddy Power, has said that there is no evidence to directly link the gaming machines to problem gambling any more than other machines. The Association said that "problem gambling is about the individual player and not a particular product."
"A reduction in stakes and prizes would therefore have little, if any, impact on the level of problem gambling," said a spokesman. "Instead, it would automatically put 40,000 jobs and 8,000 shops at risk for an industry that supports approximately 100,000 jobs and pays nearly £1 billion in tax in the UK each year."