Caesars Showboat Closing Down in Atlantic City
Posted on: June 29, 2014, 10:00h.
Last updated on: June 28, 2014, 01:31h.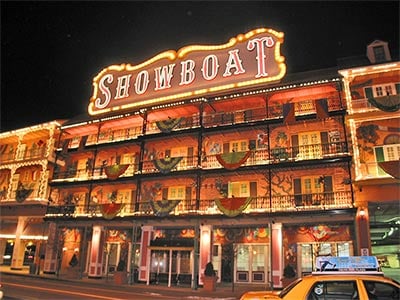 In a city that seems to be hit by worse financial storms than even Sandy, Atlantic City is seeing yet another land casino hit a reef: Caesars Showboat has announced it will officially close on August 31. According to Caesars Entertainment, the Showboat is showing the worst performance of its four Atlantic City casino entities, and as such, its demise is imminent.
"While we regret the impact that this decision will have on our Showboat associates, we believe this is a necessary step to help stabilize our business in Atlantic City and support the viability of our remaining operations in the vicinity," said Caesars CEO Gary Loveman in an issued statement. "Since 2006, revenue in Atlantic City has declined by more than $3 billion and competition in the city has increased. The dynamic in Atlantic City has led us to the difficult but necessary decision to close Showboat.
"We sincerely appreciate the service, dedication and professionalism shown by the employees of the Showboat over the years to provide our customers with incredible experiences," Loveman added.
Showboat Makes Three
It's been a tough year for New Jersey's beachside resort and its casinos; in January, the iconic Atlantic Club closed after several purchasing attempts went south, and just this month, the once-much-touted Revel announced official bankruptcy proceedings with the very real possibility that it, too, may close, if no buyer steps up in the near future.
For the city's casino workers, this latest news, not surprisingly, did not sit well.
"I'm heartbroken and angry, too angry to respond in an effective way," said Local 54 Unite-HERE casino worker's union president Bob MCDevitt. When Caesars announced its plan to present Showboat employees with warning pink slips late last week, McDevitt minced no words, claiming the casino was indeed profitable and calling the potential closure "criminal."
Loveman says Caesars will help the Showboat's 2,100 casino workers find new jobs with other company properties, either in Atlantic City or in other US cities where the conglomerate operates business.
Atlantic City mayor Don Guardian was a tad more neutral in his reaction to the shut down announcement.
"I'm partnering with the businesses that remain in Atlantic City. I'm sorry that the Showboat is shutting down," the mayor said.
Saturated Market
The consensus seems to be that there are simply too many casinos in Atlantic City; that the market is over saturated and unsustainable, and that it is being damaged further by competition from casinos in neighboring states. Pennsylvania, which introduced legal casino gambling in the mid-noughties, has now supplanted its neighbor as the second biggest casino gaming market in the US, after Nevada. New Jersey has lost 40 percent of its revenue since 2006.
Meanwhile, the expansion of casino gambling in New York State will hit New Jersey even harder, with 12 percent of New Jersey gamblers saying, in a recent survey, that they will take their business to New York once the new casinos open there. Caesars, which shut down Harrahs Tunica at the beginning of the month, had hinted at a possible closure in Atlantic City, too. Despite the fact that the Showboat is profitable, unlike Revel and the Atlantic Club, the casino is being sacrificed in order to free up a little room in the market, including Caesars' own three other Atlantic City casinos.
While it's true that the Showboat was still in the black for Q1 of 2014, its books showed a drastic drop from the same time period last year. While first quarter 2013 brought in some $8.5 million in gross operating profits, this year's equivalent time period only showed a just-under $2 million profit level. Moreover, out of the city's 11 existing casino properties, Showboat came in at Number Seven in profitability, with a $66.2 million take so far this year; that's a 16 percent nosedive from the same timeframe last year.
The Mardi Gras-themed Showboat opened in 1987 and was purchased by Caesars in 1998. It's the smallest of Caesars' Atlantic City properties in terms of net revenue, but it also has relatively low operating costs. Bally's, by comparison, is far more expensive to run and showed a loss of $1.6 million over the same period.
The casino is expected to remain open and operating through to the August 31 shutdown, after which time gamblers will be helped with moving to other city properties, according the Loveman.