Caesars Entertainment Rearranges Deck Furniture for Debt Restructuring
Posted on: October 10, 2013, 05:30h.
Last updated on: October 22, 2013, 11:56h.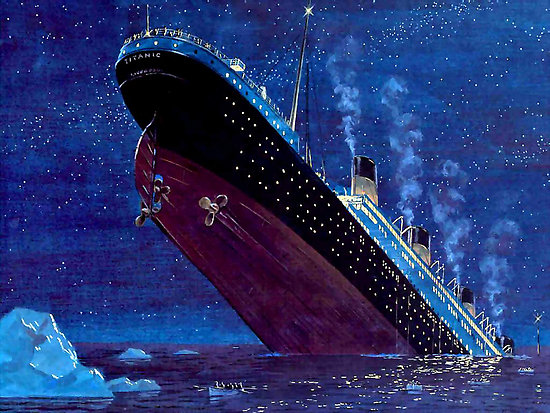 Can this amount of Titanic debt be salvaged from dragging the ship to the bottom of the financial ocean? That's the question being asked as Caesars Entertainment Corp. put Planet Hollywood – one of their kingpin Las Vegas Strip properties – into a new holding company, along with the Interactive Division and the still-being-built Horseshoe Casino Baltimore. The company has instructed its shareholders that they have only until Oct. 17th to get in on a stock fire sale to bring in $1.18 billion in much-needed cash infusions as well. And you thought your garage sales were busy.
Shareholders Can Purchase Stocks First
The Securities and Exchange Commission (SEC) filing made by Caesars announces that shareholders will get first dibs on one share each of the new Caesars Acquisition Co. (CAC) for every share of the existing parent company they own. This restructuring has been in the works since this past Spring, and was officially approved by the Nevada Gaming Control Board in July.
Under the restructuring, the newly formed CAC will be a partial owner of the also newly created Caesars Growth Partners, and along with Caesars Entertainment (are you dizzy yet?), the new entity will own Planet Hollywood, the Baltimore under-construction property, and Caesars Interactive Entertainment, which, of course, spearheads the World Series of Poker (WSOP) real money online poker brand that just recently launched for Nevada Internet players.
Now you might think the point of all this fundraising is to pay down the company's massive existing debt, but apparently, they are studying the White House financials, because they say the raised funds will go towards new casino projects in the U.S., as well as more online development, in conjunction with 888 Holdings, to get a few online casino sites up and rolling in New Jersey when that state goes online on November 26. They must be in a pissing contest with Obama for the highest achievable debt ceiling.
Gambling's Highest Debt Load
Think we're kidding? Caesars has the dubious honor of holding the casino industry's highest-ever long-term debt load at $23.5 billion. In early 2014, they will do a refi of about $5 billion of that, and got about $200 million towards that amount in a stock sale already.
This somewhat scary debtload doesn't seem to be deterring anyone from teaming up with the gaming behemoth though; Detroit-based Rock Gaming is in on a joint venture with Caesars to own and operate the $400 million Horseshoe Baltimore once it's completed and ready to open in 2015. And Suffolk Downs Racetrack in Boston has gone into partnership with the company as well, as they try to get their $1 billion casino project accepted and built in Boston in Massachusetts' Battle of the Casino Giants game.
Seems even Caesars Deputy General Counsel Michael Cohen isn't entirely sure about this restructuring gameplan, however.
"Compared to our capital structure, that's not a big change," he told the Nevada Gaming Control Board about the company's spinoff concept when they signed off on the plan in July. "Caesars has a lot of debt. We think it's manageable, but others disagree."
Man your life jackets; women and children first.