Caesars Atlantic City Hit in $181K Heist
Posted on: July 23, 2014, 05:30h.
Last updated on: July 22, 2014, 08:17h.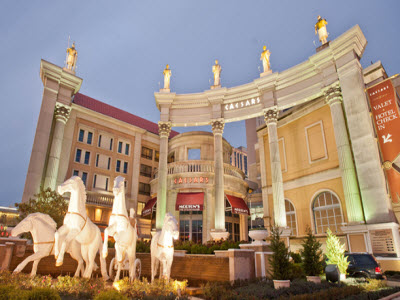 Things aren't great right now in Atlantic City. Casinos are closing, revenues are falling and profits are drying up month after month. It's a time when resorts are carefully monitoring every dollar that comes in and out of their balance books. In short, it's about the worst time possible for a six-figure sum to go missing from one of the city's casinos.
According to police, two masked thieves walked out of Caesars Atlantic City with more than $180,000 on Monday after a smash-and-grab raid on the casino. The robbery reportedly took place on Monday morning, though police did not immediately release much information about the details of the crime. According to USA Today, trooper Alina Spies said that police were investigating the matter, but that they didn't want to provide any information that might hinder the investigation that was underway.
Early Morning Robbery
Local media, citing police sources, said that the robbery involved two suspects who entered Caesars Atlantic City around 6 am. At least one of them had a gun and pulled it before stealing two plastic boxes that contained the stolen cash. They then fled the scene in a car at approximately 6:20 am, according to a police bulletin.
The case is being investigated by the New Jersey State Police Gaming Bureau, which suggests that the robbery took place inside of the casino. If the crime had taken place in a hotel or other public area, it would be customary for city police to deal with the matter.
While $181,000 may not be much in the grand scheme of things for a major casino (Caesars brought in $28.8 million in revenue during June alone), the theft comes at the worst possible time for an Atlantic City venue. The city has been struggling seemingly on all fronts, and that's mostly driven by struggling casino properties. Revenues at the city's casinos have been falling for years, and as many as four casinos could end up closing throughout the course of 2013.
One of those casinos, the Showboat, is operated by Caesars and is scheduled to close at the end of August. Others include the Atlantic Club, which closed in January, the Trump Plaza, which is scheduled for closure later this year, and the Revel, which is currently in bankruptcy court and could close if a buyer is not found.
Caesars Atlantic City occupies a large, high-rise building that takes up a block between the famous boardwalk that runs along the Atlantic Ocean and Pacific Avenue between Arkansas and Missouri avenues. It's unclear how the perpetrators entered or exited the building.
Casino Heists Not Unheard Of
While casino security is virtually second-to-none, that doesn't mean that it's impossible for criminals to occasionally pull a heist. The schemes, however, are rarely as complex as something you'd see in Ocean's 11.
For instance, in 2010, a gunman wearing a motorcycle helmet dashed into the Bellagio on the Las Vegas Strip. He proceeded to steal chips from a craps table while brandishing a handgun, fleeing on his motorcycle. The thief, Anthony Carleo, was ultimately caught months later and was sentenced to prison.