Borgata Babes Can Be Kept to Weight Limits, Judge Says
Posted on: July 28, 2013, 05:30h.
Last updated on: July 27, 2013, 12:14h.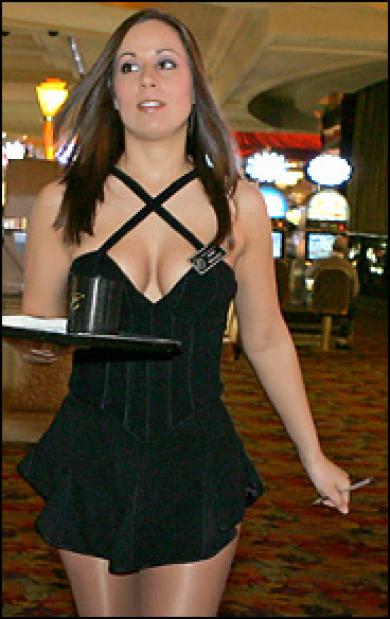 Since opening in 2003, the Borgata Hotel Casino in Atlantic City has marketed itself as an upscale, Vegas-style resort attraction. As a part of that image, the casino selected their "Borgata Babes" – the cocktail waitresses who would serve the largely male clientele while wearing skimpy dresses and high heels – with an eye for attractiveness, including being on the slender side.
Once hired, casino management decided to enforce weight limits to make sure the "Babes" stayed as hot as they were when hired; a dictum that didn't sit well with many of the female servers, some of whom brought a case against the Borgata, claiming that the casino was engaging in sexual discrimination against them.
But Superior Court Judge Nelson Johnson didn't see it that way. Judge Johnson granted a summary judgment in favor of the casino this week, dismissing the claims of the servers and upholding the casino's policies. In the ruling, the judge determined that the rules could only be considered discrimination if they were only targeted at female servers, or if they punished a trait in one sex and not the other.
The rules in question include one that prohibits servers from gaining more than 7 percent of their body weight after they have been hired. While there are more rules that the servers objected to, this was the one that garnered the most attention, and the servers claimed it was only ever enforced on female staff.
This is not the first time these controversial rules have been taken to court. In 2006, two former Borgata servers sued the casino over the same rules, and also alleged that management had humiliated servers by encouraging them to undergo breast augmentation surgeries. The plaintiffs also alleged other abuses, such as harassment over medical issues and disputes over drug test results. That case was ultimately settled out of court without any terms being disclosed to the public.
The Borgata's weight requirements were first put into place in 2005, but appearance standards were established from the opening day of the casino. Those standards suggested that female servers should have "natural hourglass figures," while male servers should have broad shoulders and slim waists.