Bitcoin Casinos Raking in the Bits
Posted on: January 25, 2013, 03:06h.
Last updated on: January 25, 2013, 03:40h.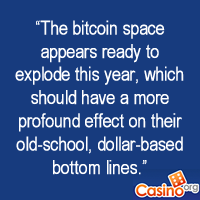 The earnings results from the first wave of Bitcoin casinos are in, and they are surprisingly impressive all things considered, to the point that they are turning some heads and ruffling some brows throughout the casino industry.
The most impressive display comes from SatoshiDice.com, lovingly named after Bitcoin's pseudonymous creator Satoshi Nakamoto. The Ireland-based gaming site operates just one game, and it's a rather niche one at that, which makes its 8-month earnings from May to December 2012 of 33,310 BTC (Bitcoins) all the more impressive. Those earnings were courtesy the 1,787,470 BTC in wagers the site took during that span.
Just what is SatoshiDice? Simply put, it's a random number generator game that tasks players with choosing whether the next number chosen will be higher or lower than the displayed number. The choice is given full odds and payout information, with the house having a 1.9% edge over the competition (the players). And sure enough, SatoshiDice's reported earnings are almost exactly 1.9% of the total amount wagered at the site. At the current exchange rate of $17 per BTC, that's a haul of $566,270 for SatoshiDice. None too shabby for a niche game being run entirely via an alternative currency.
Other Bitcoin casinos have also seen positive early returns. One is BitZino, a more traditional online casino, which offers blackjack, roulette, craps, and video poker games, all through BTC wagers only. BitZino reported earnings of 10,137 BTC in their first year of operation, and their owner expects even brighter days to come, anticipating a 500% increase in both users and earnings in 2013.
Seals with Clubs, the oddly named online poker site, and the first such site to rely entirely on BTC for wagers, also showed positive early growth. While they haven't released any yearly financial details, they have claimed to have paid out over 100,000 BTC in transactions this year, and already have more than 10,000 player accounts, over half of which have logged in within the past 3 months.
All in all, it's a strong showing for the online gaming houses using the recently introduced alternative currency, which can be purchased through participating Wal-Marts and 7-Elevens. While traditional online casino operators may not be too concerned as of yet, the bitcoin space appears ready to explode this year, which should have a more profound effect on their old-school, dollar-based bottom lines.
Similar Guides On This Topic