Billionaire Asian Moguls Duke It Out for Bloomberg Richest Rating
Posted on: January 25, 2014, 05:30h.
Last updated on: April 7, 2014, 04:08h.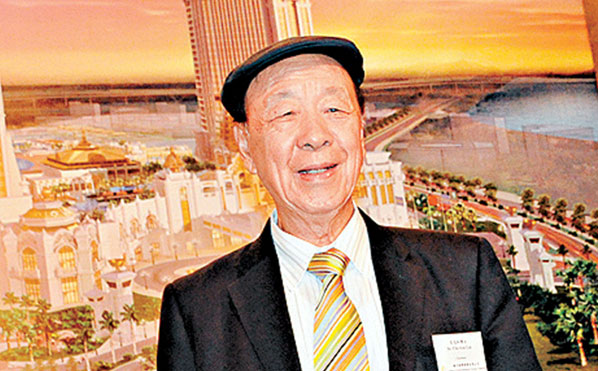 In a world of uber-wealth – with many of the wealthiest on earth now from Asian countries – it takes some serious cash to be the richest of the rich; sort of like being crowned Miss Universe from out of a bevy of stellar beauties. And just like Miss Universe, sometimes the votes get tallied wrong and you have to give back the crown.
That seems to be what's happened with Lui Che-Woo, founder of casino operator Galaxy Entertainment Group Ltd., who briefly held the title before several news sources corrected it and maintained that previous title holder and real estate investor Li Ka-Shing remains Asia's richest man.
Lui's net worth jumped up by $2.9 billion this year to $23.7 billion; but wealth protagonist Li still beats him out with a $29.5 billion fortune. And that means Li retains the title he's held since April 9, 2012, when he moved past previous richest, Indian billionaire Mukesh Ambani.
As a daily ranking of the richest people in the world, the Bloomberg Billionaire Index bases its statistics and measurements on changes within markets, the economy and reporting to update the figures at the end of each business day in New York, using the closing share price to calculate positions on the index and taking inherent family wealth into consideration as well.
The primary source of wealth for the billionaire mogul comes from his 51 percent stake in Galaxy Entertainment Group Ltd., which ranks third in size for Asia's casino operators and saw a 129 percent rise in shares last year after riding on the waves of the 18.6 percent rise in revenues for Macau, which reached a total of $45.2 billion.
Lui's biggest casino – Galaxy Macau – has raked in on the success of the only area in China where casinos have been legalized. Galaxy Macau is situated in the heavily visited gaming location of Cotai, known popularly as Asia's version of the Las Vegas Strip.
Worldwide Heavy Hitters
Aside from Bill Gates – arguably the richest man in the world, whose net worth rose by $15.5 billion last year –  Lui's gains of $14.2 billion was only beaten by casino rival and Las Vegas Sands Corp. Chairman Sheldon Adelson, who saw an increase in net worth of $14.4 billion over the last year,  according to the Bloomberg ranking.
According to Macau-based analyst at Union Gaming Group, Grant Govertsen, the Lui family's early investment in Cotai is largely to thank for their current level of success.
"The boom there ramped up the share price appreciation and wealth creation for the Lui family," explained the analyst. "They're best positioned for long-term growth and are focused on becoming the dominant player in Macau."
Although the 2,200-room Galaxy Macau has been the largest casino for the company since the doors opened in 2011, Galaxy Entertainment Group Ltd. also owns and operates an additional five of Macau's 35 casinos. All told, Macau reportedly generates around 97 percent of the group's revenue, which is leading Lui and his son, deputy chairman Lui Yiu Tung, to a $2.6 billion addition to Galaxy set for next year in order to capitalise on the increasing growth of the gambling destination.
Rose from Poverty
The self-made billionaire had extremely humble beginnings, as he and his family fled the city of Jiangmen in the Guangdong province for Hong Kong when southern China was invaded by the Japanese. As a teenager, he helped to support his family by selling food on the city streets, but later managed to procure construction equipment left behind after the U.S. invasion of Okinawa in Japan.
As Hong Kong was going through a reconstruction boom, Lui managed to import the construction equipment and make his first fortune, which was followed by many other successful investments including property development, hotels and casinos.
Better luck next year, Mr. Lui; keep your tiara polish close at hand, just in case.