Betfair Pays Out Early on No Votes for Scottish Independence
Posted on: September 17, 2014, 05:58h.
Last updated on: September 17, 2014, 06:01h.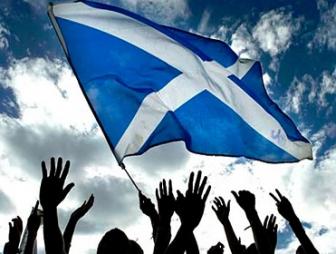 It will all be decided on Thursday, but Betfair seems to already know the outcome of the Scottish Independence referendum. Heading into tomorrow's vote, no one else is quite as certain as to whether Scots will vote to remove themselves from the United Kingdom or remain a part of the UK. But major bookmaker Betfair has already been paying out as if they know the results.
Betfair is already paying out customers who have staked money on a "No" vote in the Scottish Independence referendum, saying that they have paid out a "six-figure sum" to bettors who backed the Better Together campaign.
Polls Tighten in Recent Weeks
That move comes at a time when the vote appears to be tightening. While most polls have seen "No" with a slight-to-moderate lead, there have been outliers that have put "Yes" in the poll position. A recent "poll of polls" by What Scotland Thinks suggests that the best current information has No with just a 51-49 advantage in the polls, meaning that while voters in favor of Scottish Independence might be behind, it's still too close to be certain.
That's a sharp change from earlier this year, when it appeared that over 60 percent of Scottish voters would vote No on the referendum. Even just weeks ago, most polls saw support for remaining in the UK at between 55 and 60 percent, a slimmer but still comfortable margin.
Only Sportsbook Bets Paid
But despite the tightening margins, Betfair has paid out ahead of time for those who have bet money with them on No. Since most of Betfair's business is based on betting exchanges, where gamblers wager against each other, only those who specifically bet with the sports books are being paid at this time.
According to Betfair, gambling patterns suggest that there is about a 79 percent chance of a No vote. That's much higher than last week, when the implied odds based on the amount of betting on both sides and the odds being asked for suggested a 70 percent chance or less of the No voters holding on to their narrow lead. Odds fell to about 3-1 for Yes backers in the wake of a poll that showed the side favoring independence might have a small lead, but have since drifted back up to about 7-2.
"Political bettors have often favoured the exchange as their choice of betting platform and it has historically provided an accurate prediction of political outcomes," said Naomi Totten of Betfair. "Paying out early on our Sportsbook is testament to the esteem in which we hold the illustrious track record of our Exchange."
Likely, the move has more to do with raising publicity for the betting exchange than any particular confidence that No will end up on top (though Betfair still took the side they felt was more likely to win, of course). According to Betfair, they had taken just under £3 million ($4.88 million) in bets on the Scottish referendum, with William Hill saying they've taken another £2 million ($3.26 milion) on the vote.
Thursday's referendum will ask Scottish voters a rather simple question: "Should Scotland be an independent country?" Perhaps due to the tightening poll numbers, leaders from the three major parties in the current UK government pledged together to relinquish more powers to Scotland should it remain in the UK.
Similar Guides On This Topic