Bellagio Gunman Arrested After Splashing Cash on Hookers
Posted on: July 31, 2014, 08:03h.
Last updated on: July 31, 2014, 08:12h.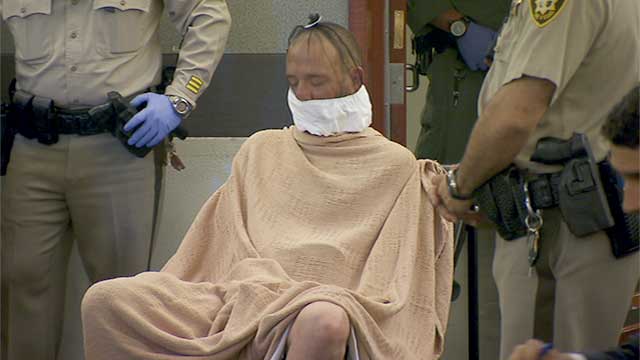 Bellagio armed robbery suspect Scott Alan Carmitchel was arrested by Las Vegas police this week at the Hard Rock Hotel and charged with battery, grand larceny, burglary, and robbery with a deadly weapon.
Carmitchel, 34, who hails from Kansas, has a lengthy criminal history, is accused of entering the Bellagio casino on the evening of Friday, July 25 and robbing a cashier at gunpoint, before making off with $43,000. The cashier told police she feared for her life.
Law enforcement officers were led to a room at the Hard Rock after a tip-off from a tourist who became suspicious of a man who paid him $300 to rent a $405 room at the hotel. The suspect initially told officers his name was Scott Rice and claimed he had found a black bag full of cash in the Bellagio parking lot, although he was unable to provide them with identification.
He later acknowledged that it was his image on Bellagio surveillance footage, but denied any knowledge of the crime, claiming he had visited the casino that night, but had no memory of what had taken place.
Shopping Spree
On searching the room, police found $10,000 in cash and a BB gun matching the description of the weapon used at the scene of the crime. It seems that Carmitchel had been on a recent shopping spree; an $1,800 pair of black Louis Vuitton shoes, and an $800 Louis Vuitton belt were found at the scene.
Police also detained four prostitutes who attempted to leave the scene with wads of cash, still bound with Bellagio labels. According to a police report, the women claimed that Carmitchel had been acting erratically and appeared to be paranoid and delusional. They said they had been booked through an agency to entertain the suspect, who had identified himself as "Steve." One of the women said he had taken them to the Forum Shops at Caesars Palace, where he had bought them expensive designer items.
During interviews, Carmitchel gave a series of contradictory statements and denied using drugs, despite ample evidence to the contrary. And while he initially came quietly, it seems he later became violent and officers had to forcibly hold him down for the mugshot. Officer Larry Hadfield said that he failed to "cooperate in any way with the investigation and was combative with officers throughout the booking process." This lead to the extra battery charge being filed against him.
Suspected of Bank Robbery
According to Kansas Department of Corrections records, Scott Alan Carmitchel served jail time for battery against a law officer and a robbery in 1998, and was imprisoned last year for "making a criminal threat." He was paroled in December and is currently listed as "absconded with his whereabouts unknown."
Detectives had said before Carmitchel's arrest that they suspected that the man who robbed the Bellagio also held up a City National Bank in South Las Vegas on July 22nd.The same kind of BB gun, with a distinctive orange tip, was apparently used in both heists.
Carmitchel is being held on $84,000 bail and is due to appear in court this week.