Baltimore Ravens RB Ray Rice Arrested at Atlantic City Casino
Posted on: February 18, 2014, 05:30h.
Last updated on: February 17, 2014, 10:38h.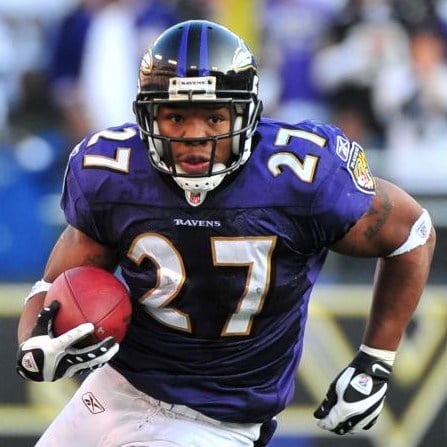 Ray Rice had a tough year last season – his numbers were down and the Baltimore Ravens didn't even make the playoffs in their attempt to defend their Super Bowl title. But few people are going to remember that after the headlines he's making this week. Rice and his fiancée were both arrested and charged with simple assault after a physical altercation at an Atlantic City casino early Saturday morning, and there's some dispute as to exactly how serious the incident was.
Revel Altercation Reported
According to reports, casino security at the Revel Casino called officers from the Atlantic City Police Department at about 2:50 am Saturday morning. That was in response to a domestic dispute between Rice and fiancée Janay Palmer, one that was recorded by video surveillance cameras, police said.
Neither Rice nor Palmer wanted any medical attention, and neither said that they had sustained any injuries. But given the video evidence, both were charged with simple assault-domestic violence before being released.
Rice's attorney called the incident a "very minor physical altercation," and the Ravens appeared to want to play down the incident as well.
"We are aware of the Friday night situation with Ray Rice and his fiancée," said Ravens director of public relations Chad Steele. "We have spoken with Ray, and know that they returned home together after being detained."
Team Affiliation Unaffected
More prominent members of the Ravens organization said they hadn't yet spoken to Rice. According to Baltimore general manager Ozzie Newsome, neither he nor head coach John Harbaugh had spoken to Rice on Monday, but both planned to do so within the next day. Newsome also said that he expects Rice to still be with the team in 2014.
Philadelphia attorney Michael Diamondstein has been hired to represent Rice in the case, and seems confident that there won't be much to the incident once the facts are released.
"We haven't seen any charging documents yet," Diamondstein said. "There was an argument that included Ray. I can't give any specifics because we haven't seen the document yet. Once we're able to go through the evidence, it should wind up to be little more than a misunderstanding."
Revel staff also said that Rice – who they say was hanging out at the Revel's Royal Jelly Burlesque Nightclub with a group of about eight people earlier in the night – was pleasant to them during their stay.
"When he was here, they were having a great time," said Scott Russo, director of operations at the nightclub. "[He] was very nice to our staff."
Despite the low-key reaction to the incident in most quarters, there are rumors that it may, in fact, have been more serious than reported. Sports news site Deadspin.com cited an anonymous "tipster" who claimed that the incident was more violent than Rice's camp is willing to admit, saying that a woman (presumably Palmer) spit on Rice, after which he punched the woman, knocking her out. However, there's been no hard evidence to back up this version of events.
Ray Rice has scored 37 touchdowns and rushed for 6,180 yards over his six seasons in the NFL. However, he is coming off a down year in which he tallied just 660 yards rushing and four touchdowns. Rice is in the middle of a five-year, $35 million contract with the Ravens, and is also known for being active in the team's anti-bullying campaigns; something which could possibly add fuel to this domestic firestorm.
Similar Guides On This Topic