Australian Coalition: "Replace Gambling Regulator with Industry Reps"
Posted on: August 28, 2013, 05:30h.
Last updated on: August 27, 2013, 09:35h.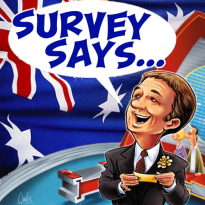 The Coalition – an alliance of several right to center-right parties that currently sit in opposition to the ruling government of Australia – announced a plan this week that would radically change the nature of gambling regulations in that country. According to their plan, the current national gambling regulator would be abolished, to be replaced by an advisory council made up of representatives from the gambling industry itself.
That change was the highlight of a broad series of moves that the Coalition endorsed this week. It was enough to earn the opposition the support of Clubs Australia, an organization that has long been opposed to the strong gambling reforms supported by most members of the Labor Party and others in the current government.
"The Coalition's approach recognizes the work already done and reflects the reality that policies based on proper consultation and consideration work better for problem gamblers than those that are the product of hasty political deals," Clubs Australia said in a statement.
No Compulsory Pre-Commitment for Slots
Along with removing the national gambling regulator, the Coalition plan would immediately end the trial of mandatory pre-commitment on slot machines (which are known as poker machines, or "pokies," in Australia). This technology is set to be tested in the Australian Capital Territory, and would require players to set loss limits before they could play poker machines in clubs and pubs. However, the Coalition also said that they support a national voluntary pre-commitment program, in which players had the option to set limits – but were not required to do so. This mirrors the reforms that are already in place, which will result in voluntary technology being installed in machines at clubs over the next decade.
The plan would also see problem gambling support handled by the states rather than by the federal government. In addition, it would ban online gambling sites from extending credit to gamblers.
Opponents Speak Out
Not surprisingly, advocates for gambling reform in Australia have come out strongly against the new plan.
"It's just bizarre to put the gambling industry in charge of the advisory group," said Dr. Colin McLeod, a senior fellow at the University of Melbourne. "What you're asking the industry to do is to find ways to curtail the spending of its most profitable customers."
"This is pretty much like putting the anti-vaccination crowd in charge of hospitals," said gambling reform advocate Tom Cummings.
The battle over poker machine reform was one of the major issues facing the last parliament. Prime Minister Julia Gillard – who was replaced in June by fellow Labor politician Kevin Rudd – formed a governing coalition in part by securing the support of independent MP Andrew Wilkie, who only took part in the government in exchange for a promise that gambling reforms would be passed.
Ultimately, a gambling reform package did work its way through parliament, but it was much weaker than the legislation that Wilkie had hoped for. Rather than any mandatory pre-commitment technology, only a slowly phased-in voluntary program was approved. In addition, the bill failed to set any national betting limits for poker machines either, while gambling reform advocates had hoped to set a $1 betting limit per spin.
Similar Guides On This Topic