Atlantic City Mayor Warns North Jersey Residents: Prostitution and Crime Comes with Casinos
Posted on: March 22, 2016, 04:08h.
Last updated on: March 22, 2016, 04:11h.
Atlantic City Mayor Don Guardian (R) is warning residents across the state that a vote to authorize two casinos in northern New Jersey is a vote for prostitution and crime.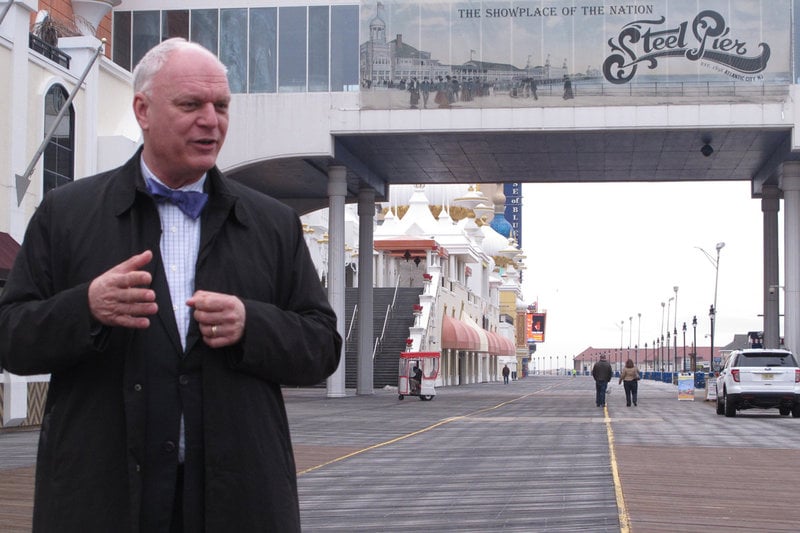 Understandably against his city losing its longstanding monopoly on gambling in the Garden State, Guardian is cautioning citizens, especially those residing in counties most likely to receive the casinos, that the potential financial reward comes at a price.
"If you don't think prostitution and drugs and other minor crimes won't come along with it, you're foolish," Guardian told attendees of a forum at St. Peter's College in Jersey City. Located just across the Hudson River from Manhattan, Jersey City is thought to be one of the two likeliest locations, along with the Meadowlands Complex, for the casinos.
According to The Record newspaper in Bergen County, Guardian also cautioned that resort casinos would wreak additional havoc on the already congested region.
"You may want the money, but you don't want the extra commuting time," the mayor warned.
Conflicting Opinions
In November, New Jerseyans won't only have to decide whether the Republican or Democratic candidate for the Oval Office is best for both the state and country, but also decide whether North Jersey casinos are in its best interest.
If residents side with their Governor Chris Christie (R), they'll vote for Donald Trump should he win the GOP nomination, and vote in favor of the northern gambling referendum.
Of course, Christie isn't necessarily the most popular person in the Garden State these days. The two-term governor has an approval rating of just 27 percent in the latest Fairleigh Dickinson University poll.
Christie and other proponents of ending Atlantic City's nearly 40-year gambling monopoly claim it would actually be beneficial to the insolvent beachfront resort town. Should the casinos be built in the northern counties, Atlantic City would receive up to $200 million annually that would be earmarked for non-gambling redevelopment.
Resorts Casino Hotel CEO Mark Giannantonio said the market estimates are nothing more than wishful thinking.
"Legislators are asking the residents of this state to change the constitution without even first calling for an economic impact study."
City Shutdown Coming
 Prior to the St. Peter's College forum, Guardian dropped a bombshell when he revealed that City Hall would be closed at the end of business on April 8 through to at least May 2, due to the city's dire finances. Employees will not be paid during the closure.
Only essential services like the police and fire departments will remain operating as normal. Guardian said his offices would reopen for business ahead of the next quarterly due date for tax payments.
Christie and State Senate President Stephen Sweeney (D-District 3) are pushing legislation to bail out Atlantic City and pay its $240 million debate and $33.5 million budget shortfall. But in exchange, Christie and Sweeney want full control of the city's finances, something Guardian and other local politicians are fighting.
Instead, the Atlantic City mayor argues the state already owes the city tens of millions of dollars from tax overpayments made as its economy gradually slid throughout the past decade.
Land-based gambling is a contentious and messy situation in New Jersey right now, and perhaps the best bet is to finally have the residents weigh in with their two cents.
Ironically, in the same week, Amaya's brand new Pokerstarsnj, the online poker site that has finally launched in the Garden State, is off to quite a promising start.