Atlantic City Casino Workers Schedule Five Meetings With Casinos Ahead of Planned Strike
Posted on: June 25, 2016, 01:11h.
Last updated on: June 25, 2016, 01:11h.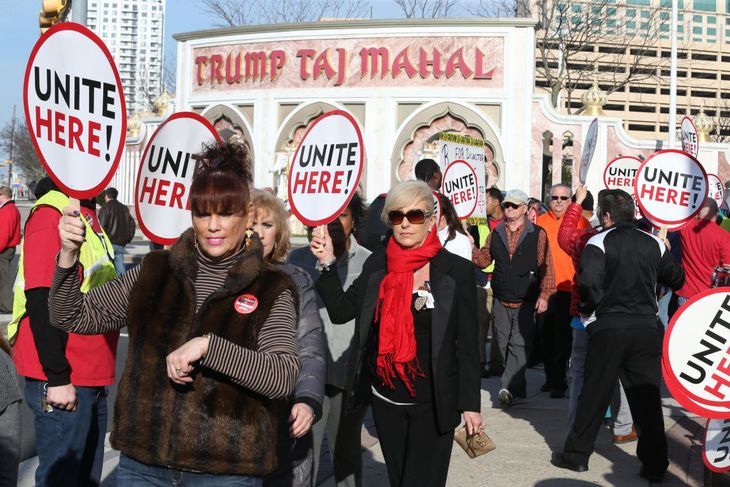 Atlantic City casino workers will meet with five casinos over the next few days in an attempt to reach new labor contracts.
The UNITE HERE Local 54 union has represented hospitality workers in Atlantic City for over 100 years. Union representatives confirmed they have meetings planned with the Tropicana, Trump Taj Mahal, and Caesars' three properties.
Local 54 has nearly 10,000 members and is a chapter of the international UNITE HERE labor union. In total UNITE HERE represents some 270,000 hospitality employees in North America.
The local chapter recently voted to strike on July 1 unless new labor contracts are reached with the five resorts. About 60 percent of the Local 54 membership works at the handful of venues.
"Atlantic City casino workers sacrificed a lot when times were tight, for our industry and our community," a new Local 54 radio ad explains. "Things are getting better for the casinos, but workers haven't seen a cent of what we gave back . . . We just want what's fair."
Determining What's "Fair"
The meetings that will take place over the next week will likely be anything but cordial. According to the Press of Atlantic City, Local 54 is demanding numerous changes to its member's contracts.
The chapter wants a minimum of one week paid vacation, a $3 per hour increase over the next five years, and reassurance that present health benefits will not be reduced or changed.
The union is making a strong case.
"Over the course of 12 years, workers with the most seniority have seen just $.80 per hour in raises," Local 54 said in a report. "The result is that today, the average wage among Local 54 members is $11.17 per hour."
Bad for Trump?
One of Local 54's biggest talking points is the fact casino executives have recently received $50 million in bonuses. Revenues in Atlantic City have stabilized but to no benefit to the workforce.
"When the casinos were in trouble, I did my part, sacrificing wages and benefits to help the company," a 42-year-old Tropicana server making $10.98/hour said. "But now that the casino is doing well again they've forgotten my sacrifice."
The big business versus the middle-class worker is the narrative opponents to Donald Trump want to relay.
Trump notoriously made millions in Atlantic City before exiting the city ahead of its fiscal downturn. "The money I took out of there was incredible," Trump said in May.
But that money was made at the expense of the community and workforce. That's at least what the union and presumptive Democratic candidate Hillary Clinton want you to believe.
"We can't let him bankrupt America like we are one of his failed casinos," Clinton said this week. "He's written a lot of books about business. They all seem to end at Chapter 11."
Recent polling shows Clinton ahead of Trump. But as the United Kingdom's "Brexit" highlighted this week, anything is possible in today's political climate.
"They took their country back, just like we will take America back," Trump said of the UK.