Atlantic City Can't Get No Respect, Based on 2nd Quarter Earnings
Posted on: August 26, 2013, 05:30h.
Last updated on: October 22, 2013, 01:30h.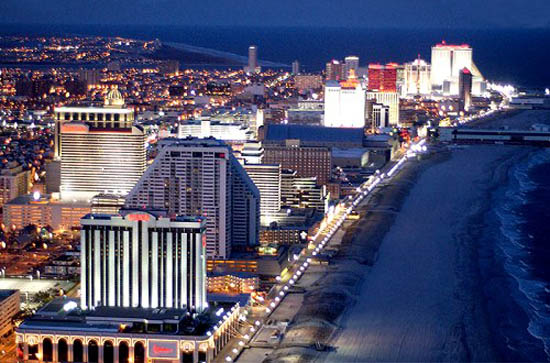 Once upon a time, in a seaside town in New Jersey, someone decided that turning it into the Las Vegas of the East would be a good idea. Whoever that person was, probably didn't have very good instincts; Atlantic City has had nothing but trials since setting up gambling  some 37 years ago. And the last few years have been some of the worst, not helped by Mother Nature and Hurricane Sandy in October 2012. But almost a year later, things are not only not looking up, they're looking bleaker and bleaker.
Ironically, the town that's based its fortunes on gambling is turning out to be a pretty bad bet itself.
Second Quarter Earnings Not Pretty
And the latest news out of AC isn't any better: in fact, for the second quarter of 2013, state regulators say that the New Jersey gambling town saw a collective 45 percent drop in earnings. Ouch. That amounts to $65 million in second quarter profits this year, compared to $118 million last year.
Not everyone tanked; some casinos actually showed an upswing. Among those were the Tropicana Atlantic City, whose 28 percent spike in profits to $12.6 million was the biggest of the group. Following them was Caesars Atlantic City, who jumped 17.4 percent from the same time last year, and ended up with $20.6 million in second quarter profits.
But that wasn't enough to counterbalance the properties that took a nosedive. Four Atlantic City casinos even posted operating losses this quarter, for the months of April  through June 2013. Those included the Golden Nugget Atlantic City, with a gross operating loss of $6.5 million for the quarter, and that spiked from a $3.5 million operating loss in 2012 for the same months. The other three included post-bankruptcy Revel – which has been a problem gambling child since the day it opened 15 months ago – with a staggering $40.8 million loss (higher than 2012's $35.1 million); Resorts with a $1.3 million loss versus an actual profit last year of $199,000; and the beleaguered Atlantic Club, showing improvement, if you can call it that, with a lower $2.3 million operating loss compared to $5.2 million in 2012.
Trump Profits Down
And although the two Trump casinos both posted profits this quarter, those revenues were substantially down from the same time last year: Trump Plaza falling from $13 million in profits for this quarter 2012 down to a miniscule $211,000 this year, and the Trump Taj Mahal also freefalling from last year's $21 million in profits down to just $5.6 million this year.
Other casinos with profits, but not as high as 2012's, for this quarter included the Showboat ($9.5 million, down from $13.8 million); Harrah's Resort Atlantic City down close to 27 percent from 2012 with an operating profit of $25 versus $34.2 million last year; and Bally's Atlantic City, down 38 percent from last year with $10.7 million in quarterly profits compared to $17.3 the year prior.
Even kingpin property The Borgata couldn't maintain last year's profit levels; it showed a $28.1 million profit which was down 11.3 percent compared to 2012's $31.7 million.

While Hurricane Sandy – which forced all twelve casinos to close for days when it hit New Jersey hard last October – greatly impacted the last quarter of 2012, it's hard to keep blaming these financial avalanches on natural disasters.  At this point, Atlantic City can only hope that legal online gambling – which all twelve casinos are on board to launch in November – will turn their numbers around, or hurricanes will be the least of the city's problems down the line.