AMF Says Securities Fraud Probe Pre-Dates Amaya's PokerStars Acquisition, Baazov Brother Implicated by Regulator
Posted on: March 24, 2016, 09:49h.
Last updated on: March 24, 2016, 10:18h.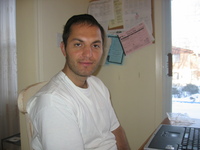 AMF, the Canadian financial regulator, yesterday executed search warrants against 13 new individuals suspected of alleged involvement in securities fraud concerning Amaya stock, dating as far back as 2011, well before the company purchased PokerStars parent Oldford Group.
Among those is CEO David Baazov's older brother, Ofer "Josh" Baazov.
Before we'd had time to even fully digest the news that David Baazov was facing five criminal counts of insider trading, the AMF released its second bombshell of the day.
The regulator alleges that the 13 named individuals "traded while in possession of privileged information, or they leaked privileged information about potential mergers and acquisitions involving Amaya Inc.
"In all," in all, it continued, "they are alleged to have realized a profit of close to CA$1.5 million ($1.13 million) between 2011 and 2016."
This suggests that the scope of the investigation predates the PokerStars acquisition and that AMF is probing previous instances of suspected insider trading in Amaya's stock.
Amaya first went public on the TSX Venture Exchange in July, 2010, at $1 a share. In 2011, it purchased both Chartwell Technology and Cryptologic, although the latter deal was not finalized until early 2012.
Josh Baazov's Questionable Past
In 1993, at the age of 24, Ofer aka Josh Baazov served 90 days in prison for four counts of cocaine possession. Several years later, a federal court in Ohio ruled that his telemarketing company had scammed senior citizens in the Midwest out of hundreds of thousands of dollars.
Baazov reportedly lured them to take out expensive subscriptions in return for valuable gifts, except those gifts were never delivered, according to the court. At that point, the judge ordered Josh to pay $777,000 in restitutions to his victims.
But Canada's Globe and Mail news site, which has covered the AMF investigation assiduously since the regulator first raided Amaya's offices in December 2014, recently discovered that Josh Baazov had not paid one cent towards the compensation order.
Links to Amaya
Amaya has denied that Josh Baazov, whose previous brushes with the law would preclude him from applying for a gaming license himself, has ever been an employee or a shareholder of the company.
But he was once described by a former business partner of both Baazovs, Albert Jan, as a "founder" of the company, along with his brother David. Meanwhile, the Globe and Mail found numerous instances in which Josh Baazov has represented Amaya's interests in various capacities, going back as far as 2012.
Also named by the AMF is Craig Levett, a longstanding business partner of both Josh and David's, who was photographed with Josh Baazov on a trip to the Dominican Republic in 2012 to promote Amaya's online casino products to casino officials.
Amaya is standing behind its CEO, who says he will "vigorously contest" the charges against him.