AGA to Use "Runner Runner" to Lobby for Online Gambling Regulations
Posted on: August 25, 2013, 05:30h.
Last updated on: June 16, 2014, 09:54h.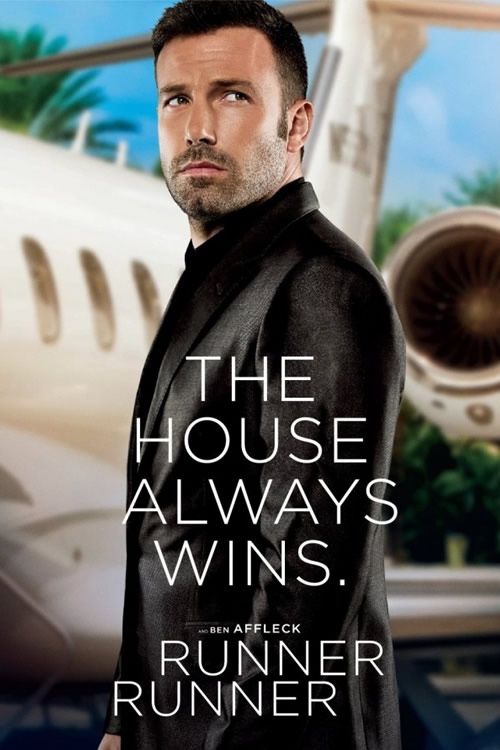 Art imitates life and back again; that's the theory behind a major casino lobbying group's desire to use a highly-touted upcoming online poker saga to leverage Congress for a long-awaited regulatory environment.  The lobbyists' hope is that seeing the gritty tale – based on real happenings – of what happens when Internet poker runs amok may motivate legislators to act more quickly on creating a federally regulated environment.
Film Shows Seedy Side of Illegal Online Poker
The new film – called Runner Runner and starring Hollywood megastars Ben Affleck as the sordid force behind a major online gambling site, pre-Black Friday, and Justin Timberlake as his initially unsuspecting victim – is set for an October 4 release, and American Gaming Association (AGA) president Geoff Freeman wants to use it to convince Congress they need to act, and act now. The AGA represents the interests of the mainstream commercial casino industry, including heavy-hitter Las Vegas industry giants like Las Vegas Sands Corp., MGM Resorts International, Penn National and Boyd Gaming.
"This film provides our industry with an opportunity that the AGA will capitalize upon," Freeman said. "The AGA will leverage the certain coverage this film will receive to raise awareness about the need for proper regulation of online gaming."
The film – the most anticipated in the poker community since 1998's Rounders – features Affleck as a Costa Rica-based Internet casino mogul, with Timberlake as an Ivy League graduate student, trying to cover his tuition via online poker, who loses everything and goes to Costa Rica to confront Affleck about what he believes is a swindle. There were numerous incidents of online players catching sites with cheating practices, although this film is a fictitious amalgam of several such tales.
AGA Wants Film to Create Urgency
Freeman believes that piggybacking actual research data on illegal online gambling in the U.S. with the film's release could have a big impact on motivating Congress to move more quickly; the legislative body has been notoriously slow and deadlocked on taking any such actions since the Department of Justice clamped down on the three major online poker sites in April of 2011.
Since that time, online poker and Internet casino gambling have largely become a state-by-state issue; Nevada already has legal online poker, and New Jersey will launch Internet gambling in November of this year. Other states have legislation pending as well.
"The film underscores the AGA's message to lawmakers about the urgent need for online poker regulations in the United States," Freeman reiterated.
"We're looking for every opportunity to spread the word about the need for a regulated online poker market in the U.S., and the movie is an opportunity," added AGA spokeswoman Holly Wetzel. The organization is also planning to drive moviegoers to their website so they can learn more about why a regulated gambling environment is critical.
"A great majority of the public doesn't understand that regulated Internet gaming is taking place all over the world, but it has been slow to come about in the U.S.," said Bally Technology's chairman and AGA client Richard Haddrill of the move. "Ideally, the film allows us to present our message for a strong regulated system."
Congress has recently looked at two Internet gambling-related bills: one from Rep. Peter King (R-N.Y.) that would cover online gambling in its entirety; the other from Rep. Joe Barton (R-Texas) that addresses only Internet poker play.
Similar Guides On This Topic
Most Read