Anti-Online Gambling Group Says Kids, Terrorists Will Be Next to Play
Posted on: January 12, 2014, 05:30h.
Last updated on: January 9, 2014, 09:59h.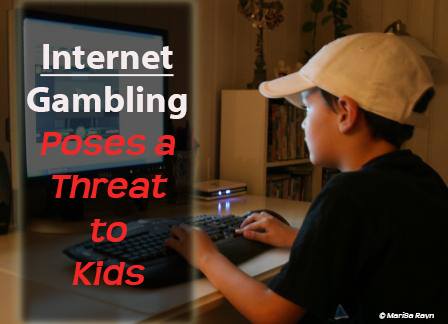 Sometimes when hard and cold facts elude you, just plain ol' fear-mongering looks like a good path to trot down. At least, that seems to be the thinking behind the Coalition to Stop Internet Gambling (CSIG) and a recent Facebook post, depicting a young boy of maybe 9 or 10, who appears to be immersed in an online poker game.
Kids as Future Gambling Addicts
The post ran on December 27, 2013 and remains on their Facebook page as of this writing. Accompanying the photo runs the copy:
"If we have learned anything about the Internet, it is that kids will find ways to outsmart their parents. Gaming experts say that Internet gambling is in part intended to draw the younger generation into gambling."
Of course, they don't tell you who these apparent harbingers of the future may be, but vagueness is your best weapon when you're pretty much pulling "facts" out of your derrière.
Not surprisingly, seasoned pro-Internet gaming groups like the longstanding Poker Players Alliance are firing back at these posts, and others that also feature stories about impending terrorist operations that could infiltrate online gaming sites, move money around, and generally cause the end of the world as we know it.
While we realize this is somewhat off the  beaten path of hard news, we couldn't help but stop by the "Recent Posts by Others" box and chuckle at some of the comments. A small sampling for your amusement, with all their unedited grammar and poorly conjugated thought streams:
"wow you sure are a greedy pig . and you are saying to want to protect kids from online gambling , What a joke you have a app to gamble on your site . so the Coalition against online gambling is such a bloody joke , you are a piece of work ."
"A gaming expert says that more people that view this page are against the Coalition to Stop Internet Gambling and wish you would focus your massive amount of money and obviously time to good causes instead of trying to take away peoples choices. It is a New Year Mr. Adelson use your time and money for something more productive."
"This site is a joke. I love to gamble but I have never lost any thing due to gambling to much. If any thing it has helped me out of some tough spots. It sucks that Alabama doesn't have a real casino to play poker in just slots that are a guarantee lose for way more people. Poker is a way more skill game than slots will ever be. Plus people are going to gamble and spend money ."
We have to admit, with the budget available to Sheldon Adelson – the Las Vegas Sands CEO whose vehement anti-Internet stance makes sense only to him and his lackeys – we think the writing and talking points on this page could be made at least a little more believable and compelling. Perhaps next, the page will have a post claiming that all the world's poverty and hunger can also be attributed to online play; it would make about as much sense.
Other Billionaires Disagree
Regardless – and despite Adelson's virtually limitless budget to throw more hysteria on this issue – he's getting some of his own medicine with some heavy hitters that are fighting back. Fellow billlionaires George Soros, John Paulson and Leon Cooperman have all invested heavily in online's success via the Caesars Entertainment subsidiary that is running the company's WSOP-branded Internet sites.
It seems pretty obvious that CSIG is fighting a fire that's long since turned into a blaze beyond control. With three U.S. states already legally operational – and California a possible fourth in the near future – we're not sure how Adelson and his crew think they are going to turn back the hands of  time. And, in fact, the obvious irony of it all is that illegal operations are far more likely to be subject to illicit infiltration than legal ones that have numerous watchdog features built into the whole regulatory set up of the sites.
Add to all this ammo the American Gaming Association – which, as we recently reported, has brought in five new heavy-hitters to get their message out – and we're pretty sure that won't be to kick online gambling in the kishkes. Besides the five we already reported on, it appears that AGA CEO Geoff Freeman has now recruited Jim Messina – Obama's 2012 campaign manager – "to work on grassroots initiatives."
As for the CSIG Facebook page – which as of this writing has a pretty paltry 960 "Likes" and far more derisive comments from visitors than not – other than giving some just-out-school interns a work credit, we're not entirely sure what they're trying to accomplish with it.
Similar Guides On This Topic