Adelson Wins $2 million Online Gambling Lawsuit, But Won't See The Money
Posted on: January 22, 2015, 10:23h.
Last updated on: January 22, 2015, 10:24h.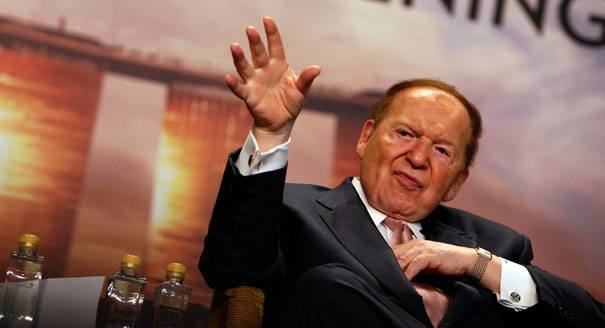 Sheldon Adelson's Las Vegas Sands Corp (LVS) has won a trademark infringement lawsuit against a number of Chinese online gambling websites that flagrantly used the group's logo without permission.
The 35 websites, each with non-descript urls such as vns006.com, vns007.com and vns008.com, made liberal use of LVS's intellectual property by plastering its logo throughout their pages, along with images of the Marina Bay Sands Hotel in Singapore.
It's an act that would have appeared particularly provocative to Adelson himself who has vowed to spend "whatever it takes" to cleanse the world of online gambling.
LVS sought compensatory, punitive, consequential, and statutory damages, as well as a "temporary, preliminary, and permanent injunction" in order to put the kibosh on the operation.
Blatant Exploitation
"The SANDS Marks are embodiments of the substantial goodwill and excellent reputation Las Vegas Sands Corp. and its predecessors have developed since 1952 as a premier provider of entertainment and casino services," LVS told the judge. "As a result of the Defendants' blatant exploitation of Las Vegas Sands Corp.'s trademarks without Las Vegas Sands Corp.'s consent, Las Vegas Sands Corp. has lost control over the SANDS Mark. This loss of control over its goodwill and reputation is irreparable and Las Vegas Sands Corp. cannot be adequately compensated by an award of money damages alone."
District Judge James Mahan ruled in favor of LVS, awarding the company $2 million in damages and granting a permanent injunction.
But while the offending websites have now been removed, Adelson is very unlikely to get a sniff of that $2 million.
The owners applied for a privacy protection service when registering the urls, preventing themselves from ever being identified, and have now disappeared into the ether, very likely with players' funds.
Adelson Revealed as Major Donor to Anti-Iran Group
In other Adelson news, the LVS Chairman has been revealed to be the major donor behind a mysterious and hawkish anti-Iran pressure group called United Against Nuclear Iran.
The group, which advocates blockades of food and medicine to the Islamic Republic, derives one third of its funding from the casino magnate, it was revealed this week.
This may further explain why in February LVS was the object of a cyber-attack, believed to have emanated from Iran.
The attack crippled the company's systems, plunging LVS into chaos for two days, as malware ripped through the company's networks, flatlining servers and wiping hard drives clean as it went.
It's believed the entire attack caused LVS some $40 million worth of damage.
Adelson Versus the Islamic Republic
Adelson has made no secret of his antipathy toward Iran and his opposition to the reopening of negotiations about its nuclear program.
"What are we going to negotiate about?" he asked in October 2013. "What I would say is, 'Listen. You see that desert out there? I want to show you something.'  You pick up your cell phone and you call somewhere in Nebraska and you say, 'OK, let it go.' And so there's an atomic weapon, goes over ballistic missiles, the middle of the desert, that doesn't hurt a soul. Maybe a couple of rattlesnakes, and scorpions, or whatever. Then you say, 'See! The next one is in the middle of Tehran. So, we mean business. You want to be wiped out? Go ahead and take a tough position and continue with your nuclear development."
Most Read

Latest Casino Stocks:
Retrieving stocks data...
Retrieving stocks data...
Retrieving stocks data...
Retrieving stocks data...
Retrieving stocks data...