Adelson Smacks MGM Resorts, Caesars Entertainment for Room Rate Drop
Posted on: August 13, 2013, 05:30h.
Last updated on: August 12, 2013, 07:13h.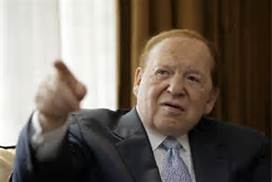 It might be time for Las Vegas Sands Corp. CEO Sheldon Adelson to take an anger management course. The 80-year old, highly litigious curmudgeon is at it again, and this time his ire is directed at casino competitor MGM Resorts International, who Adelson blames for driving down Las Vegas Strip room rates now, and, according to the mogul, affecting his own profits in the process.
Caesars Entertainment Also Blamed
Adelson made the accusations during his quarterly earnings conference call recently, also calling out Caesars Entertainment Corp. for the same loss-leader tactic, a time-honored one in Las Vegas that only got dropped during the height of the "we-can-do-no-wrong" pre-recession years in Sin City.
The way Adelson phrased his remarks almost made them sound patronizing, however. Referring to Ceasars long-term debt load – currently the highest in the casino industry – of $23.7 billion, and to MGM Resorts' of $13.1 billion, Adelson said of the lowered room rate policy: "I don't necessarily blame them. I suppose if I were in that position, I might do the same thing."
Murren Says Adelson is Out of Touch with Vegas Market
Coming back on the offensive, MGM Resorts chairman and CEO Jim Murren basically called Adelson a wealthy but doddering old fart who lacks understanding of what drives the Las Vegas tourism market these days.  Backing up his claim is the reality that 86 percent of Las Vegas Sands' quarterly revenues this time came from their Macau properties, and the simple fact that Sands has just two Las Vegas Strip properties – the Venetian and its adjacent Palazzo – versus the combined Strip power of MGM Resorts' and Caesars' 20 hotel-casinos.  The MGM-Caesars contingent represents over 64,000 hotel rooms, compared to Las Vegas Sands' 7,000 hotel rooms, on the Strip.
"We know the market here," Murren said. "We and Caesars are the largest players. We provide the most jobs, the most tax revenues and the most community support. It's obvious to us that the market is getting better."
So there, Sheldon.
Naturally, the pugilistic Adelson wasn't going to take those comments lying down.  "They need the bodies in their casinos and they need the bodies in their beds," Adelson said. "The only way to get them is to buy the business by reducing the price." We're not exactly sure what his point is, except that it's one way to explain why people aren't paying the more premium rates at the Venetian and Palazzo.
Murren says that MGM Resorts net revenues from all its Strip properties were up by 3.4 percent this quarter (ending June 30), to $1.248 billion. Moreover, the company's hotel revenues specifically were up 5 percent, Murren said. "People are spending more money in the nongaming areas," he noted. To that end, the company has been doing some major capital improvements, renovating rooms at the MGM Grand and Bellagio and bringing in new Cirque du Soleil shows like "Michael Jackson One" at Mandalay Bay, as well as adding some new chic eateries.
Meanwhile, the company is pouring $100 million into a massive outdoor retail, dining and entertainment area between New York-New York and the Monte Carlo, aimed at stopping pedestrians and pulling them in, while Caesars Entertainment is developing the $550 million Linq, a similar genre of outdoor venue that is going up across from Caesars Palace, their flagship property, between the Flamingo and O'Shea's.
Lest anyone wonder what third-party gaming analysts think of this fire volley, Stifel Nicolaus Capital Markets gaming analyst Steven Wieczynski said Adelson's remarks might, in fact, be somewhat yesteryear-ish.
"The company [MGM Resorts] remains well-positioned to capture an increasing share of Strip visits, potentially contributing to a resurgence in revenues ahead of a broader market recovery," Wieczynski said.
Murren, however, got in the last nyah-nyah by saying, "He's entitled to his own opinion. Maybe because he's rich he thinks people care about what he has to say. It's obvious we know Las Vegas better than he does."
Adelson has also come under fire recently from many in the poker world by dissing online poker and Internet gambling in general as insidious and destructive. He's even launched a lobbying website to fight the spread of legal online gaming.