Little Less Conversation, Little More Retraction for Caesars Entertainment
Posted on: March 20, 2013, 02:30h.
Last updated on: April 15, 2013, 10:29h.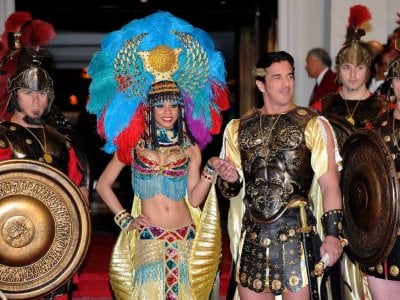 Caesars Entertainment will be forking over $225,000 in fines to the New Jersey Division of Gaming Enforcement shortly, but the fines are for the bad behavior of a major client that went unchecked in Las Vegas. Already confused? The plot for this one has more drama than Caesar and Cleopatra themselves, and shows the delicate balance a casino must maintain between keeping a high roller happy, its employees unhassled, and at least a nod given to the laws of the land. But let's start at the beginning.
Whale Made Passes at Employees
It was back in 2007, and Nebraska gazillionaire Terrance Watanabe was losing a whopping $127 million during what we hope was a helluva good time at both Caesars Palace and its sister Harrah's property, the Rio, in Las Vegas.  Although he shelled out $14.7 million of his accrued debt, Watanabe subsequently sued Caesars and Harrah's, saying the casinos had pumped him full of booze and fancy painkillers.  Caesars steadfastly denied the charges, and they both settled out of court for an undisclosed sum. (Unless Caesars' plan was to rifle his pockets like a Fremont Street hooker, we have to say we can't quite see the benefit of a comatose whale to a casino; but we digress.)
"Inappropriate Sexual Conduct"
See, here's where things start to get sticky, because yes, it's Las Vegas and yes, the dude has wracked up enough to pay down a portion of the national debt, but see, Harrah's is also a big ol' corporation and subject to laws to do with sexual harassment of its employees and all that annoying modern-day stuff. (Not like the good ol' days, when Sal and Vinnie would hook you up with a hot chorine and you could do whatever you wanted.) An internal report prepared by a third-party investigator says Caesars' senior management looked the other way regarding both maybe a little too much fanny pinching and little too much coke snorting, and all right on Caesars' property to boot. Tsk tsk.
Pay Up and Shut up
Now Caesars will have to pay the $225,000 fine "in recognition of the seriousness" of its poor senior management skills to the New Jersey Division of Gaming Enforcement for "failure to exercise discretion and sound judgment" where this loaded Lethario was concerned. Why New Jersey, you ask?  Possibly because that state has always been a bellwether of upstanding morals and lack of criminal activity (we hope the sarcasm has dripped onto the page) and also perhaps as a little retaliation for Caesars backing of the American Gaming Association's damning views on whether to allow "bad actor" PokerStars to receive a New Jersey gaming license. All make sense now?
Next time, Caesars Entertainment, just get the guy a hooker for gawd's sakes; it's not like they're hard to find at any of your bars.