$40 Million Man Archie Karas Charged with Casino Cheating
Posted on: October 2, 2013, 05:30h.
Last updated on: February 23, 2017, 08:05h.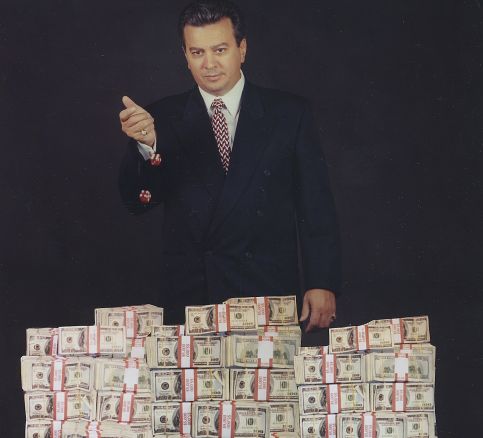 One of the world's most famous gamblers has been charged with cheating and defrauding a casino; Archie Karas, now 62, who was said to have built up $40 million in winnings over three years in the mid 1990s from an original $50 stake decades ago only to lose it all back, was allegedly caught marking cards at a blackjack table in a California casino recently.
Arrested at His Home
According to authorities, Karas was taken into custody last week at his Las Vegas home. Karas will be extradited to San Diego to face charges of burglary, cheating and winning by fraudulent means. Karas could potentially face up to three years in prison if he is convicted of all charges.
"This defendant's luck ran out thanks to extraordinary cooperation between several different law enforcement agencies who worked together to investigate and prosecute this case," said Bonnie Dumanis, San Diego County District Attorney.
The case was opened in July, after Karas – whose real name is Anargyros Karabourniotis – was seen on security cameras marking cards in a blackjack game using tiny amounts of dye. Karas was marking all of the cards worth ten (tens, jacks, queens and kings), as well as aces, in order to gain an advantage over the Barona Resort and Casino in Lakeside, California, which is located inland  in North San Diego County.
For those unfamiliar with the game, knowing what cards were coming or what card the dealer had in the hole would be enough to give even an unskilled player a huge advantage over the casino. It allowed Karas to make decisions based on what he knew he would need to beat the dealer, or choose whether to hit or stand based on what the next card was (or could not be).
Used a Casino Chip to Mark Cards
Karas managed to get the dye onto the cards by using a hollowed-out casino chip. He would swipe the chip over the cards he wanted to make throughout the course of the game – a move that would be difficult for a dealer to catch at the table, but which could be seen on security cameras.
In fact, it's possible that Karas had pulled a similar scheme at other casinos as well. When investigators searched Karas' home, they found hollowed-out chips from other casinos too. That said, no other casinos have made complaints about Karas cheating at the blackjack tables recently.
But further in the past, Karas has had plenty of run-ins with gaming control officials, particularly in Las Vegas.
"The Nevada Gaming Control Board has investigated Karas on multiple occasions resulting in four arrests," said Karl Bennison, the NGCB enforcement chief, in a statement. "Karas has been a threat to the gaming industry in many jurisdictions."
Karas' famous winning streak came at the poker tables from 1992 to 1995, when he took $50 and eventually made millions playing the high-stakes poker cash games, as well as pool hustling, in Sin City. He was then said to lose most of that money in just weeks by playing craps, baccarat and other casino games. However, he was always able to find backers to get him back on the poker felt, where he continued to be successful for years. He has also had some tournament poker success, finishing as high as 3rd in World Series of Poker events over the years, winning a total of more than $200,000 in live tournament play over the course of his career.
Similar Guides On This Topic