33 Arrested in India Online Gambling Raid
Posted on: August 11, 2013, 05:30h.
Last updated on: August 8, 2013, 06:32h.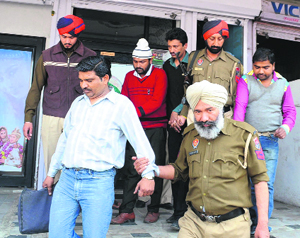 Police in Kandivli, India raided six gaming parlors and arrested a total of 33 people this week in a crackdown on online gambling in the region. The raid was the first of its kind in the area, as Samta Nagar police raided parlors owned by Planet G Internet Online Game and Bingo in Kandivli, as well as the Pratik Game Zone in Malad.
Franchise Owners Arrested
All of the raids were conducted on venues that were franchises of a company known as Game King Pvt Ltd, based in Tardeo. A total of 12 owners of the franchises were arrested, along with 21 players who were in the parlors at the time of the raids. The owners of Game King, Ramesh Chaurasia and KL Mansukhani, have not yet been arrested in connection with the raids.
During the raids, police recovered 1.31 lakh ($21,500) in funds. According to reports, the centers in question had been open for at least two years.
"There are at least 300 more such centers running in the city under the franchise of Game King," said Sunil Paraskar, commissioner of police for the North Region. "We are looking for the main server from where these games had been activated. We will take Cyber Crime department's help to trace it."
Players were able to open accounts at the centers to play online gambling games for a minimum of 1,000 rupees ($16.50). Once the accounts were open, players could then play at the centers or take their account information and gamble from home, as with other online gambling sites.
Massive Online Losses
But while the amount required to open an account was small, the amount ultimately bet or lost by some players proved to be much larger. According to police, some players lost as much as 50 lakh ($823,000) on the sites. Other players managed to lose property and land in addition to their financial losses.
According to police, it appears as though most players were fairly young adults, though a wider variety of players is expected when police have more complete information.
"The players arrested are from middle-class backgrounds in the age group of 30 and 40," said Pravin More, a senior inspector. "But bigger names can crop up once we start busting other centers and get customer data."
While India is a large and potentially lucrative market for online gambling companies, the Indian government has attempted to prevent the industry from taking off in the country. Current law requires Internet service providers to be responsible for blocking access to offshore betting sites.
But despite these laws, illegal gambling is common – both online and off. India only allows gambling on lotteries and horse racing, but many Indians also wager on sports betting, especially on the national pastime of cricket. In fact, India has even considered legalizing sports betting in the country in order to take the wagers out of the black market and regulate the industry instead. Calls for such a move have come in response to match fixing (and smaller "spot fixing," such as manipulating the results of a single ball or over) scandals in cricket that have placed a cloud over the integrity of the sport in recent years.