32Red.com Making Others Pink with Envy Over Exclusive Live Playboy Games
Posted on: February 28, 2013, 05:03h.
Last updated on: February 28, 2013, 06:01h.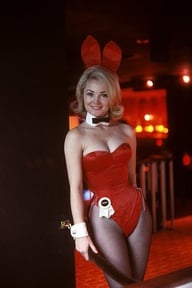 32Red PLC announced a rather sexy new addition to their gaming lineup over at Red32.com. In a partnership with prominent gaming developer Microgaming, 32Red announced the creation of a series of real dealer games which will feature live Playboy bunny croupiers as the dealers.
Live games of roulette, blackjack, and baccarat are initially slated to have this cosmetic facelift, and Red32 cited the popularity of live games on their site as a reason for the investment in continuing and broadening their appeal.
"Live casino games have always been very popular at 32Red," the company announced in a press release. "Players around the world enjoy live gaming as it's as close as you can get to playing in a physical casino. I think the addition of the alluring Playboy bunny dealer is an enticing offering that will surely attract attention."
There is little doubt that live Playboy dealer games are attractive for their ability to make players feel like they're playing in a real casino and experiencing that rather glamorous lifestyle, as opposed to sitting in their bedrooms staring at a computer screen. The addition of Playboy bunnies should do nothing but enhance the appeal of those games and make them that much more attractive (both literally and figuratively).
While the Playboy live dealer games are exclusive to Red32, the Playboy brand is no stranger to the gaming world. Just last month, Gamysys launched Playboy Casino on Facebook, a combination slots/social platform with chat functionality that lets players play different themed slots games based on Playboy's lengthy (and rather lurid) history.
Added Microgaming CEO Roger Raatgever: "Playboy has a rich history in the world of casinos and gaming. Our Playboy live dealer games offers players the opportunity to digitally experience this world coupled with the indulgent Playboy lifestyle."
Last year, Playboy also signed an agreement with Amaya Gaming Group to develop a series of Playboy-branded poker and other gaming properties based on the popular and iconic brand. 32Red may have scored the biggest Playboy coup yet however, one that could keep gamers transfixed to their screens and their money flowing on the digital tables.
Similar Guides On This Topic