2017 WSOP Main Event Final Table: All You Need to Know
Posted on: July 19, 2017, 06:52h.
Last updated on: July 19, 2017, 06:54h.
The final table of the World Series of Poker's Main Event was set in the early hours of Tuesday morning. In the third largest WSOP main event in history, four Americans, two Brits, two Frenchmen and an Argentinian survived from a field of 7,221 and will return on Thursday to the Rio in Las Vegas, where the players will battle for a $8.15 million first prize.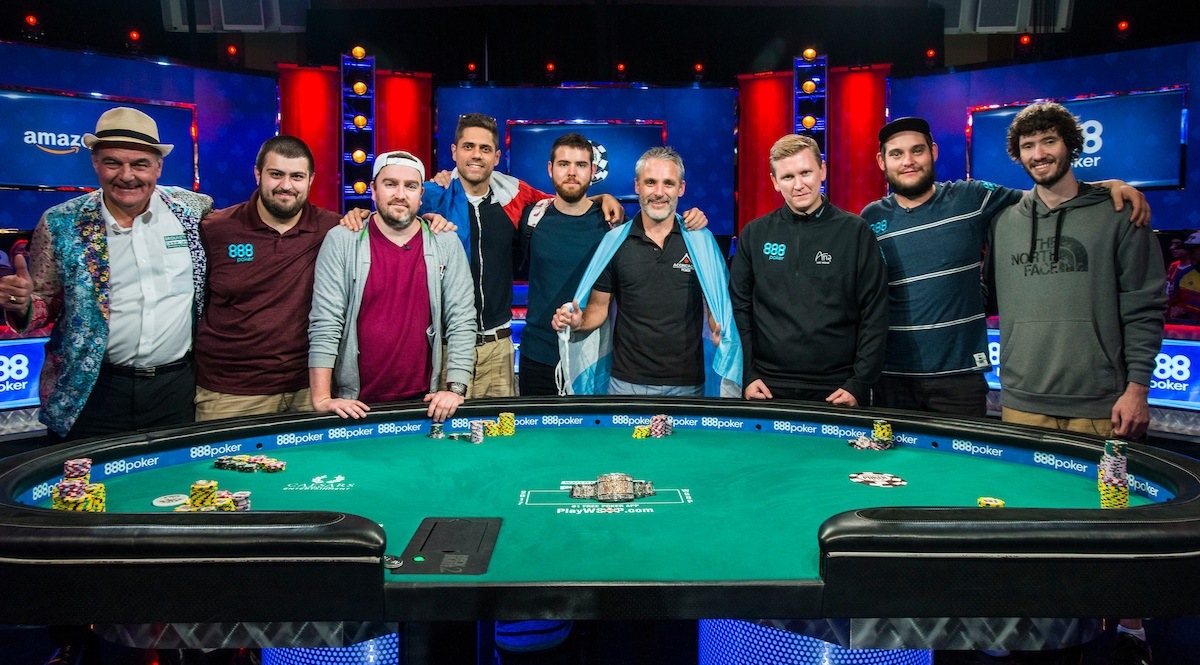 This marks the first year since 2007 that the WSOP won't be taking a customary three-month hiatus before completing Main Event play. In May, WSOP officials announced a decision to scrap the "November Nine" concept, and poker communities reacted positively to the idea of crowning a champion in July.
The tournament reconvenes on Thursday, July 20, at 5.30 pm and will be televised "almost live" on ESPN 2 as the final table plays down from nine to six.
Gaming regulations prohibit showing "hole cards" in real time (to prevent cheating), so coverage is run on a 30-minute delay.
On Friday, the tournament will play from six down to three, also on ESPN2, who then return to determine a winner on Saturday night (or in the early hours of Sunday morning), with almost live play on regular ESPN.
Whom to Root For
Two of the nine finalists have been here before. France's Antoine Saout and the American Ben Lamb both finished third in 2008 and 2011, respectively. Saout won nearly $3.5 million and Lamb won more than $4 million those years.
The oldest participant is John Hesp, a jovial 64-year-old granddad from the UK, who sits second in chips and is the table's only amateur.
The youngest is 25-year-old New Jersey native Scott Blumstein, who happens to be the chip leader.
While the US is the most represented nation, London is the most represented city. Both French players, Saout and Benjamin Pollack reside in London, too, while 26-year-old Brit Jack Sinclair is born and bred.
The event resumes with one hour, seven minutes and one second left of Level 37, with antes 100,000 and blinds at 400,000 and 800,000. That gives short-stack Ben Lamb 22.5 big blinds, and a healthy 121.5 for chip leader Blumstein.
Record Numbers
All players are guaranteed to become millionaires (if they aren't already), with ninth place paying out exactly $1 million. All eyes will be on the $8.15 million first prize, however, with second place bagging up $4.7 million.
They say interest in poker is tailing off internationally, but that was not borne out by the stats from this year's festival. The 2017 WSOP attracted a record 120,995 entrants from 111 different countries, competing for a record $231,010,874 in prize money paid out in 74 events.
The Main Event field was 7.2 percent bigger than last year. In terms of sheer numbers, it has only ever been surpassed twice, by the Main Events in 2006 and 2010.
WSOP $10,000 Main Event
Number of Players by Year
2003:  839
2004:  2,576
2005:  5,619
2006:  8,773
2007:  6,358
2008:  6,844
2009:  6,494
2010:  7,319
2011:  6,865
2012:  6,598
2013:  6,352
2014:  6,683
2015:  6,420
2016:  6,737
2017:  7,221
While tournaments with $10,000 buy-ins are relatively common, or at least common enough to happen practically every month somewhere in the world, the WSOP Main Event in Las Vegas has long been the biggest, and is considered a barometer for the health of the poker community and industry.
Latest Casino Stocks:
Retrieving stocks data...
Retrieving stocks data...
Retrieving stocks data...
Retrieving stocks data...
Retrieving stocks data...