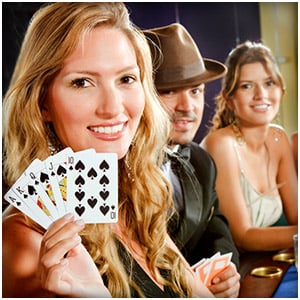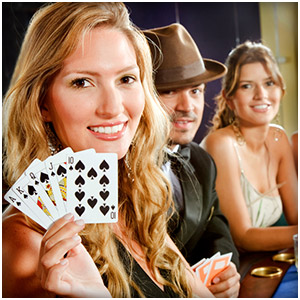 Gambling options were once limited to live casinos and pick-up games, but the gambling online revolution has created a whole new series of venues, where countless players dance with lady luck every day.
Casino or online venue
There is nothing like a trip to the casino, especially if you are lucky enough to travel to Las Vegas; the undisputed Mecca of gambling. Playing your favorite casino games online has its own set of advantages too, so the question being asked by regular gamers and occasional players is whether to gamble online or head out to a casino.
In short, it depends on what you are looking for from the experience. Casinos are entertainment venues that titillate your senses, on all fronts. The soothing drone of slot machine bells cannot be replicated at home, and unless your girlfriend is willing to dress like a showgirl, you just won't capture the full Vegas experience from your office chair.
The glitzy spectacle put forth by casinos is half the fun for some folks, so there is no way that internet gambling is going to shut the doors on brick-and-mortar casinos. If you like soaking up the glamor of Vegas, and enjoy the spotlight of being a high-profile player, then you'll want to mix some live trips into your gaming repertoire.
Practical considerations to gamble online
For some players though, it's just the thrill of betting and beating the odds that draws them to games of chance. An evening of online blackjack is equally satisfying to this player, as a trip to a riverboat casino.
For most people that enjoy games like Roulette, Craps, Blackjack and Poker, online gambling is just another color in the paint box – another way to have fun playing. If you learned to play these games in live casinos, you aren't going to quit playing live, just because you've discovered virtual gaming. And if your first exposure to gambling came online, then you'll be eager to experience a live casino, once in a while.
The answer for most gamblers then, is that Internet and in-person approaches each have their own place. And for some, practical considerations make the choice an easy one. If you don't live
anywhere near a casino, playing online provides your only regular access to the games you like to play.
Playing casino games online cannot be beat for its convenience. No matter how close you are to a brick-and-mortar casino, it still takes some time to get there and get a seat at the tables. If you play at online casinos, logging-in to your internet account is the only thing standing between you and your first bet. The logistics of gambling online are more efficient than traveling to live games, allowing you to play even when time is short.
The anonymity of online gambling
Once you've spent some time in a live casino, it becomes a comfortable place, but early-on you might feel intimidated there. Internet casinos enable you to learn games from the cozy confines of
home, as an anonymous player. This built-in familiarity is an advantage for inexperienced players who might be distracted at a flashy live casino.
Online casinos provide the same odds of winning, and all your favorite games like Baccarat, Keno and Bingo are available there, so why would you ever leave the house, to play them live? For the same reason you'd go to a baseball game that you could watch on TV, or go out for dinner, when you have a fridge full of food – because it's fun.
In-person experiences stimulate emotional responses that you might not get sitting in front of your computer screen or television. On-premise restaurants and entertainment venues add to the casino experience, in ways that you just can't replicate at home.
Everyone's situation is a little different, so gamblers appreciate having more than one outlet available for playing casino games. For the full monty, head to Vegas or a nearby casino, or for convenient access to competitive casino-style games, play online.