Welcome Casino Bonuses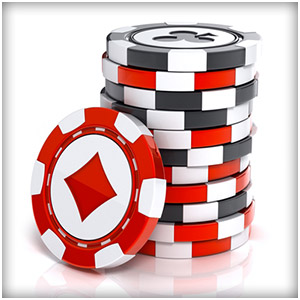 Online gaming is a competitive business, which is good news for internet gamblers – especially new players.  Online sites pull out all the stops to get your attention, including generous casino sign-up bonus offers for first-time account holders.
Sign-up or welcome bonuses are incentives designed to reward you for playing at a certain site.  The rules are different for each bonus, so make sure your expectations are in line with what the internet casino is actually offering.
Casinos want your business, but they need to make money too – don't expect them to welcome you with no-strings attached cash, just for signing up.  Bonuses are structured so that you've got to spend some time at the tables before you can withdraw any money.
Lots of casino bonuses work like this: the casino will match a percentage of your initial deposit; up to a certain maximum amount, provided that you wager a prescribed amount of money.  Your wagering requirement is often expressed as a multiple of your bonus amount.  For example, if a casino matches 100% of your deposit, up to $100, when you wager 10X the bonus, it means your $100 bonus can be claimed once you've bet at least $1000 on games.
To stand out, internet casinos sometimes promote bonus matches of 400 or 500 percent of your initial deposit.  Most of the time, these offers prove difficult to claim, due to the excessive amount of wagering required to satisfy the bonus terms.  Look for bonuses that reward reasonable deposit amounts, and have achievable wagering requirements.
Once you've found a sign-up bonus that passes muster, take full advantage of it, by making the maximum qualifying deposit.  Remember, you can only claim a welcome bonus one time at each site you join.
No Deposit Bonuses
This casino bonus variation is the closest thing you'll find to free money.  The casino starts you out with a pile of chips that can be used for real money games.  Once you have played a certain number of games, the money is yours to keep, along with any winnings you have earned with it.
This isn't a match of money you've actually deposited, so you'll be required to make a lot of bets before you can withdraw the bonus cash.  You really don't have anything to lose, so use your no deposit bonus to learn the casino's games and have a blast.  With any luck, you'll also build a bankroll that is yours to keep.
Time limits are also used to restrict no deposit bonuses.  In some cases you are required to bet the bonus money within a set time period, like an hour, or forfeit your chance to keep the money.  Other conditions that limit your ability to make withdrawals are applied to no deposit bonuses too, so read the fine print and don't expect to break the bank with the casino's own money.
Other Bonuses
Welcome bonuses are great one-time inducers to get you to the virtual tables, but they are not the only incentives handed out by online casinos.  Reload bonuses reward account holders for adding money to their accounts.  Typically reloads get low percentage matches that pump up the bankroll with house money.
Referral bonuses are rewards that come to you for promoting an online casino.  If you inspire an associate to sign-up at a casino, you are in line for a bonus. Once your referral has been on board with the casino long enough to meet the requirements of the offer, you are rewarded with cash, in your account.
If you like to play classic casino games like Baccarat, Keno, Craps and Roulette, online casinos have you covered with virtual versions of all your favorite games.  Take advantage of the bonuses offered by casinos that are willing to boost your bankroll, or provide free play, in order to earn your business.