Slot themes are in general a little weird and wonderful, which makes a list of the ten weirdest ever potentially terrifying. But here it is, nevertheless: from sexualized Santas to swearing slots, and from Judge Judy to machines that have deeply offended large ethnic groups, we present our top ten. Don't say we didn't warn you.

10: Village People Party
This slot machine never made it online but it was a big hit in the live Vegas casinos, and we know because we played it on our last trip over there. It gets a mention in this list simply for being the most, shall we say, flamboyant slot machine of all time. When you hit the Village People Party Bonus, for example, not only did you have the chance to win big money but you also got all six Village People furiously hustling, bumping, hitch-hiking and spinning to rampant disco music along the bottom of the screen. That may not be everyone's idea of fun, but we were hooked. There's also this weird bit where you get to select your favourite Village Person and he's revealed as either a "Macho Man" or a "Pooper" and … um… well, like we said, it was a bit weird.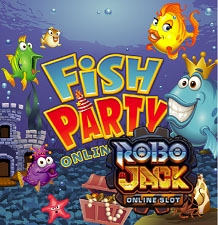 9: Fish Party
What do you need to get the party started other than the Village People? Fish! The answer is definitely fish! At least, that's the premise of Fish Party, a 5-reel slot from Microgaming. Yes, you are herring us right, fish and slots games go together like grilled salmon and dill and butter sauce, apparently. Simply hit a combo of several fishy symbols in a roe and your winnings could be off the scale! And we're not simply using this review to flex our fish-punning mussels, we promise. [Yes, you are – Ed.] What would be the porpoise of that? [I'm seriously considering finding a different writer for this piece – Ed.] So don't be Koi. Why not, on salmon chanted evening, join the Fish Party, just for the halibut! It's the plaice to be! Well, at least mullet over. [OK, you're fired – Ed.]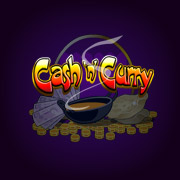 8: Cash and Curry
Thus far we have failed to establish a link between fish and slot machines, and we fear our imaginations may be stretched even further by Cash and Curry, a curry-themed slot, again from Microgaming. The cash bit we get. That bit makes sense. But curry? It's not like you can actually win curry. Of course, we could simultaneously fill some time and attempt to mask our confusion by stringing together some curry-based puns for you, but last time that turned out to be bad korma and we're not gonna tikka chance.
With just three reels, the game plays out like a classic UK pub "fruit machine," except that instead of fruit on the reels we have poppadums, limes and chillies, and the aim of the bonus game is to make a combo of chicken baltis! We have absolutely no idea what they were thinking.

7: Hoff Mania
We absolutely get what these guys were thinking, 100 percent. Hoff Mania was created by Austrian developers Green Tube, and if there's one thing we know about Austrians it's that they love David "the Hoff" Hasselfhoff, hence the titular "mania" for the man. Actually scratch that, everyone loves the Hoff, not just Austrians. He's a superstar that spans generations, whether he's playing a tight-jeaned crime-fighter with a futuristic, indestructible car that someone stupidly programed to be short-tempered and petulant, or a slow-mo figure running across a beach in orange shorts, Hoff is the man. Austria and the German-speaking world, incidentally, also love him for his 1989 number-one soft rock anthem Looking for Freedom, although we think that's probably a bridge too far.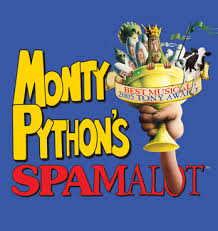 6: Monty Python's Spamalot
The Spamalot Slot caused a bit of a stink on its release because many felt that the Monty Python team had sold out by lending their name to a gambling product. But of course, as is often the case with these things, Monty Python themselves had absolutely nothing to do with it. "Dear Twits," tweeted John Cleese in response to the criticism. "Please understand that Python has no control over Spamalot activities. They pay us royalties for using the Grail script. That's it."
Ignore the cries of "sell-out," then, and you're left with one of the daftest slot machines ever, packed with songs from the musical, loads of cutaway animation and plenty of surreal touches, such as a bonus game the aim of which is to avoid getting hit by a cow. Also featuring a barnstorming guest appearance from The Knights who say "Ni."
5: Planet Exotica
Planet Exotica takes place in an intergalactic strip club where a series of animated scantily-dressed aliens cavort for your viewing pleasure. There's even a bonus round where you get to "kiss" said aliens, by choosing a set of lips in the "Select a Smooch" game. If you're sexually attracted to animated scantily-dressed aliens, and each to his own, you will LOVE this slot, but may we also say that your tastes are quite "niche." Meanwhile, for those of you strictly attracted to your fellow earthlings, let's move swiftly on.

4: You Lucky Barstard
This one is the only online slot machine we have found that actually has swearing in the title, which definitely earns it a place on this list. It's also very clever psychologically. Firstly, it's disarming because you don't expect to be sworn at by a slot machine, and then its title implies that you've won money from it even before you've started playing, and it even aggressively insults you for taking this money that you haven't yet won and in fact doesn't actually exist yet. And then, while insulting you, it actually compliments you for being a winner in the same breath, even though you're not. Be warned, this mixture of insult and flattery is confusing. We lost thousands before we realized what was going on.

3: Judge Judy
There have been some great movie and TV spin-off slots over the years, from The Dark Knight Rises to Transformers to Star Trek. We love these blockbuster franchises because they get to use cool sound bites and cutaway movie sequences from the original and are generally awesome. But Judge Judy? Really?
Yes, the daytime TV show in which no-nonsense, ball-busting retired judge Judy Sheindlin presides over the real problems and disputes of slightly wrongheaded Americans has got to be the strangest slot adaption of all time. During the bonus rounds, for example, players are shown video clips of a cases which they are then asked to judge. Should they arrive at the same decision as Judge Judy, they will receive their bonus multipliers. We are not making this up, we promise.

2: Lakshmi Gold
Perhaps the most crassly ill-judged slot machine of all time was Lakshmi Gold, an online slot from Playtech that had the potential to deeply offend 950 million people, which is roughly the amount of Hindus there are in the world. This Hindu gods-themed slot, which someone at Playtech actually thought was a brilliant idea, depicts various Hindu deities on the reels, including Lakshmi, the goddess of wealth, fortune and beauty as a bonus symbol, and Lord Ganesh, the god of wisdom, representing a jackpot pay-out. A hymn to Lakshmi is even played during free spins round!
"Lakshmi is the goddess of wealth in Hindu mythology and has six arms – perfect for a slot game," proclaimed the promo material.
Wow, Just wow!

1: 40 Shades of Santa
Inspired by the writings EL James and clearly the product of a disordered mind, 40 Shades of Santa is a wholly unwelcome fusion of sado-masochism and Christmas cheer. Ill-advisedly brought to us by Paddy Power, this slot machine labors under the (erroneous) premise that Santa is sexy in a kinky kind of way.
It seems that Santa's elves have been making toys of the adult variety this Christmas, and thus, as well as the obligatory Santas hats found on festive slots, the reels on this one are also populated by handcuffs, masks and other unmentionables. Can you believe they all sat down and had a meeting about this? It's just wrong on so many paylines, all 50, in fact.
"May Santa, his sexy missus and their bag of tricks bring joy, luck and a little naughtiness to you this Christmas," Lucinda Kelly, Mobile Games Manager for Paddy Power, mouthed breathlessly on its release. Um, no thanks, Lucinda.