Can Michael Conlan Become Another Irish World Champion?
On August 3 one of Ireland's brightest prospects will take to the ring hoping to further enhance his ever-growing reputation, as Michael Conlan returns to his hometown of Belfast to face his latest challenger.
It's at Falls Park where the highly-rated Conlan will make his 12th professional outing against stand-in Argentine opponent Diego Alberto Ruiz, in what should provide a promising test for the unbeaten Irish talent.
Russian nemesis Vladimir Nikitin was supposed to be in the opposite corner that night but the man on the receiving end of that now infamous 2016 Olympics decision victory over Conlan was forced out with injury, leaving Ruiz to take up the spot instead.
Ever since providing an iconic middle finger image from the Games three years ago, following his blatant robbery at the hands of Nikitin, the Irishman has been tipped for success in the paid ranks and has outlined his intentions of claiming a world title sooner rather than later.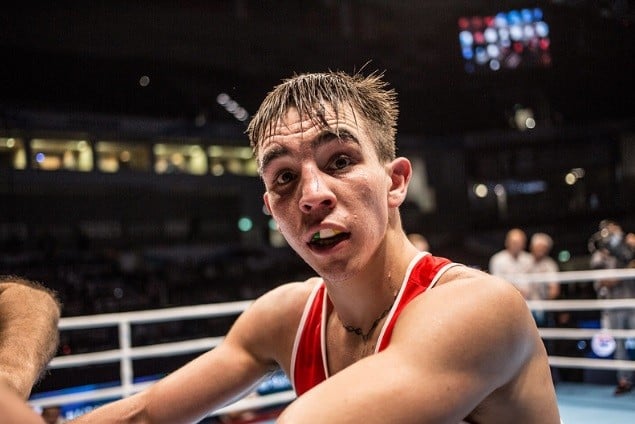 There are contrasting figures when it comes to the exact number of world champions to have come from Ireland, depending on the source and which belts were regarded as highly during certain time periods. But BoxRec list a total of 23 compatriots that Conlan will hope to follow suit in claiming world honours in his career.
Those names from the north and south are: Ryan Burnett, Johnny Caldwell, Steve Collins, Dave Sullivan, Nonpareil Jack Dempsey, TJ Doheny, Bernard Dunne, Carl Frampton, George Gardner, Deirdre Gogarty, Eamonn Loughran, Andy Lee, Jack McAuliffe, Barry McGuigan, Jimmy McLarnin, Mike McTigue, Rinty Monaghan, Brian Magee, Dave McAuley, Wayne McCullough, Peter Maher, Tom Sharkey and Katie Taylor.
Conlan has a tough task ahead of him, with his current featherweight being led by elite title holders like former American stablemate Oscar Valdez and Leeds favourite Josh Warrington. But can the 27-year-old achieve such a feat in the near future and follow in esteemed footsteps?
Here are 10 of the most prominent of those aforementioned world title holders hailing from Ireland that he will soon aim to emulate.
1. Carl Frampton (26-2, 15 KOs)
Belfast-native Carl Frampton is still the leading fighter out of Ireland in the current climate, being a two-division world champion and his only losses coming to other world title holders Leo Santa Cruz and Warrington.
'The Jackal' earned prestigious Fighter of the Year honours for his efforts across 2016 when he unified the super-bantamweight division by outpointing Scott Quigg then toppling Santa Cruz to reign at featherweight too.
2. Wayne McCullough (27-7, 18 KOs)
Another Belfast world champion next in the form of Wayne McCullough, who reigned at bantamweight from 1995 to 1997.
'The Pocket Rocket' became the first ever fighter from Ireland or Britain to travel to Japan and win a title when he beat Yasuei Yakushiji in 1995.
3. Steve Collins (36-3, 21 KOs)
Dublin's Steve Collins is one of his nation's most decorated fighters in history, having been a world champion at both middleweight and super-middleweight in his career.
'The Celtic Warrior' lost early to the legendary Mike McCallum and it wasn't until he hit his thirties that he reached the pinnacle, beating both notable British names Chris Eubank Snr and Nigel Benn twice along the way.
4. Nonpareil Jack Dempsey (Reportedly 51-4-11, 23 KOs)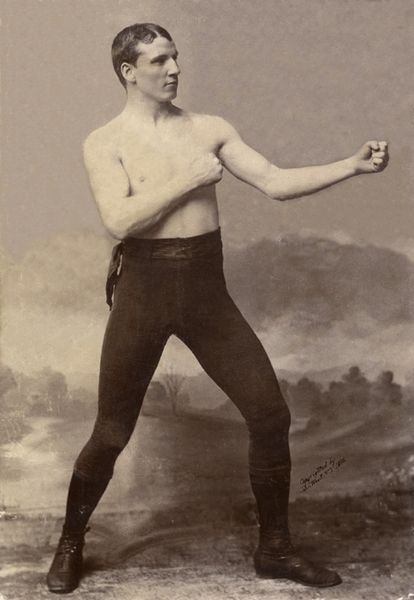 Mention Jack Dempsey and immediately people think of the American heavyweight icon from the 1920s but there was another by the same name that was born in County Kildare in 1862.
Nicknamed 'Nonpareil' due to his reputation for being unbeatable, the Irishman was the first ever holder of the world middleweight championship and is an international Hall of Fame inductee.
5. Andy Lee (35-3-1, 24 KOs)
Limerick-native Andy Lee worked closely with legendary trainer Emanuel Steward at the beginning of his professional career and went on to claim world middleweight honours in 2014 when he knocked out Matt Korobov.
In doing so he became the first ever fighter from the travelling community to become a world champion.
6. Jimmy McLarnin (Reportedly 55-11-3, 21 KOs)
Widely regarded as the greatest fighter to ever come out of Ireland, Jimmy McLarnin was a supreme two-time welterweight king who beat 13 world champions and is a member of the International Boxing Hall of Fame.
Born in Hillsborough, County Down, he overcame the likes of legends Barney Ross, Lou Ambers, Tony Canzoneri, Pancho Villa, Young Corbett III and Benny Leonard across an illustrious career.
7. Barry McGuigan (32-3, 28 KOs)
Born in Clones, County Monaghan, Barry McGuigan was a beacon of peace and neutrality during The Troubles in Ireland, bringing together British and Irish communities through his ring efforts.
'The Clones Cyclone' was crowned featherweight world champion after outpointing Eusebio Pedroza in London in 1985 and defended it twice on Irish soil.
8. Rinty Monaghan (Reportedly 52-9-8, 19 KOs)
Belfast's Rinty Monaghan became a hero in his home city during his career, becoming undisputed flyweight champion during the post-war period.
'The Signing Irishman' was renowned by supporters for his performances of 'When Irish Eyes Are Smiling' to the King's Hall audiences after his fights. He was immortalised with a statue at Cathedral Gardens in Belfast in 2015.
9. Tom Sharkey (Reportedly 37-7-6, 34 KOs)
'Sailor' Tom Sharkey was born in Dundalk in 1871 but later ran away from home to become a cabin boy, eventually landing on American soil and joining the Navy there.
He is perceived to have held the heavyweight title for a short period during his career and was involved in high-profile clashes with Bob Fitzsimmons and James J. Jeffries. Sharkey's rematch with Jeffries was notably the first boxing match filmed for use in a motion picture in 1899.
10. Katie Taylor (14-0, 6 KOs)
Bray fighter Katie Taylor has become a trailblazer for women's boxing and she is currently the undisputed lightweight world champion, following on her incredible amateur career in the paid ranks.
What's in store for August 3?
Belfast's Conlan is one of the latest rising Irish boxing stars on the scene and he has his sights firmly set on achieving a world title in the near future.
The unbeaten prospect still has a long path ahead to reach that outlined goal but he could well add his name to the esteemed names to do so from the Emerald Isle.
About The Author

Lee Gormley is a sports journalist who primarily covers boxing for a range of top media outlets.
He can be followed on Twitter @LeeGormley.
Sources:
https://www.irishnews.com/sport/boxing/2019/05/15/news/michael-conlan-all-set-for-falls-park-spectacular-against-olympic-games-nemesis-vladimir-nikitin-1619916/
https://en.wikipedia.org/wiki/Michael_Conlan_(boxer)
https://www.bbc.co.uk/sport/boxing/48792772
https://bleacherreport.com/articles/2556713-ranking-the-10-best-irish-boxers-of-all-time#slide2