Top 10 Car Rides In Vegas – Best Cars In Las Vegas
TOP TEN LAS VEGAS AUTO EXPERIENCES (AND WHERE TO FIND THEM)
For many people – particularly gamblers – Las Vegas isn't just about casinos per se, it's a whole zeitgeist; an experience that could include fine dining, high-end shopping and, oh yes, driving around town in a car so fabulous that all your friends back home will be green with envy when they see the pictures.
While most of us might not be able to afford the latest Rolls Royce or Ferrari right off the lot, there are some exciting ways to experience the playa lifestyle – without the high-roller price tag.
Come take a spin with us as we explore the Top Ten Best Rides in Las Vegas, along with their costs and where to find them. Buckle up, it could get pretty exciting!
McCARRAN'S HERTZ "DREAM CAR" LOT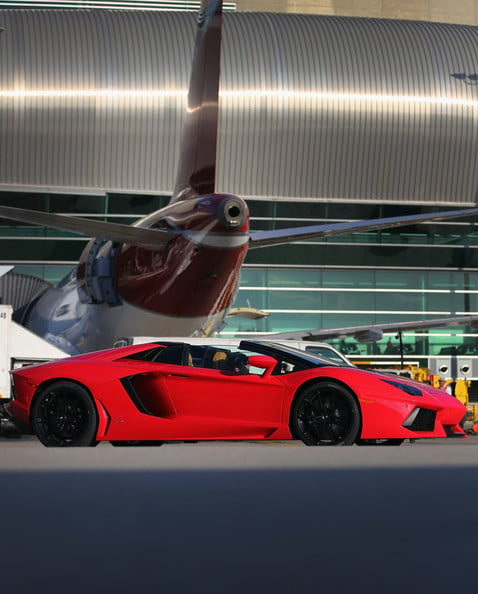 [http://www.hertzdreamcars.com]
You've just landed in Vegas, and you need some wheels. Do you have to settle for just any old boring ride? Heck, no! For a fraction of what it would cost you to buy, you can experience the lifestyle of the rich and famous in fabulous, late-model luxury vehicles like a Mercedes E63 AMG, a California Ferrari or a Porsche Panamera, to name just a few of the fancy rides you can now rent at McCarran International Airport's "Dream Car" lot, run by Hertz.
While many of these dream rides would go for upwards of $200,000 if purchased, you can rent the dream starting at about $1,500 a day, plus insurance of course. Too rich for your blood? You can still get a rush in a Porsche Boxster for a mere $250 a day, or double that for a Porsche 911. If a Cadillac or Mercedes are your thing, they're practically free for a rate of just $279 per day.
The Dream Car fleet has 30 cars in all. You can check them all out at hertzdreamcars.com, or make a reservation at 888.296.9124. The Hertz "Dream Car" lot in McCarran's Rent-A-Car Center is located at 7135 Gilespie St.
EXOTICS RACING SCHOOL AT THE LAS VEGAS MOTOR SPEEDWAY
[http://www.lasvegas.com/listing/exotics-racing/21848/tour/2296/ ]
If you're more the type who just feels the need for speed, you can buy a day as a professional race car driver experience for yourself down at the Las Vegas Motor Speedway's Exotics Racing School.  Pick a Ferrari, Lamborghini, Aston Martin, Porsche or Audi, and your one-on-one professional instructor will get your engine revving and your heart racing as you drive a professional track.
After an orientation session with your instructor, you'll get to go two complete laps, starting at $99 for a Corvette Z06 and going all the way up to $549 for five laps in every vehicle they have, which includes several different Ferraris and a Porsche 997 Turbo S. You even receive a graduate certificate upon completion.
You must be at least 18 and have a valid driver's license; the five-lap session will run 2.5 hours.  For more information or to book a session, go to exoticsracing.com, or call 702.405.RACE (7223).
CLASSIC AND COLLECTIBLE CARS LAS VEGAS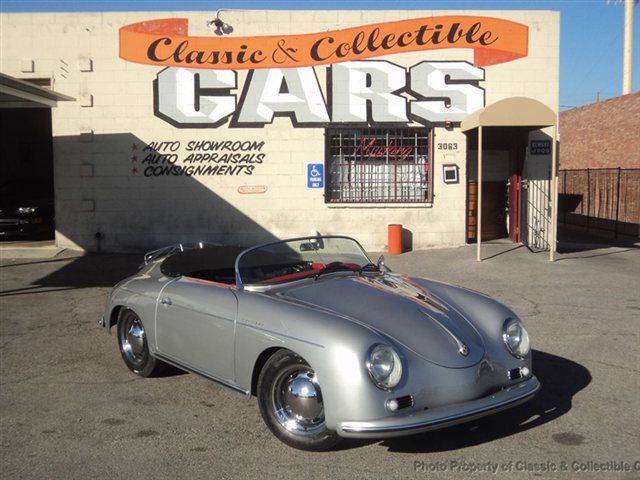 [http://www.classiccarslasvegas.com/inventory.aspx?_bodystyle=1 ]
Maybe you're more the type who yearns for the classic cars of yesteryear; when names like Corvette and Mercury got everyone's heart racing. Classic and Collectible Cars in Las Vegas will make you swoon with their wide selection of vintage automobiles, and they're not all as expensive as you might think, either.
A 1963 two-door Mercury Comet convertible can be yours for a mere $16,500, while you can drive off in a 1956 Porsche 356 Speedster convertible for just $26, 250. If you have a little more bankroll to spare, how about a nice red 1958 Chevrolet Corvette 2-door convertible for $79,995. Remember, these are asking prices, and all are negotiable.
Visit this trip back in time at 3063 Sheridan Street, Las Vegas, NV 89102 or call 702.873.2222 for more information. The company's website, which shows all the vintage cars for sale, is classiccarslasvegas.com.
PRESIDENTIAL LIMOUSINE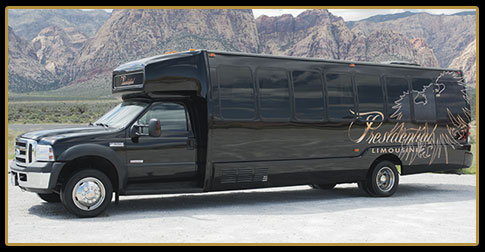 [http://www.presidentiallimolv.com/las-vegas-limo-coach-and-party-bus-30-passenger/]
You came to Las Vegas to party, and party is what you will do. You're smart if you think ahead and set up a chauffeur service so you can drink with abandon and not worry about getting a DUI. And if you're going to be chauffeured, why not do it in style?
You can go with a somewhat modest Lincoln Town car, or a more ostentatious white stretch Cadillac Escalade limo that probably seats 10 comfortably. And if you really want to bring the party on board with you, how about a 30-passenger Limo Coach party bus, fully pimped out inside with a jacked up sound system and stripper pole, so you almost never need to get out. You can also rent an H2 Hummer stretch limousine, or just a classic black super stretch Lincoln limo to make an impression wherever you go.
The rates are not as outrageous as you might suspect, considering you get a designated driver to go with the package. The most expensive 30-passenger Limo Coach is yours for $175 an hour, plus a small fuel charge, with just a two-hour minimum.
You can check out more details and book your car service at presidentiallimolv.com, or call 800.423.1420 or locally 702.438.5466
UNIQUE MOVIE CARS of LAS VEGAS
[http://uniquemoviecarslasvegas.com/index.php ]
Ever wonder where all the cars you see in movies and television come from, especially the ones that go over the Grand Canyon, get blown to smithereens, or race at 100 mph down a freeway? According to Unique Movie Cars' website, 90 percent of the vehicles you see destroyed in film and TV come from their facilities, one of which is in Las Vegas (where an enormous number of movies and TV shows are filmed these days).
Run by father and son team Mario and Michael Sciortino, the cars they design are built for decimation.
"Most of the cars are destroyed. That's why we build them," says Mario's son Michael. "Most of the time, our work goes out there to be ruined, the object being for the studio to get its shots. I look at it as a job, not as a car. Rigging a car to blow it up takes a lot of finesse. How you do it depends on what the studio wants people to see, whether it be the tops of the seats, the interior, or the doors or the wheels flying off. There are a lot of safety issues involved."
No doubt. The website says the facility is open to the public, but we recommend you call ahead to find out when it's alright to make a trek.  Find out more at uniquemoviecarslasvegas.com, or by calling 702.566.6193.  The company also does custom restoration work and pimps out celebrity RVs for touring.
LAS VEGAS EXOTIC CAR TOUR
[http://www.cloud9living.com/las-vegas/exotic-supercar-tour#details ]
If you like the idea of sampling the driving power of several luxury sports cars without making the full-time commitment, the Las Vegas Exotic Car Tour could be the answer.  You'll be able to sample several different Lamborghinis, Ferraris, Bentleys and Jaguars, or muscle cars, on either a 30-mile or 50-mile road trip just off the Las Vegas Strip, and when you're all done, you'll receive commemorative photos and a certificate of completion to boot.
Costs start at $535 for one driver on the 30-mile road trip, all the way up to $1,035 for two drivers sharing the 50-mile leg. You'll get a short safety initiation upon arrival, and then you're off in your fancy wheels to wind through the beautiful and historic Red Rock Canyon. The tours range from three to five hours, and there are age and weight restrictions; a valid driver's license is obviously required as well.
For more information or to book a tour, go to cloud9living.com/las-vegas/exotic-supercar-tour#details. This package is weather-dependent.
DIG THIS HEAVY EQUIPMENT OPERATOR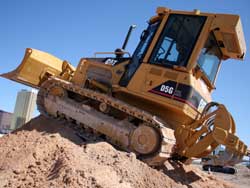 [http://www.vegas.com/attractions/off-the-strip/dig-this/ ]
One thing you can count on in Vegas: no matter how whacky your fantasy, you can probably fulfill it here.  So if operating a state-of-the-art "Caterpillar" D-5 track-type bulldozer or 315CL hydraulic excavator is what you've always dreamed about, dream no more; just head on over to Dig This and live your dream for real. And if you go for the bulldozer, you'll even get to dig trenches, ride over tall mounds and push gigantic boulders. Basically, you can play "I'm a construction worker on a new Las Vegas casino," and pay for the privilege, but hey, whatever floats your boat.
Naturally, you'll get the mandatory hard hat, vest and walkie-talkie radio, as well as a complete safety and equipment orientation. Once done, you'll receive a certificate of completion and you can even purchase construction apparel and toy bulldozers and excavators so people will continue to know you're crazy once you return home.
Located just off the Strip, near Palace Station, at 3012 S. Rancho Dr., Dig This is the brainchild of someone who had too much fun while excavating his own home, and wanted to share the experience. The site is open daily from 8 am to 5 pm, and this kookie thrill will make you dig $249 out of your wallet. You can book your adventure at vegas.com/attractions/off-the-strip/dig-this/ or by calling 1-866-9 VEGAS 9 (983-4279).
BARRETT-JACKSON AUTO AUCTION
[http://www.barrett-jackson.com/lasvegas/]
For those with hefty bankrolls – or just an avid interest in collectible (and usually pricey) cars – the Barret-Jackson car auction, which comes to Vegas annually in September, is a must-see event. This year, the event runs Sept. 26-28, at Mandalay Bay Resort. Literally hundreds of cars are on display, then rolled out by veritable pit crews on stage, one after another. You must be pre-qualified to bid on any of the auction cars, and many go for high six figures.
If you just want tickets to see of the lovingly restored and immaculate classic cars that are brought in for auction, you can purchase a three-day pass in advance for $53.25 for adults, $42.25 for seniors (55+), or $30.25 for children ages 6-12. Single-day passes are also available.
For more information on the event, go to barrett-jackson.com/las vegas.
SEMA AUTOMOTIVE TRADE SHOW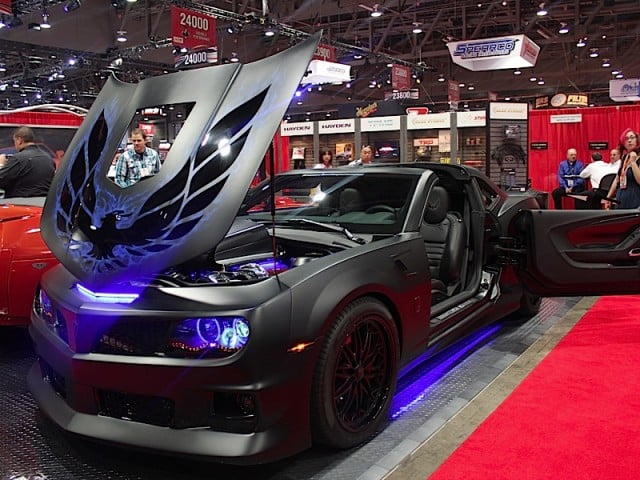 [http://www.semashow.com/the-sema-show ]
Let's preface this one by saying this is an industry trade show for those in the car business, so in order to attend, you'll need to know an insider and get show credentials. If you can score in that department, you'll be the first on your block to see all the latest models and automobile innovations that are coming around the corner; not to mention all the leggy hot car show models.
This year's show is at the Las Vegas Convention Center, November 5-8th; it's considered the premier auto specialty trade event in the world. This is a huge show; last year's event drew more than 60,000 participants from around the world.
If you're a non-exhibitor and manage to pass muster with their rather rigorous qualification process, it will run you $200 for an all-show, everyday pass. For more information, go to semashow.com
STOCK CAR RIDEALONG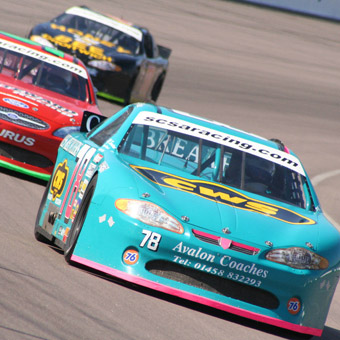 [http://www.cloud9living.com/las-vegas/stock-car-ride-along ]
Our final amazing Las Vegas car experience puts you right in the heart of the action at an actual Motor Speedway stock car race. No, you won't be driving, but you'll be in the front passenger seat of a Sprint Cup-style stock car that's being driven by a professional driver.  Moreover, you'll be in a real racing suit and helmet, on a real racetrack, and hitting speeds of up to 160 mph (thus why it's a good thing a pro's behind the wheel).
A 3-lap ride along for one will run you $135; if you want to take two people for the same deal, it's $249.
If you want to move it up a notch and actually be the driver, you can, but it will cost you: prices run from $555 for 8 laps up to 30 laps for $1,405. We're guessing you should allow a good hour just to sign all the waivers.
For more information or to book your race time, go to cloud9living/las-vegas/stock-car-ride-along or drive-a-stock-car.  Both of these experiences will take place at the world-famous Las Vegas Motor Speedway, where NASCAR races are also held.