The Other Las Vegas: The One That Never Got Built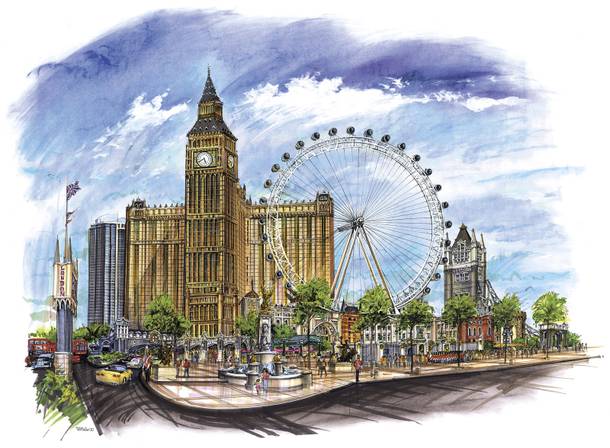 As crazy as ersatz pyramids, volcanic lakes, and replica Eiffel Towers may be, it's a little-known fact that all kinds of even kookier casinos never saw the light of day in Las Vegas. Changes in fortunes and deals that never went through were largely responsible for these places ending up on the cutting room floor; but that doesn't mean they might not have been fascinating additions to the world-famous Las Vegas skyline.
With huge budgets originally – and even bigger imaginations – it's anybody's call whether some of these projects would have added or detracted from the current Strip view.  As "theme" properties have tended to give way to a classier, more sophisticated Vegas vision (for now, anyway), some of these would probably look a tad dated and outré by now. Nonetheless, they bespeak the creative minds behind the grander Vegas vision, and are fun to look at if, from nothing else, a "what-might-have-been" perspective.
Xanadu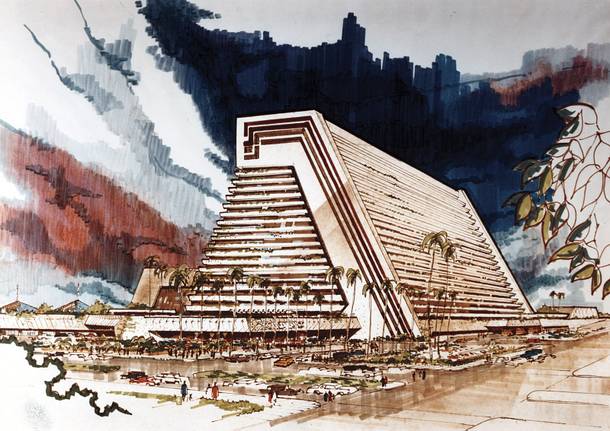 It was 1975, and Steve Wynn was but 33 years old and barely beginning his rule as Lord of All Things Vegas with a smart investment in the Golden Nugget, turning it from a tacky gambling hall into the swank Downtown casino it eventually became. Architect Martin Stern Jr. designed a 20-story atrium inside a Mayan-esque structure; and beat Wynn to the Mirage punch with an earlier vision of a waterfall with "firefalls" sweeping down its length.
Inspired by a somewhat esoteric Samuel Taylor Coleridge poem, "Kubla Khan," (which was itself inspired by an opium-laced dream about the Mongol warrior's summer palace), the man who had designed Elvis' home-away-from home, The International (now LVH), and the original MGM Grand (which became Bally's), Stern was ahead of his time in the "build it and they will come" mentality that Wynn eventually parlayed into the Mirage's ground-breaking water-based "volcanos" et al.  Word is that the builders ran out of money when the oil recession hit, however, and the project never took off.
Much like the horrible Olivia Newton-John movie of the same era and name.
Desert Kingdom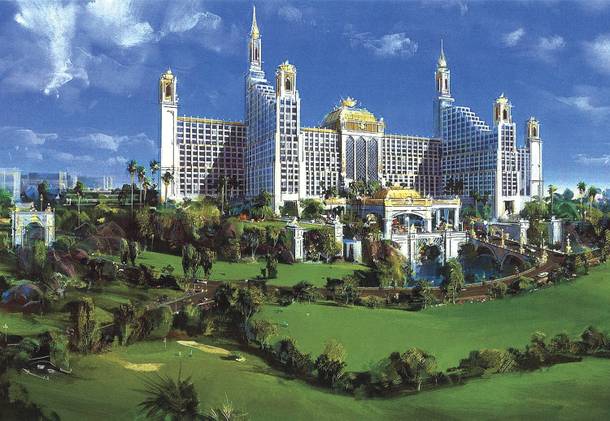 Probably just as well this project never came to fruition; we can guarantee it would have been spelled "Dessert Kingdom," and caused much ire when obese buffet fans couldn't find the Viennese dessert carts to gorge on.
Landmark Entertainment Group designed this pre-Lion King extravaganza, combining elements of the African savannah; it was slated to go in where the current Wynn Las Vegas stands.  As its kingpin attraction, Desert Kingdom was to have a riverboat ride that would carry visitors under the main casino, through a show space, and into a nighttime water show on the lagoon. Hmm, sounds remarkably like the latter-day Bellagio, minus the boat ride part.
ITT Sheraton was paying Landmark top dollar and had a construction company already lined up for Desert Kingdom, when unexpectedly,  Sheraton switched gears mid-game and bought Caesars instead. With many millions poured into the new Caesars purchase, ITT finally just decided to cut their losses and ditch Desert Kingdom altogether. "It's too bad, because that ITT Sheraton Desert Kingdom would have revolutionized everything," said the  casino's original designer Gary Goddard. "There are still things there today that haven't been done."
Goddard says Wynn carried the torch and blazed the way for a new Las Vegas, calling him "the last of the showmen."
As far as the "new" Las Vegas – one that eschews anything as crass as a theme – Goddard has this to say: "What people don't understand is, Las Vegas is not about architecture; it's about theatre. … The market there, if you walk the streets, which I do every time I go to Vegas, it's basically the same people that are going to Walt Disney World. And what they want to see is things that take their breath away, that surprise them, that awe them, that make them laugh, that stun them. Las Vegas is fueled by one thing—bigger than life ideas. And my whole point is, if you can see it somewhere else, then don't do it in Las Vegas."