The 10 Worst Gambling Tattoos You'll Ever See
Gambling-themed tattoos are a popular choice with those wanting to get their body inked. Unfortunately, things do not always go to plan, and sometimes people get dealt a bad hand (or arm, or back). We're not ones to name and shame here at Casino.org, so the owners of these visual atrocities remain anonymous, but feel free to feast your eyes on some of these awful gambling designs, though.
Luck O' The Irish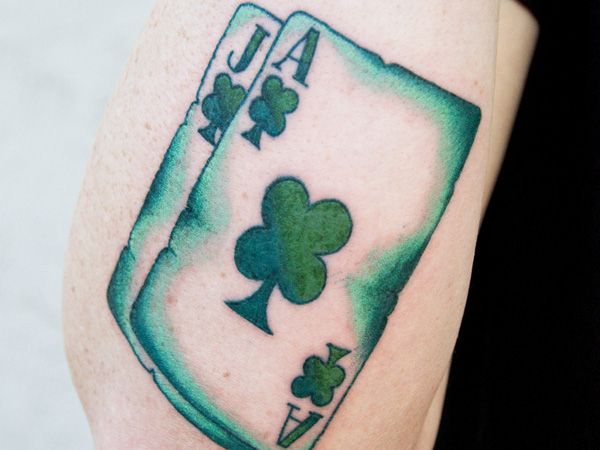 Yeah, we get it. The Irish theme always goes down well with gamblers. The lucky leprechauns, four leaf clovers, pots of gold at the ends of rainbows, and all the rest. Admittedly, Irish-themed slots are amongst the most popular on the market, with Ash Gaming's Leprechaun's Luck and Irish Eyes by NextGen Gaming being just two examples. Is it the best idea to take that theme and transfer it into a tattoo? Judging by this effort, no. The cards here don't look tinged with a magical emerald glow. They look rank and mouldy. Not the best look for a tattoo. We hope the owner has checked the tattoo's sell by date.
Love Is A Gamble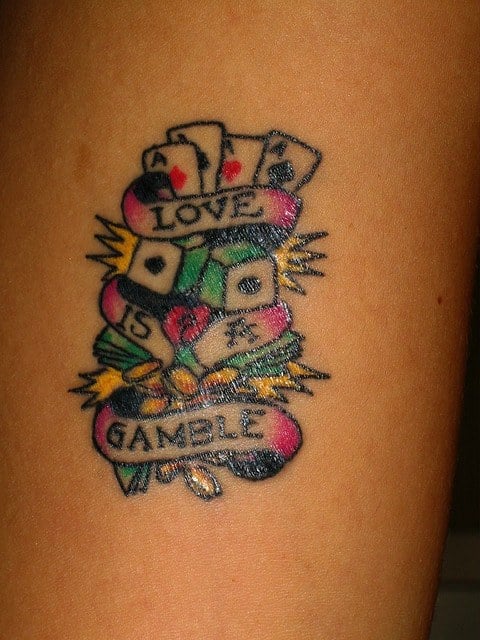 It's only the second entry on the list, and we're already getting the drama queens stepping up to the plate. This tattoo not only comes across as a bit melodramatic, it's also a slightly corny design. The quote of "love is a gamble" sounds like it's been borrowed from some NSYNC lyrics. If that wasn't enough to turn your stomach, the amateur finish will. Temporary tattoos offer more clarity. Perhaps this person replied to our study of tattoo regrets? We almost feel guilty for them.
Drawn By A Child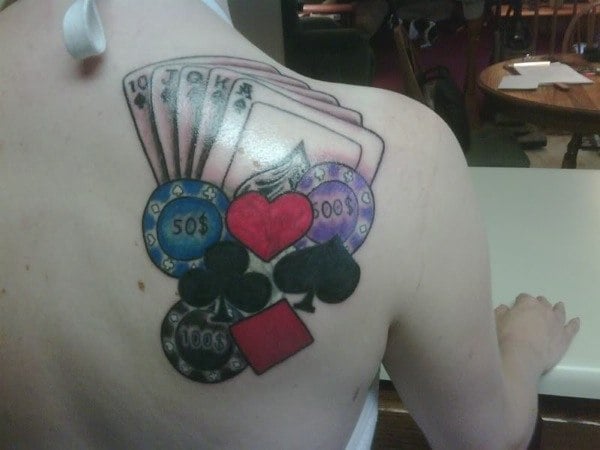 OK, if you're going to permanently mark your body for life then you want something you'll look back on in years to come with positive emotions. You probably don't want ink that resembles something kids might draw in nursery school. Take this tattoo for example. Credit where it's due, the intent is there with the playing cards, chips, and card symbols. Sadly, they look like they've been inked by someone with the DTs working in the dark. Not the best look!
Pencilled In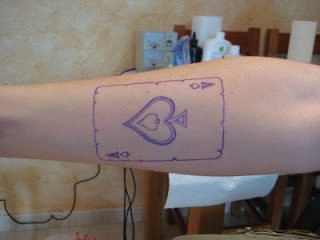 Remember those lessons in school when you'd be so bored that you'd resort to de-facing the school desk with random doodles? This isn't much better. In fact, if we were handing out awards for the "world's most CBA tattoos" this would win hands down. Congratulations, tattooist of limited enthusiasm and creativity!
Bad Boys

What in the sweet name of baby Jesus is this abysmal tattoo? Anybody that can read the quote of "Wanna play some bad boys?" without vomiting deserves a Medal of Honor. We're going to avoid spending too long thinking about what might have gone into the decision-making behind that quote. For now, we'll answer with a simple "no" and move on quickly. Those playing cards and pool balls appear to be drawn free hand and inked on as a joke. Is it too late for this person to ask for a refund?
Deep Throat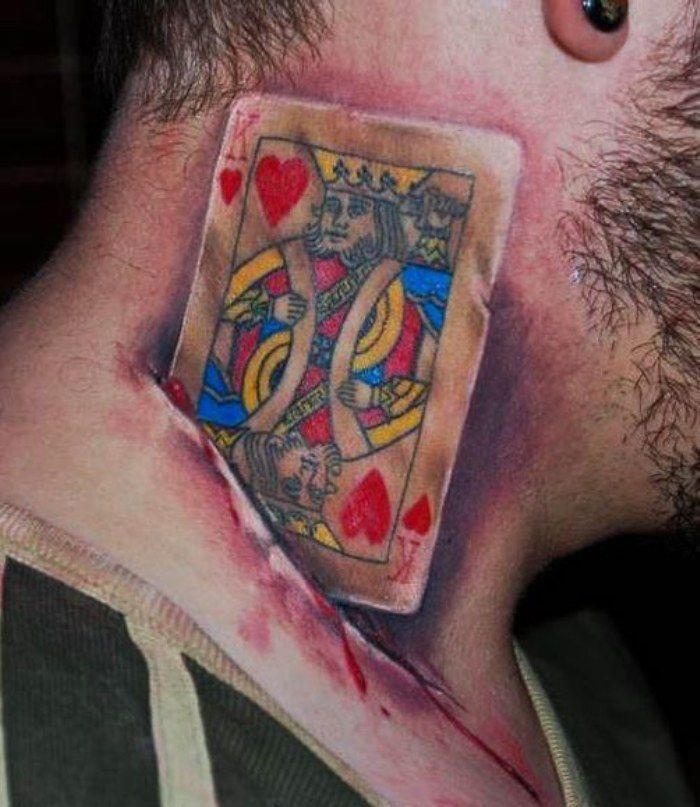 Picture the scene. You're in a tattoo parlor. Nerves are jangling as you're about to get your first tattoo. The question repeats in your head. What design should you get? Suddenly, bang! It hits you. An image of the king of hearts sinking into a deep wound in your neck with blood pouring out of the gash. How good would that look? Well, here's your answer. Dreadful! It'll also make you look like a psychopath!
Las Vegas Foot Job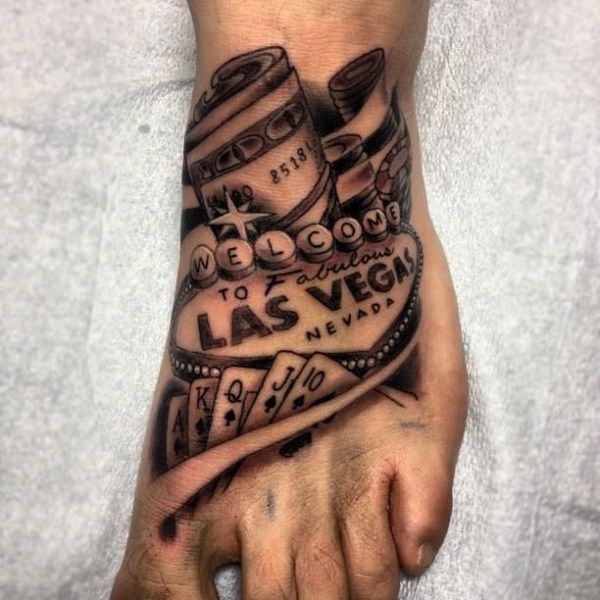 Right, so that might not be the best title for this tattoo. It sounds like some kind of weird sex act. The design looks like it was created by the honest and hard-working men of a coal mining town. The only problem is that it looks like it was also done down an actual mine, in pitch black, using shards of slag and inked on by a miner that's suffering from crippling arthritis. But apart from that it looks OK.
Shades of Color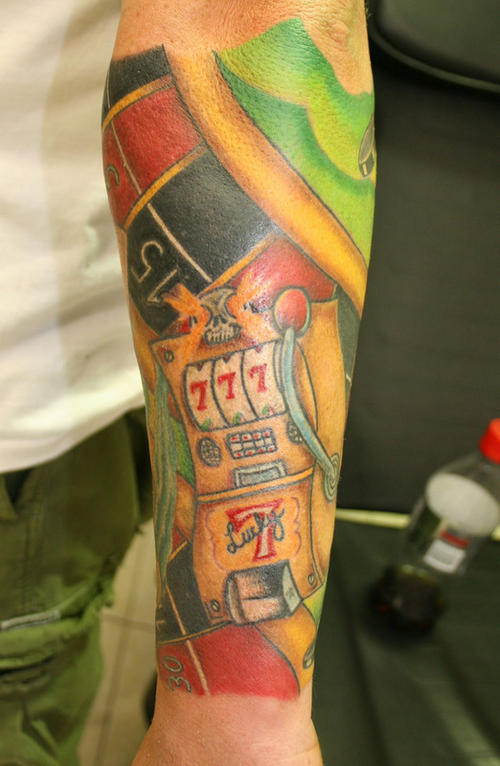 Quick, somebody put the dimmer on! The glare is too much! You only need to look at the high range of color used in this tattoo to understand why it's on this list. Some people use the phrase that you can never have too much of a good thing. Based on this tattoo, clearly you can! Don't get us wrong, the colors are beautiful. It's just that when they're all put together it's very overpowering, and looks like a psychedelic snot rocket snorted out of a unicorn's nostrils. The images lack the clarity needed to pull this effort from the brink. If done correctly, this tattoo could have stood a chance. RIP to the tattoos that were nearly great.
Ring the Alarm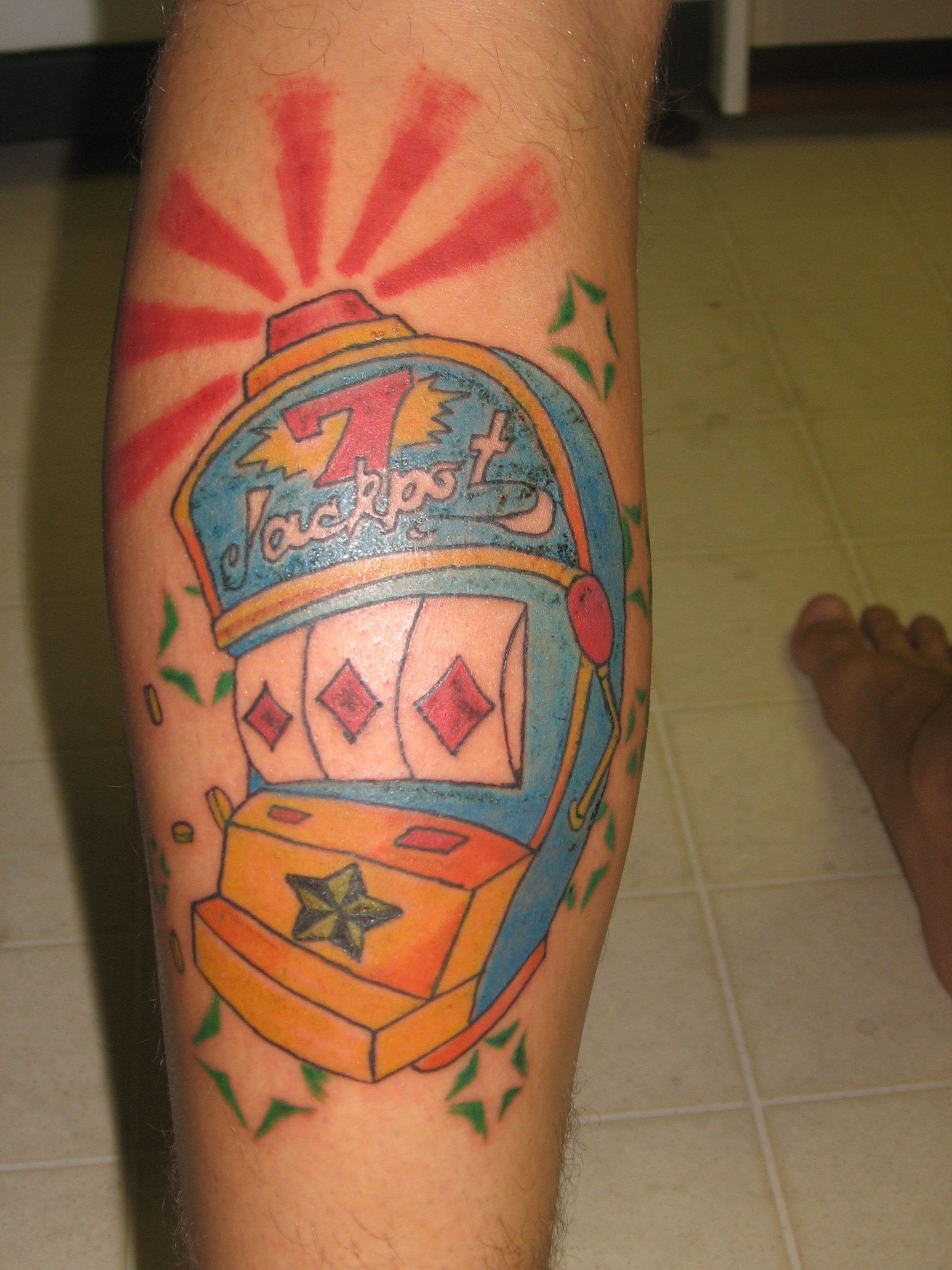 Anyone looking at this tattoo would probably wonder why on God's green earth its owner would ever wear shorts. Whoever the bearer of this tattoo is will likely need therapy because of this inked embarrassment. Everything about it is abysmal. It's something that would probably even be considered a step too far on the hit TV show "Just Tattoo Of Us". What a shambles!
King of Poker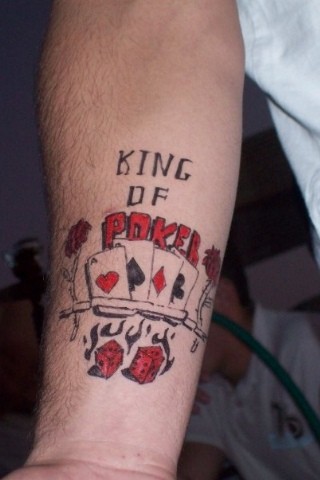 Poker is often seen as a "go-to" for gambling tattoo designs. The playing cards, the chips, and the money always make for a safe choice. What could possibly go wrong, right? Oh dear. We give you this despicable ink job. The stench of arrogance, lack of quality, and poor thought going into it combine to deliver shocking results. The self-proclaimed "king of poker" will hopefully have nightmares about this. It'll be interesting to read their poker CV before we agree with that title, too. We're going to chance our bets that they're not the king of anything. The images appear to have been drawn on in biro, and a cheap biro at that. Truly terrible. Apologies for ending on such a disgrace to tattoo kind.
Sources:
https://www.casino.org/blog/what-are-the-odds-of-you-regretting-your-next-tattoo/
http://www.digitalspy.com/tv/reality-tv/feature/a858291/just-tattoo-of-us-worst/