Our Survey Reveals Britain's Most Sports Addicted Regions
We recently commissioned OnePoll to perform a survey of 2,000 people across 12 regions of the UK. We asked what sports people watched on TV, what food and drink they consumed whilst watching and what sports they actually participated in.
We've landed up with a detailed picture of the nation's health and the sports they love.
A Nation of Telly Addicts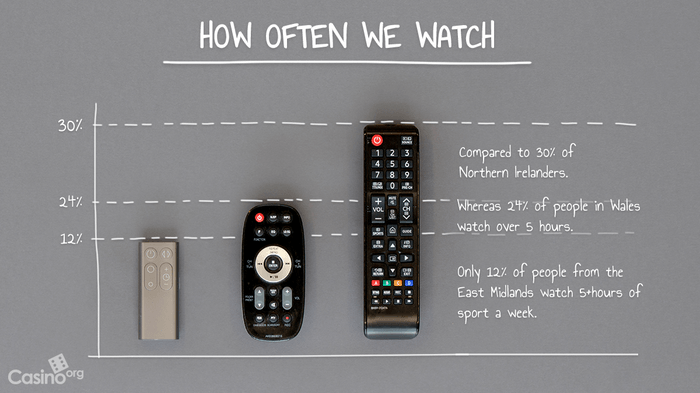 'Nowadays, people just stay in and watch the TV or play computer games' is something you'll hear a lot of over 40s saying while they out and about – but is it actually true?
Well, the survey suggests it very well could be.
At least 50% of those surveyed in every region watch sport on TV regularly. Over than 10% of respondents said they watched at least 5-6 hours of sport each week.
That is the equivalent of watching four games of football a week.
London came out on top, with 73% saying they watched sport regularly each week. The North East, Scotland, and Wales also saw over 70% of those surveyed in their region claim to watch sport frequently every week.
Individuals from the East Midlands and East Anglia regions returned the lowest percentage with only 58% of those surveyed stating that they watched sport regularly.
It should be noted that percentage was still well over half of those surveyed.
The Most Popular Sports by Region
It probably won't shock you to hear that football was the dominant answer here.
55% of those surveyed said they spent most of their sports television viewing time watching football.
In what is possibly a bit of a surprise, is tennis is actually the next most popular sport. Not cricket, rugby, golf, or F1. Tennis. The one sport where its popularity seems to survive off a single tournament. Let's face it. How many of those questioned only watch Wimbledon?
Rugby did actually prove to be popular in Wales, as expected. According to our data, football is actually the country's national sport.
What Do We Eat and Drink While We Watch?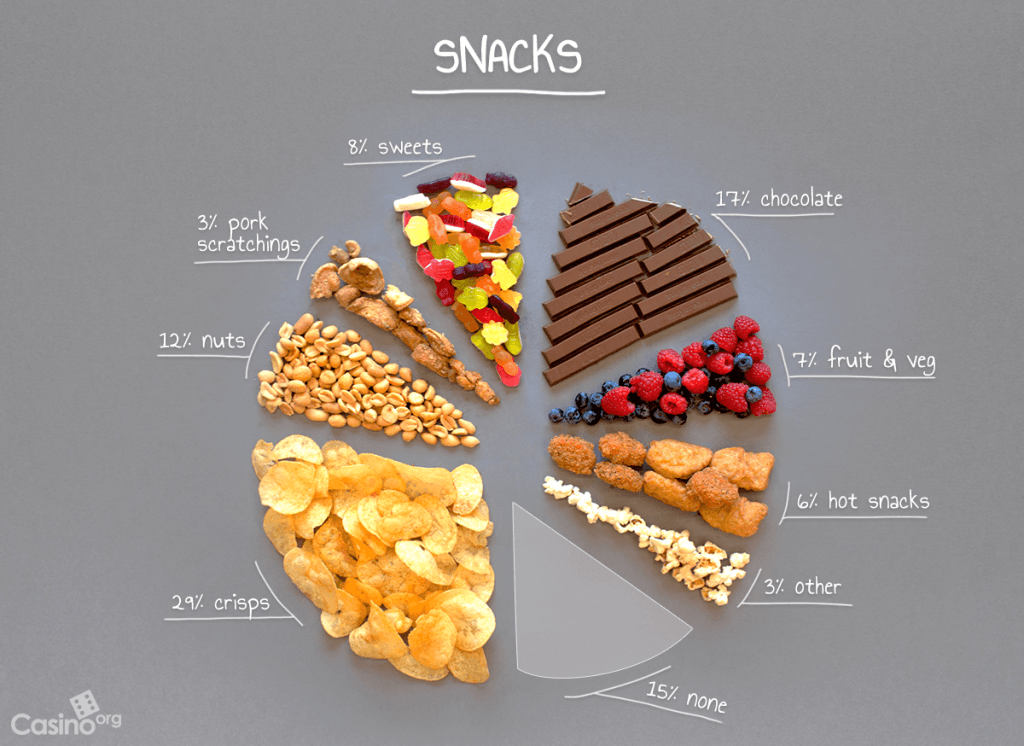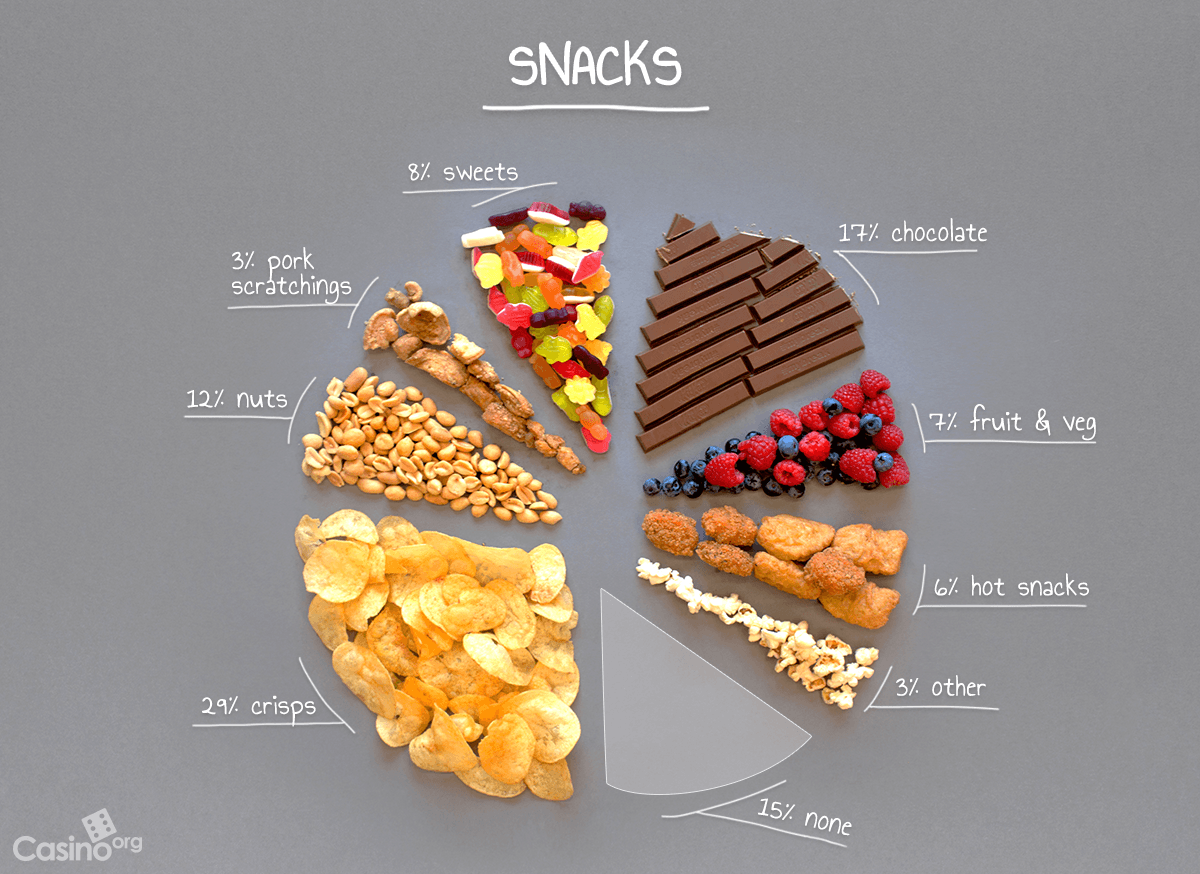 Beer came out on top as the beverage of choice with sports lovers. 27% of those surveyed said they preferred to drink beer when watching sport.
Close behind with 15% was wine, then 13% for cider. Naturally, most cider drinkers come from the South West.
In terms of what we prefer to eat, well, it's clear we all have our favourite snacks and takeaways.
What you prefer does appear to be influenced by your age and gender. If you are over 65 years old then you're more likely to be health conscious and eat fruit as a snack.
If you are a male then you're 20% more likely to eat crisps and 70% more likely to eat nuts than if you're a female.
The results for the takeaways were the most startling. Those surveyed in London returned the highest percentage with 59% claiming they ordered a takeaway at least once a week.
On the flip side, at least 61% of those in the South East, South West, and East Anglia stated they did not order a takeaway at all during the week.
Get Your Run On!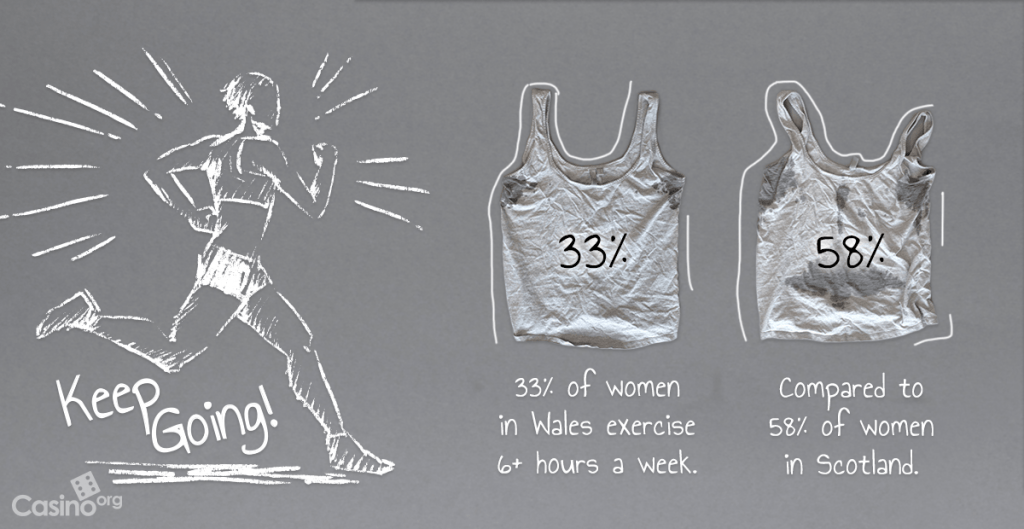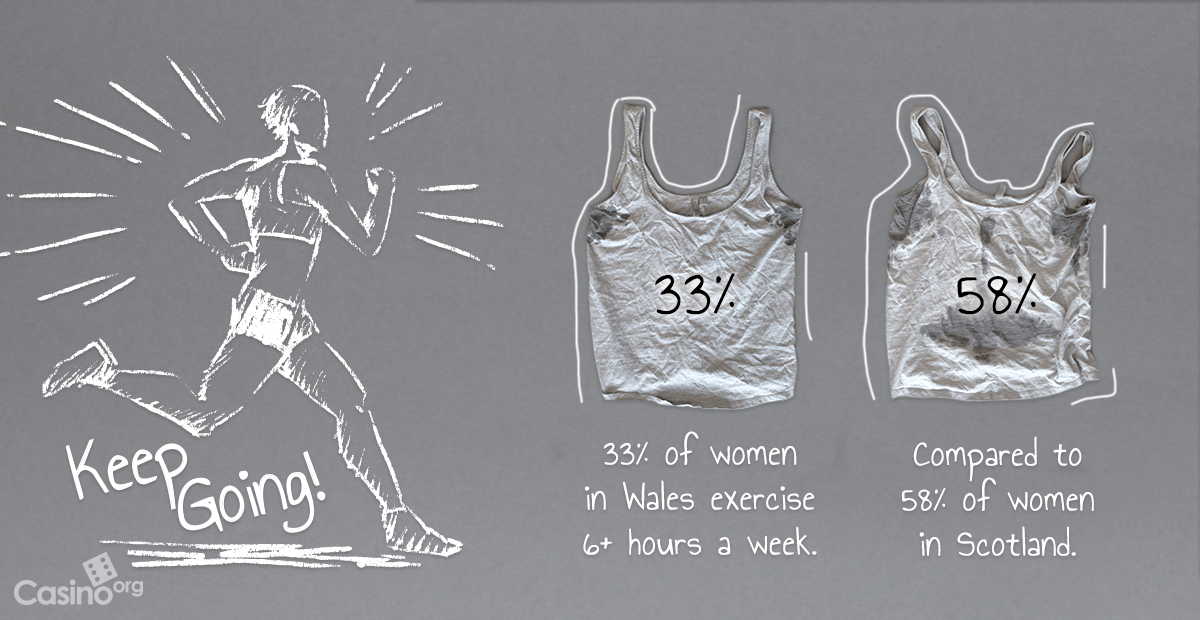 People from Yorkshire lead the way here with a staggering 95% from that region saying they exercised more than 3 hours each week. This is in contrast to the residents of the Midlands, where 25% of those surveyed claimed they did not exercise at all.
Smoking is also a big issue. Only 16% of those surveyed in Wales say they smoke regularly, making it the least cigarette addicted region.
Compare that to those in London, North East, and Northern Ireland where at least 28% smoke regularly.
So Who Are The Healthiest?
For more from our survey carried out by OnePoll, check out the full story and statistics here.