Pachinko: How to Play the Japanese Gaming Machines Online
On a visit to Tokyo, tourists are often struck by the intriguing neon lit and hyper noisy buildings that line the banks of the city's back streets. A quick peak inside reveals rows of gaming machines, each one with a customer frantically twisting at levers in a hurried manner. You could, at first, be forgiven that the game being played is pinball, but actually this is a Pachinko parlour, or hall, and it's an integral feature of the Japanese lifestyle, and one that adds a huge amount of funds to the Japanese economy.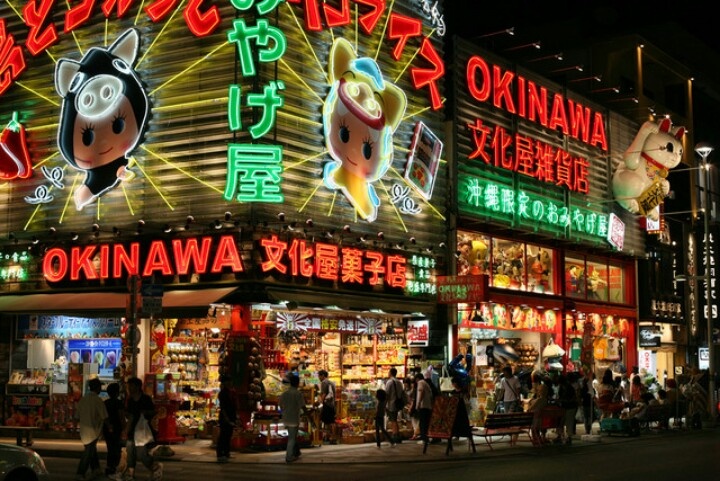 A hybrid of pinball and slots, Pachinko is a gambling game that originates here. So popular is the game that dedicated Pachinko parlours are set up all over the country where people of both genders can enjoy the game in peace.
In fact, the number of women in an Pachinko parlour, especially during the day, often far outweighs the amount of men, who are mainly at work at this time. Because of this, pachinko advertising campaigns such as Ladies day promotions are very common with some parlours, even installing women only machines.
How to Play Pachinko
Pachinko works by turning a handle to dictate the power of the shot you use to blast balls vertically upwards into the game zone. The balls, a good deal smaller than those in pinball, have holes to drop into and it's at this point where the slots element enters play. Should a ball drop into the Start hole in the middle of the table, a drum is activated exactly like it would do on a slot machine.
What the player is attempting to do is match three symbols. If they match two, this is known as a reach, because, you guessed it, they are within reach of making a winning pay line, a jackpot known locally as ōatari. When the three symbols are lined up, lots of steel balls will come dropping into the winning well at the machine's bottom. This well is then tipped into a plastic box which can hold up to 4,000 balls and is usually located nearby and within an arm's length. If a player is skilful enough to fill up the tray, they will then use the call button to summon a staff member to bank the balls and replace the box.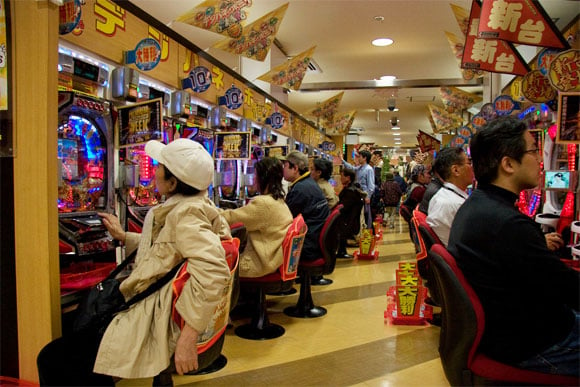 Just like slots, they come in themes such as sexy geishas and Sonic the Hedgehog and, increasingly, the revolving drums are being replaced with animated videos.
Pachinko Gambling in Japan
The government in Japan keeps an extremely close eye on gambling, which is, for the most part, banned. While betting on the racing of horses and motor vehicles is legal, special laws do apply elsewhere, which for Pachinko means that, despite the revenue it generates, it has the government's reluctant acceptance rather than total endorsement.
Because of this, Pachinko parlours are quite often owned by Koreans, which in turn, has led to Japanese whispers of the criminal Yakuza gang involvement and the funnelling of monies to either or both the North or South Korean governments, forcing the parlours down into the backstreets where, despite their popularity, they take their place on the edge of society.
It is also because of these rather cloudy laws that Pachinko parlours will not swap winner balls for cash and instead shuffle the winner off in some random direction, to what is usually a rundown little shed somewhere close by, where they can collect their winnings.
Online Pachinko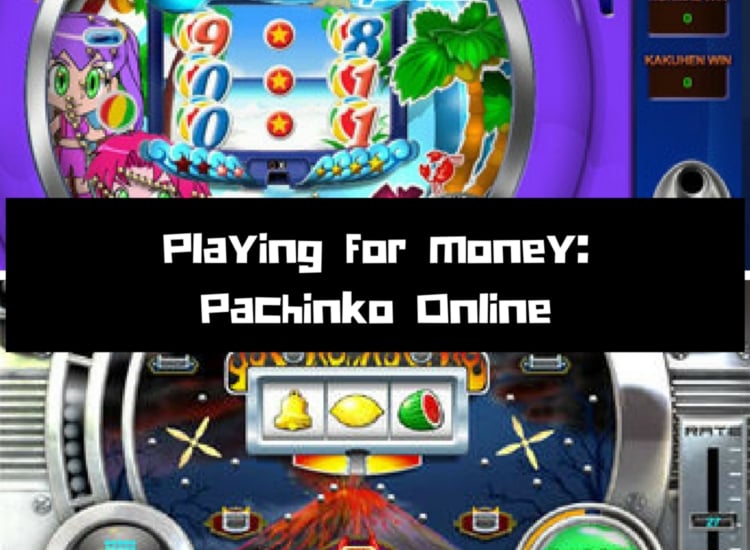 The great news for those whose interest has been piqued is that you don't have to go all the way to Japan in order to try this excellent game. You can play online Pachinko from your UK home because many UK online casinos now offer it in free or real play. Of course, if you have the money, Pachinko machines can be purchased for the home too, but you won't find many in your local casino.
If you do decide to have a go at online Pachinko, you'll be pleased to know that the internet version plays very much the same as the live machine. Select your starting stake (what you're playing for each ball), then play as described above for the amount of balls you chose and the value you assigned to each ball. Once the game is ready to start, both the Shoot and Auto Shoot buttons light up and become functional.
Here's the skill part; determining how hard to ping the ball into the play zone to win the balls back. It's simple enough, but it's a good idea to try it out first in free play to get the knack of how hard you need to strike. Striking the ball is decided by a power bar, which you control with your cursor. When you're happy with your position, hit that thing! Once you have found your groove, you can use Auto Shoot, before hitting collect to end the game and bank your winnings.