9 Most Outrageous Menu Items in Las Vegas You Need to Try
Las Vegas has long been associated with wild, luxurious experiences and a place where people go to enjoy all things in excess, from gambling to eating.
Over the years, as Las Vegas grew to be the most popular tourist destination in the US, it also became a food capital of the country. Restaurateurs opened the doors of their unique eateries, catering to the sophisticated palates of the elites as well as the overboard fun of the masses.
As a result, you get some truly hilarious and outrageous food in Las Vegas.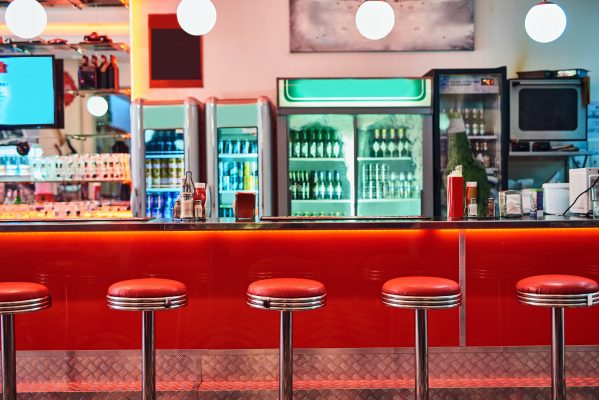 1. Octuple Bypass from the Heart Attack Grill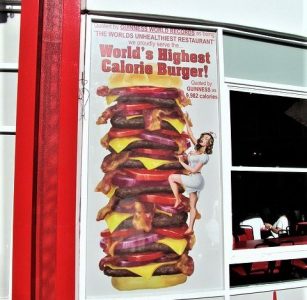 Based in downtown Las Vegas, the Heart Attack Grill has a hospital theme to it. Waitresses are called nurses, orders are prescriptions and each customer is a patient.
In fact, if a patient weighs over 350 pounds, you can eat for free!
One of the main highlights of the menu is the Octuple Bypass, which is 20,000 calories and includes over four pounds of meat as well as 40 pieces of bacon. A very appropriately named restaurant, indeed.

2. Bacon Bourbon Mary at Tom's Urban
Technically on the cocktail menu, but actually has enough stuff in it to make it a proper meal. The bacon bourbon Mary at Tom's Urban is made with Jim Beam that's infused for 24-hours with actual bacon.
That's right. Bacon. In a drink.
The fat is drained out and the leftovers are blended with tomato mix and topped with olives, lime, bacon, and celery with a cream cheese schmear.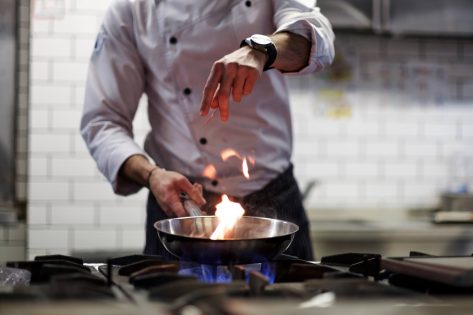 3. Whole suckling pig from Bazaar Meat
Sure, you could get a quarter suckling pig served with a mixed salad, but why not go, ahem, whole hog?
Pre-order at Bazaar Meat and you could get the full 9-11 pound suckling pig all to yourself, including all that seriously tasty crispy skin.
4. King Kong Sundae from Sugar Factory
The Sugar Factory is most certainly over the top, but the King Kong sundae goes to the next level.
Bring 10 or more of your closest friends to take on this monster. For $99, you get 24 scoops of ice cream covered with hot fudge, caramel and strawberry sauce, sliced bananas, toasted marshmallows, Reese's Pieces, chocolate chip cookies, waffle cones, Gummi bears, white chocolate strawberry shavings and toasted walnuts with whipped cream, giant lollipops and sparklers.
I can't decide if that sounds amazing or like diabetes waiting to happen.
5. 777 Burger from Burger Brasserie
Located in the promenade between Bally's and Paris, Burger Brasserie offers French food with American mentalities. The most gourmet offering? One of the most lauded menu items: the 777 Burger.
Costing $777, it includes Kobe beef, pancetta, goat cheese, foie gras, arugula, Maine lobster, 100 year-aged balsamic and a BLT salad.
Oh, and of course a bottle of Rose Dom Perignon Champagne.
6. Verbena at The Chandelier
This one is actually one of the worst kept secrets in Las Vegas.
While not on the actual menu, you can order a Verbena at The Chandelier bar in The Cosmopolitan. The cocktail itself might not seem that unique at first, until you eat the flower that completely alters your taste buds and takes the drink to the next level.
This is what Vegas food and drink culture is all about. Try something you'd never experience otherwise.
7. Surf & Turf at Le Cirque
Le Cirque has been named one of the top 15 restaurants, earning Michelin Stars and a ton of prestige. With a strict dress code and incredible tasting menus, Chef Wilfried Bergerhausen goes above and beyond to impress everyone who dines here.
So when he decided to do a spin on Surf & Turf, of course he made it unique, and never lists it on the menu.
It includes Japanese wagyu steak, perigourdine truffle sauce and foie gras paired with a 2-pound butter-poached Maine lobster tail topped with lobster caviar and a 24-karat gold leaf. Plus you'll get a deep fried potato fondant on top of a marrow-filled beef bone. Pwoar.
8. The Banh-Mi Burger at Bachi Burger
A Vietnamese sandwich between you and I, banh-mi is famous for being one of the best forms of the cuisine.
This unique take on the concept turns it into a truly one of a kind burger from Bachi Burger. You'll get an Angus beef burger, pork, shrimp, lemongrass, pork pate, fresh herbs, curry aioli, pickled vegetables and Nuoc Mam sauce. Mmm-mm.
9. Everything at Sparrow and Wolf
The menu at Sparrow and Wolf is designed to be shared with friends and includes cooking techniques and flavors you won't find anywhere else. It was impossible to pick just one item off the menu 'cause it all sounds so damn good.
Order the Steak Tartare and you'll also get shiitake mushrooms, kizami wasabi and confit egg. There's beef cheek and bone marrow dumplings on the menu, alongside wood fired lasagna made with lamb bolognese, miso and burrata.
You can find a beef short rib "Flintstone bone" served with Thai sticky glaze, crispy onions and white bread, as well as a simple hearth baked bread served with aged Umami butter and sea salt. Oh, and there are also options for cheese and charcuterie platters or pate en croute.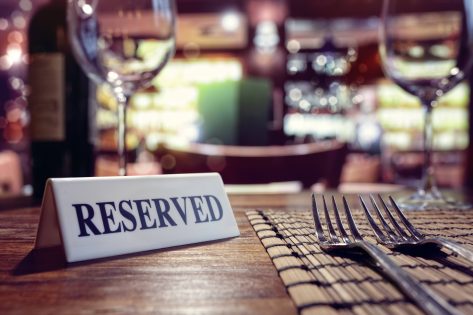 Sources:
http://www.heartattackgrill.com/press.html
https://www.newyorknewyork.com/en/restaurants/toms-urban.html
https://slslasvegas.com/restaurants-bars/bazaar-meat-by-jose-andres/
https://sugarfactory.com/wp-content/uploads/2018/03/FashionShow_Final_2018.pdf
https://www.caesars.com/paris-las-vegas/restaurants/burger-brasserie#.W9GuuGhKiUk
https://www.bellagio.com/en/restaurants/le-cirque.html#/Menu
http://menu.bachiburger.com/menu2016.pdf
http://sparrowandwolflv.com/menu/