The Gambling Commission recently released a report revealing that more than two million Britons are problem gamblers or at risk of becoming one.
The report's data was pulled from the annual Health Survey for England (HSE) and the Scottish Health Survey (SHeS). The GC's new report includes data from the 2015 versions of these surveys as well as the Welsh-equivalent, the Wales Omnibus survey.
Respondents in many different demographics and backgrounds were surveyed about their gambling activities over the previous 12 months. Generally, the surveys were taken by those 16 and older that live in private homes.
The study's release sent shockwaves through the nation and based on recent reactions, could be the catalyst for big changes in the industry.
Who Gambles and Where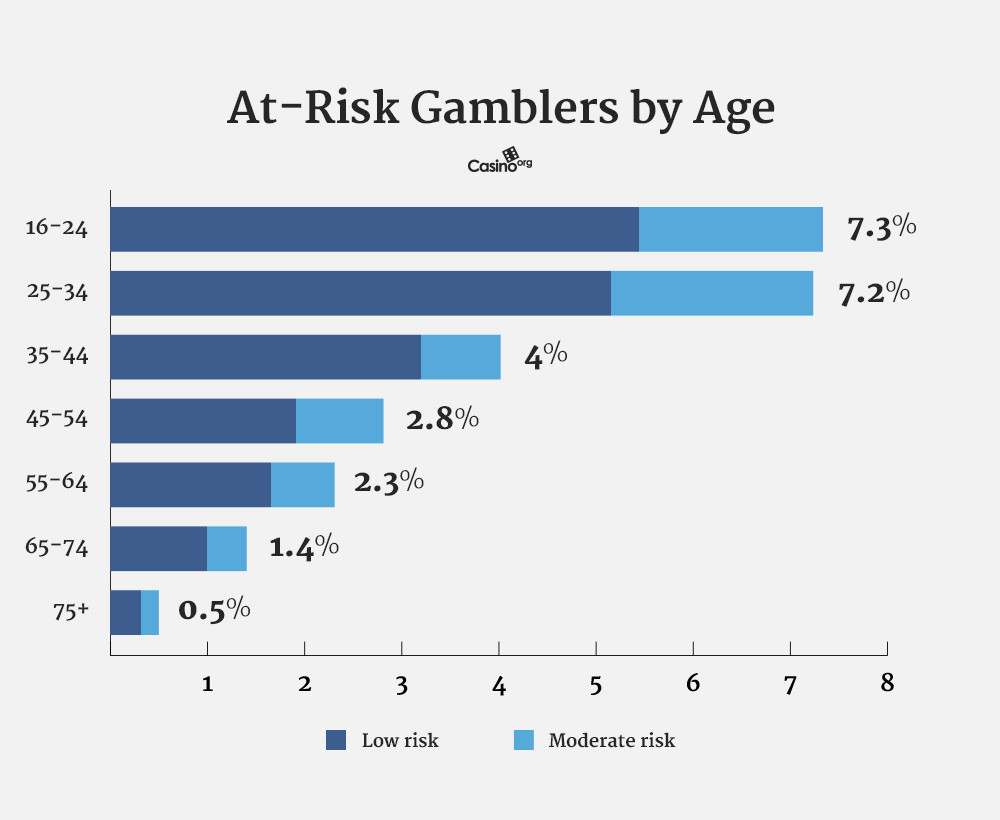 Overall, 63% of those 16 or older in Great Britain reported gambling over the past year. Of this group, participation by gender was split into 66% of men and 59% of women.
Age-wise, gambling was most prevalent among 35-44 year olds (72% for both genders) and least among 16-24 year olds (58%).
However if you exclude participation in the National Lottery, the most active gamblers appear to be 25-34 year olds, 69% of whom participate in some other form of gambling activity (more on those below).
Ethnically, white adults gambled more regularly (65%) compared to 40% of black/black British, 36% of Asian/Asian British, and 49% of those in all other ethnic groups.
There weren't any huge differences in certain ethnic groups enjoying types of gambling like slots, football pools, online betting, and casino table games than any other. Although white respondents are more likely to participate in lottery draws, bingo (offline), and horse race betting (offline).
Where surveyees lived was a small predictor of how much they participated in certain forms of gambling.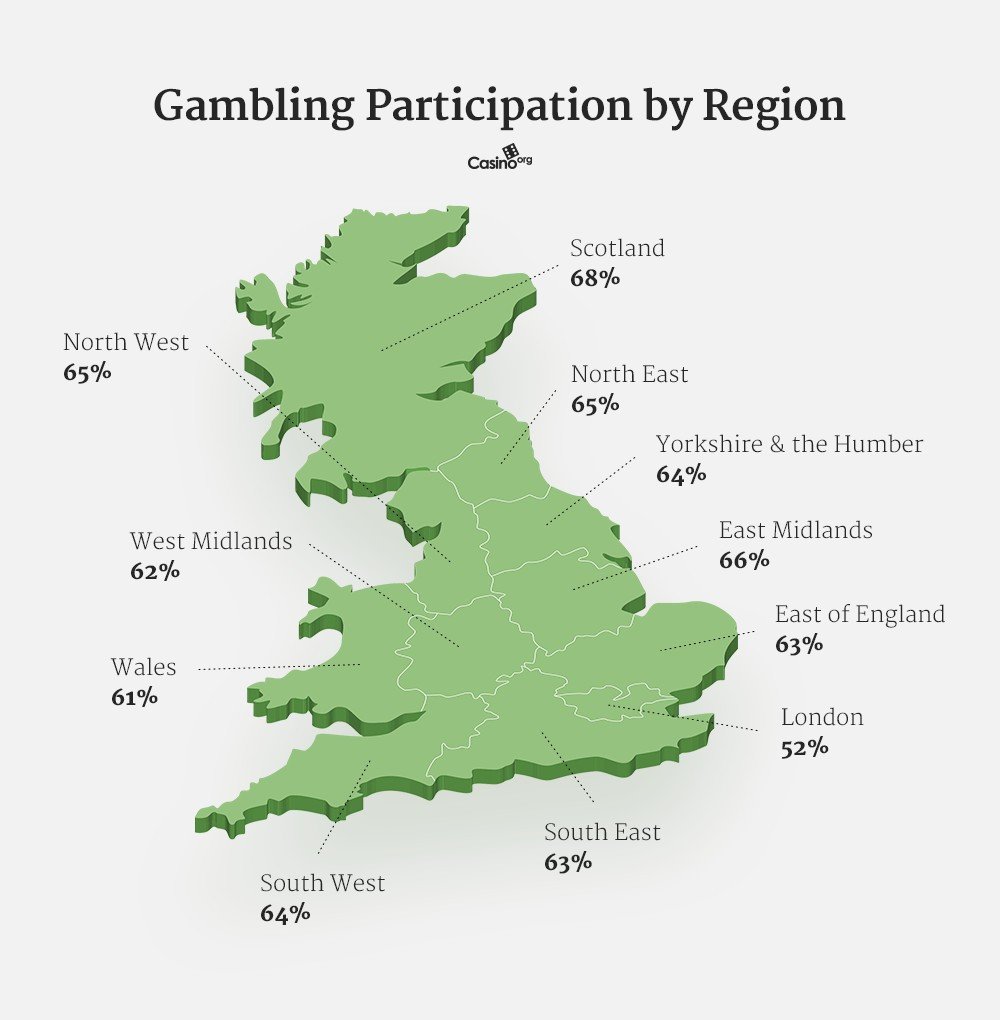 Londoners gambled the least overall by far, at just 52% of the respondents compared to the next lowest rate of 61% in Wales.
Those in Scotland (68%), the East Midlands (66%) North East (65%, and North West (65%) participated in at least one form of gambling more than all the other regions.
By game, participation rates were usually consistent across the board. Exceptions include offline bingo being very popular in the North East (12% compared to an average of 5.9% in all other regions) and private betting in the East of England (9% compared to an average of 4.5%).
Gambling's Most Popular Games
The most popular form of gambling for both genders is National Lottery draws, with 50% of men and 43% of women saying they participate.
Both scratch cards and other lottery formats saw 23% of men and 15% of women play.
The next most popular ways to gamble among men are at horse races (14%), betting online with a bookmaker (12%), slot machines (10%), and betting on sports at betting shops (10%).
For women, betting at horse races (9%), in-person bingo (8%), and slots (5%) was most prevalent.
Bingo is the only game in which more women participated compared to men (8% versus 4%).
Breaking things down by age, the most popular game with every age group except for two was the National Lottery's draws.
The exceptions were young men and women aged 16-24. They instead played scratchcards most frequently, with 11% saying it was their gambling game of choice.
Overall, 45% of adults participated in some form of gambling that wasn't the National Lottery.
Identifying Problem Gamblers
The part of the report that made the most headlines was the number of problem gamblers and at-risk gamblers in Great Britain.
The analysis revealed that over 2 million people fall into one or both of those categories, a number that has grown by over 30% the past three years.
From the Gambling Commission's last report in 2012, this is an increase of 0.8%, or about 100,000 more people. It should be noted however that the Commission deems this number as "statistically stable".
Problem gamblers were identified by the American Psychiatric Association assessment in their Diagnostic and Statistical Manual (DSM-IV).
The diagnostic is 10 questions describing various gambling related scenarios, each answered on a four-point scale from 'never to very often'. Scored from 0 to 10, any result of five or greater is viewed by doctors as a pathological gambling habit.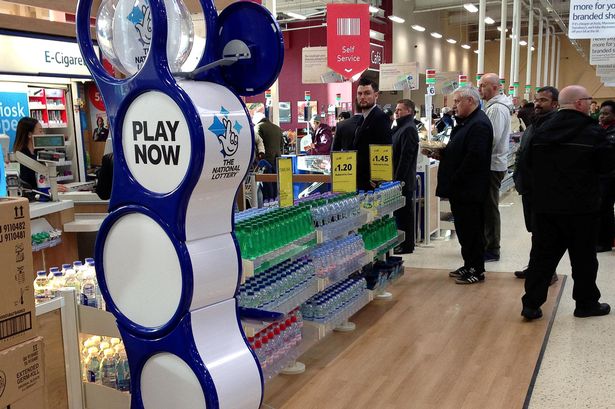 Similarly, at-risk gamblers were classified using the Problem Gambling Severity Index. PGSI is a nine-question self-assessment said to measure the likelihood a person has of becoming a problem gambler in the future.
A score of 0 dictates the surveyee is a non-problem gambler, 1-2 a low-risk gambler, 3-7 a moderate-risk gambler, and anything 8 or over a problem gambler.
Who Problem Gamblers Are and What They Play
The groups with the highest incidence of problem gambling based on either assessment were 25-34 year olds (1.4% of respondents), those of mixed or 'other' ethnic groups (3.3%), and/or located in Yorkshire & the Humber (1.8%).
The least at-risk groups were those 65 and up (0.8%), white and black Brits (0.7% and 1%), and those in the South West, East Midlands, and West Midlands (0.4-0.5%).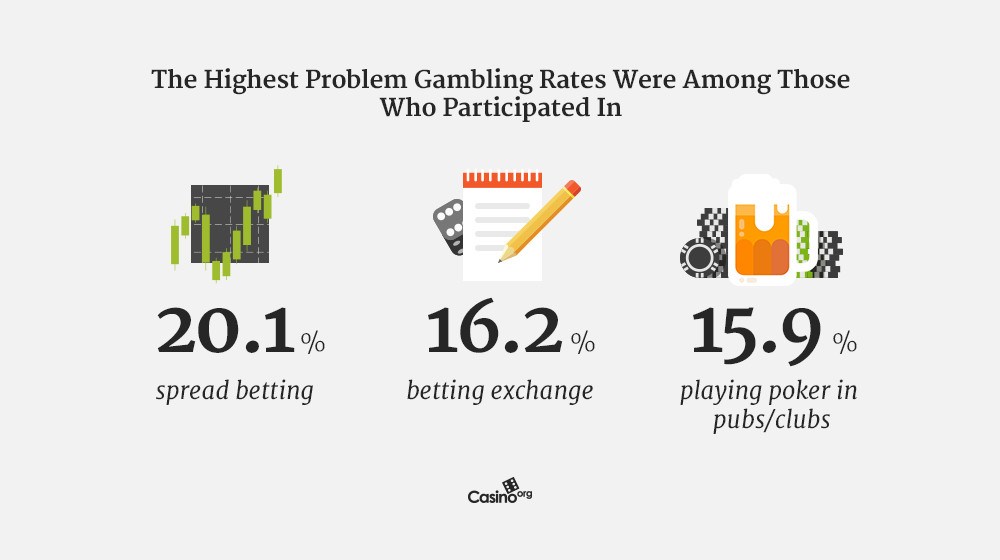 Some types of gambling also showed to be more problematic than others. Spread bettors represented the greatest number of problem and at-risk gamblers (20.1% of players), followed by betting exchanges (15.9%) and other offline events (15.5%).
The fewest problem gamblers were found to play National Lottery draws (1.3%), other lottery draws, scratchcards, and offline bingo (all <3%).
Overall, 5.1% of problem gamblers participated regularly in online gambling activities, versus 1.4% encompassing all the other types of gambling in the survey.
One big indicator of being a problem or at-risk gambler was the number of different activities participated in: just 1% of those that played 1-3 different activities scored in the danger zone on either assessment.
Compare this to 11.9% of those that play 7 or more different types of gambling, and it appears that in this case, too much variety might be a bad thing.
Predicting the Future
Even though the increased rates of gambling and problem gambling aren't that much higher compared to the 2012 report, the commission's study has sparked many cries for change in Britain.
Under fire in particular are fixed odds betting terminals (FOBTs), which are commonly found in UK betting shops and allow players to wager as much as £100 every 20 seconds.
In the wake of the report, Chancellor of Exchequer Philip Hammond has called for a review of the high stakes machines.
Attention has also been drawn to the shady practices of particular casinos marketing specifically to lower-income consumers, one of the most 'successful' demographics for email promotions.
Many argue that similar to how a bartender wouldn't serve more alcohol to someone that's clearly already had too much, casinos and betting shops shouldn't accept more bets from someone showing signs of addiction.
Depending on what changes actually happen in the next few years (and what ends up just being posturing), it will be interesting to see if problem gambling in the UK gets worse before it can get better by the time the next report is released.