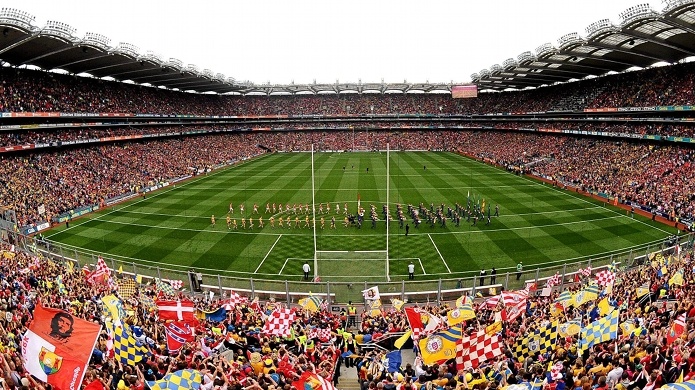 As you might guess by the name, Gaelic football is a sport played primarily in Ireland. In terms of attendance and TV viewership for the All-Ireland Football Final, it is also the country's most popular sport.
To the non-Irish observer, Gaelic football looks like a strange mix of elements from many different team sports. The pitch is slightly larger than rugby's, and at each end there are H-style goalposts like you'd see in American football extending upwards. As players run with the ball, they must bounce it on the ground every five steps, similar to Aussie rules. Even the ball looks strikingly similar to a volleyball.
During gameplay however, the sport is one-of-a-kind.
How It's Played
Each team has 15 players on the field at a time, plus 15 substitutes of which five can be used. Through carrying, bouncing, hand-passing, and kicking, teams try to either kick or hand pass the ball through the goal posts (worth 1 point) or into the goal itself (worth 3 points).
During play, players can tackle each other in a way that's slightly tamer than in rugby. It's illegal to use both hands when tackling, to push an opponent, or to try and wrestle the ball away from the opponent.
Penalties are also called when players go more than five steps without releasing the ball (including by bouncing or drop-kicking it back up to yourself), picking the ball off the ground with your hands instead of scooping it first with the feet, and throwing the ball.
Matches at the top level typically run 70 minutes total, played over the course of two 35-minute halves, beginning when the referee tosses the ball high in the air at midfield for the four midfielder's to fight over.
Familiar Beginnings
Like with football and rugby, modern gaelic football began in the late 1800s but takes its roots from various foot and ball games that were played for centuries prior, often by literal mobs of people across large swaths of countryside.
From the 1860s-1880s, rugby and association football started to take hold in Ireland but a few places, like Limerick, made attempts to preserve the Irish version (called caid).
The founding of the Gaelic Athletic Association (GAA) eventually led to gaelic football being officially codified and its first game being played under the new rules in 1885.
These attempts to preserve the game worked, and today it enjoys immense popularity in Ireland and also has noteworthy followings in New York, London, and even Galicia in Spain.
At the Competitive Level
One of the most unique things about gaelic football is that there's no such thing as a professional in the sport. Even those players at the sport's most senior competitions remain unpaid amateurs.
Similar to the many Olympic athletes that aren't of status to garner big sponsorship deals, many senior gaelic football players are forced to take on odd jobs while still trying to stay in the top physical condition the sport demands.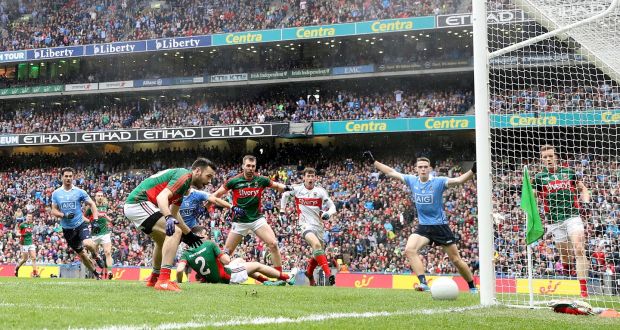 Amateurism in the sport is a sensitive subject and not without its outspoken critics such as columnist Joe Brolly: "It's a professional system that we have allowed to develop and it has become an obsession, it obliterates every other part of a person's life and players lives are basically on hold from the ages of 20 to 28 and it is getting worse."
He adds, "They are getting wee jobs looking after a gym or getting a wee hand-out here and there working as a Sky ambassador or getting a wee coaching job just to tide them over. What happens when they are 30. Do you know what happens when they are 30? Nobody gives a f**k."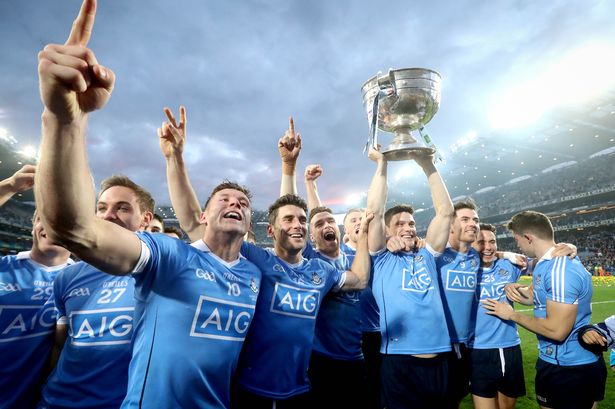 Even with that small stain on the sport, the Final of the premier All-Ireland Senior Football Championship league draws more than 80,000 fans every September.
The 2015 final drew more than a million eyeballs on TV, making it the most watched programme in Ireland that year. Although the format has changed over time, the competition has been played every year but three since 1887 by Ireland's top inter-county football teams.
The two most successful counties in the competition have been Dublin and Kerry, who have lifted the Sam Maguire Cup 26 and 37 times each, respectively.
Gaelic Legends
Despite its 130-year history, there are only 30-something gaelic footballers in the GAA Hall of Fame (though to be fair it only opened in 2013). Most of these inductees were taken from the Team of the Century (1984) and Team of the Millennium (1999) lists chosen by fans, experts, former players, GAA council members, and journalists.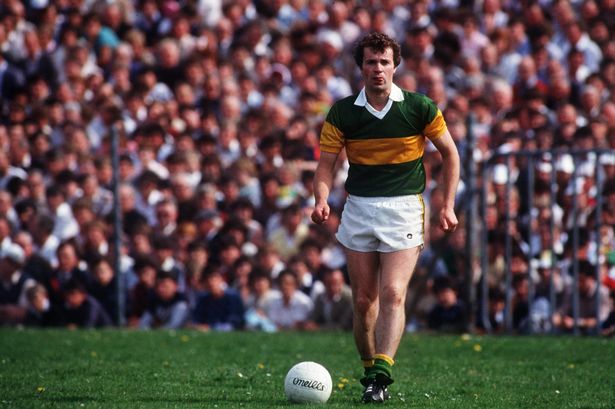 Several of these players made appearances on both lists, such as right corner forward Mikey Sheehy, who was one of the few contemporary players at the time to make the Century team. Sheehy's goal in the 1978 final remains one of the sport's most famous.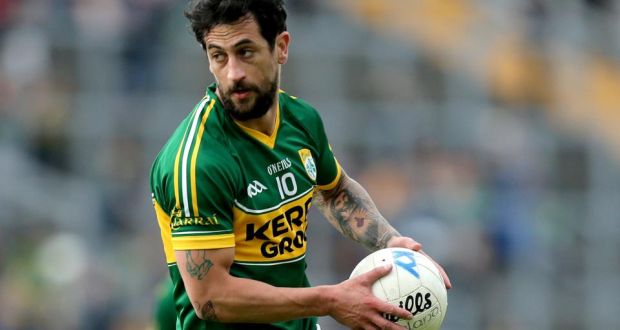 Today, the most popular Gaelic footballer (in terms of Twitter followers, of course) is Paul Galvin, although the 37-year old also writes a popular fashion column and hosts a radio show.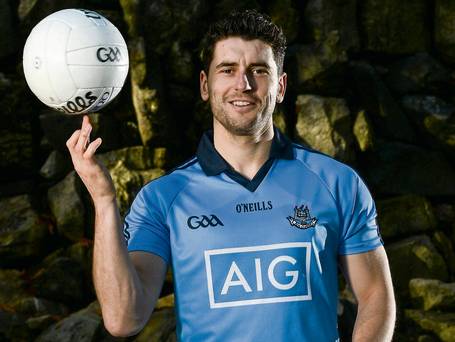 Slightly younger but no less famous is Bernard Brogan, a left-center forward for Dublin that has won numerous team and individual honors and who is also involved with owning a four-star hotel and of course, fashion.