Mobile Gaming Market Is Now Worth Over $41 Billion
Mobile gaming has become big business in a short space of time. This boom has had a massive impact on US gamers. One of the most obvious signs of this increase in popularity is the average amount of money players now spend on in-game purchases.
Let's take a look at which games have been the biggest money-spinners.
Mobile Moving To The Next Level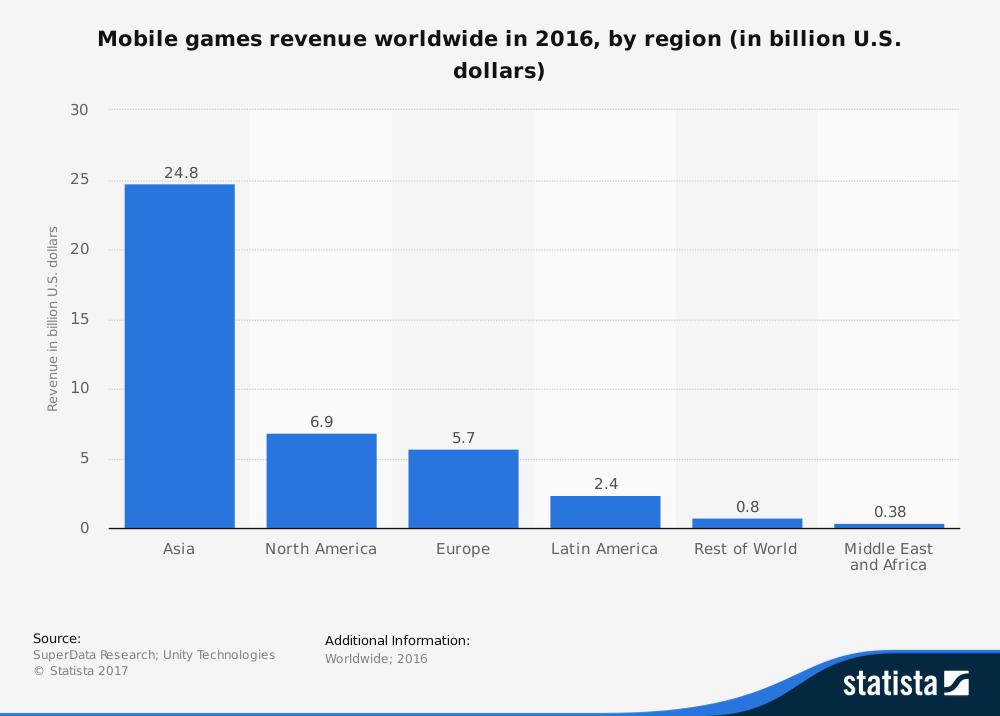 The mobile gaming industry stormed to new levels of success in 2016 when revenues reached $41 billion for the year. This was an increase of 18% compared to 2015, according to leading market researcher SuperData Research.
Mobile games were also leaps and bounds ahead of other sectors in the gaming market, including retail gaming which had revenues of $26 billion for the year. Free-to-play online gaming experienced its own revenues of $19 billion in 2016.
These revenues are only anticipated to increase in 2017 and one major reason for that is the rise in spending on in-game purchases.
Mobile Manipulating The Marketing
A number of high-profile games lead the way when it comes to in-game purchases.
Game of War – Fire Age has the highest average yearly spend on in-game purchases per player at $336. Mobile Strike is a close second with $309. In third place, is the epic franchise title Star Wars: Galaxy of Heroes at $185.
It's no massive surprise to see that the two leading titles for in-game purchases have benefited from big budget advertising campaigns.
Game of War received a budget of $40 million for its marketing over recent years. This included the use of model Kate Upton and singer Maria Carey in its television commercials. Game of War also launched their campaigns with ad spots during NFL Thursday Night Football and the Super Bowl.
Another game, Boom Beach, saw an average in-game spend of $102 per player in 2016. Its sibling titles, Clash of Clans and Clash Royale saw their figures come in at $75 and $62 per player over the year.
It's worth noting that Clash Royale became the world's top grossing game in the first month it was released. The game came out in March 2015 and had grossed over $80 million by the time April rolled around.
Big Name Is Big Money
There is hardly any shock in the fact that a number of big brand titles also feature in the top 20 list for in-game spend per player.
We're talking massive movie franchises here. Star Wars: Galaxy of Heroes has thrived under the rejuvenation of the much-loved Star Wars brand and the imminent release of Star Wars Episode VIII: The Last Jedi in December 2017 is sure to see the game maintain its in-game spend levels. 
Another movie franchise that saw a high average in-game spend per player in 2016 was Marvel Contest of Champions, with $153 per player.
This mobile game clearly reaped the rewards of Marvel's movie releases during the year, which included Deadpool, Captain America: Civil War, X-Men Apocalypse and Doctor Strange.
The Gambling Bug
One area that has seen a surge in activity is mobile casino gaming. Developers have now seen the financial rewards of this and are releasing mobile-specific casinos. You can see just how popular gambling games are in the graph below, where card, casino and dice mobile games together make up a total of $16.3 million in revenue.
An example of this is Slotomania. It boasted the fifth highest in-game spend per player during 2016 at $151.
The mobile gambling industry is guaranteed to grow over the coming year as more and more developers focus their attention on the mobile platform. It remains to be seen if Slotomania will remain a pioneer in this sector or if the competition will catch up.
Best of the Rest
A number of other well-known mobile gaming titles also landed in the top 20 list for 2016. The CrowdStar-developed Covet Fashion hit $102 per player for in-game spending over the course of the year. The fun and frolics of Cookie Jam saw $80 per player. Madden NFL Mobile witnessed in-game spends per player reach $76 for the year.