LeBron James vs. Michael Jordan: Who Is The Greatest Of All Time?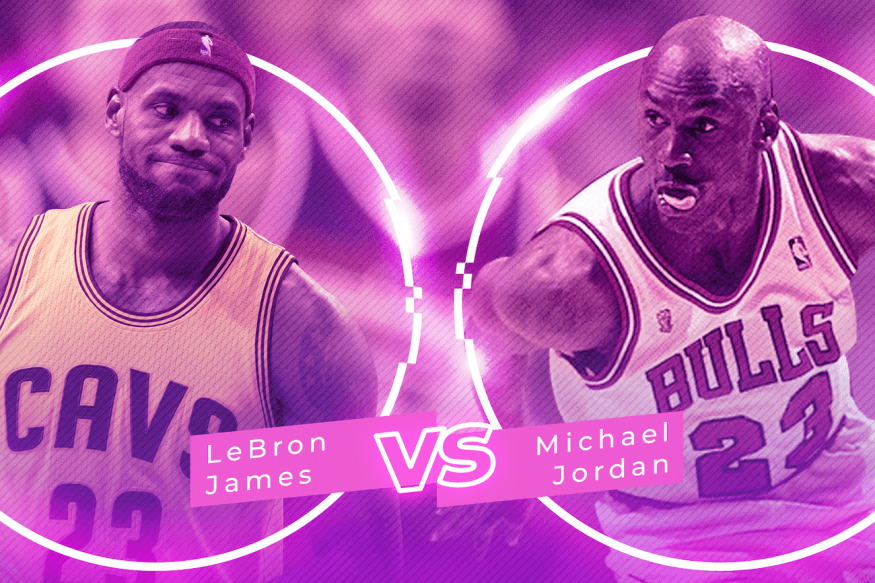 When you hear the names LeBron James and Michael Jordan, it is impossible not to think about greatness on the basketball court.
And with James taking part in the sequel to Jordan's original Space Jam movie, the two are linked together both on and off the court.
With Space Jam 2: A New Legacy now out, it's the perfect time to compare the two superstars to determine who the real GOAT is.
LeBron vs. Jordan: A Statistical Analysis
From a statistical perspective, LeBron James has proven that he is the better all-around basketball player, while Michael Jordan has him beat in the scoring department.
Jordan averaged 30.1 points per game in his career, while James is averaging 27.0 points per game during his. But thanks to James playing in over 200 more games than Jordan, LeBron has scored over 3,000 more points than Michael.
Outside of scoring, there is no debating that James has had the better all-around career. The pride of Akron, Ohio over one rebound and two assists more per game than Jordan over the course of their careers.
And while Jordan averaged a little over half a steal more per contest than James, LeBron's impact on games on the glass and with his passing have resulted in many arguments that the ex-Cavalier is superior to the Chicago Bulls legend.
In the postseason, both players raise their games as one would expect the all-time greats to do.
Jordan's scoring increased to over 33 points per game in the playoffs, while LeBron's moved up to nearly 29 points per game. Just like in the regular season, James holds a substantial edge in rebounding and assist numbers when the games matter the most.
Perhaps the most surprising thing about the statistical comparison between the two is the fact that James holds better three-point shooting and overall field goal percentages in the regular season and playoffs.
James, thought to be a more physical player than Jordan, has proven to be the more efficient shot maker, even if Jordan averaged more attempts and makes per game.
Career Awards And Accolades
There isn't a player in the modern era of professional basketball that has had the career that Michael Jordan has in terms of awards and accolades.
A six-time champion, Jordan never lost in the NBA Finals over the course of his career. He added on 10 scoring titles, five league MVP awards, six Finals MVP awards, 10 All-NBA First Team appearances and nine All-Defensive First Team appearances.
James has also had an incredibly decorated career, even if it has fallen short of Jordan on that front.
James has won four NBA titles with three teams, including one for his hometown Cleveland Cavaliers by overcoming a 3-1 deficit in the 2016 NBA Finals. James has won four Finals MVP awards, four league MVP awards, and has been named to a whopping 13 All-NBA First Teams.
While James may have the better career from a statistical point of view as an all-around player, there is no question that Michael Jordan had a better career from an accolade standpoint.
There is still time for James to make up the gap in championships and Finals MVP awards, but he will have to hurry as he is running out of time in his career.
Philosophy And Approach
Perhaps the most interesting thing about the Jordan vs. LeBron debate isn't the numerical achievements of each player.
Instead, it is how different they are as players and teammates. Both players have incredibly different approaches to the game of basketball, resulting in unique styles despite both players sharing icon status.
Jordan's approach to basketball was a ruthless one, where he would do whatever he could to win at all costs. This often resulted in disagreements with teammates, as Jordan would demand as close to perfection as possible from everyone on his team.
Had Jordan played in the age of social media, where every move is caught on camera, that behavior may have landed him in trouble during his career.
James, meanwhile, is considered a much more docile teammate. He isn't opposed to giving the ball up in late game situations, trusting teammates to make shots if defenses leave them open.
And while James is often responsible for the movement of players onto and off of his teams during the offseason, James has a reputation of being very supportive to his teammates while they are with him.
Pop Culture And Social Media Cred
From a pop culture perspective, Michael Jordan was a pioneer in that he was one of the first players to popularize sneaker culture in the sport.
Jordan's deal with Nike made him the face of their brand as he stacked up championship after championship. And from that has come an entire brand of footwear, Jordan brand, which is worn by everyone from children to college sports teams to professional athletes today.
Beyond his legacy in the world of sneakers, Jordan was regularly featured in movies and television commercials.
Without his performance in Space Jam, James wouldn't have a chance to act in Space Jam 2. And Jordan was the face of memorable ad campaigns for companies like Hanes, Gatorade and McDonalds throughout his time in the spotlight.
In terms of his social media footprint, Jordan does not use a personal social media account.
While his Jordan Brand has over 22 million Instagram followers and 4 million Twitter followers, the 90s basketball legend doesn't share his own thoughts on those platforms.
LeBron James, it can be argued, has furthered the progress that Michael Jordan made as a pioneer both on and off the basketball court.
James has dipped into acting, sure, but he has also launched his own production company where films and programming from a diverse array of voices has blossomed.
But James' real contributions to the culture around him have come from his more charitable endeavors.
James has focused on education and voter awareness campaigns as two issues where he has opted to be a leader in America.
He started his own school, and regularly provides college scholarships to those who attend. And his voter awareness campaigns have aimed to get more voters registered to take part in the electoral process in America where they may not have otherwise.
James is prolific on social media, regularly live tweeting sporting events on nights where he is not playing.
James has over 49 million Twitter followers and over 91 million Instagram followers, where he is not shy about sharing his thoughts on everything from sports to pop culture and even politics.
Who Is The GOAT?
Deciding who is better between LeBron James and Michael Jordan is a little unfair to both men.
Both were incredible at basketball, but used different philosophies to dominate the game in different ways.
Jordan preferred to be a hyper-aggressive player who would take over whenever games were close, while LeBron chose to be an all-around star who isn't afraid to pass the ball if that is the right play.
By virtue of playing and acting before LeBron, Michael Jordan is preferred by many due to the natural love of nostalgia in our society.
But there really isn't a wrong answer when picking between Jordan and LeBron.
Lead image sources:
LeBron – Keith Allison/Wikimedia Commons, CC BY-SA 2.0
MJ – mccarmona23/Flickr, CC BY 2.0