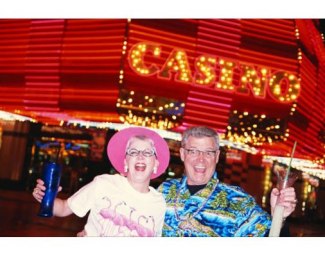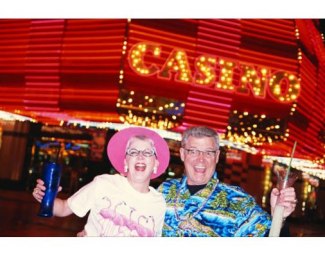 We know all you can think about when planning your next Vegas trip is the money burning a hole in your pocket, waiting to be turned in for poker chips, or craps chips, or blackjack chips, or just to be eaten surreptitiously by the colorful and noisy slot machine of your choice. But let's be honest: Sin City offers so many shows, restaurants, lounges (just to mention a few legal delights), that once you get there, you can't help but partake in at least some of the other fabulosity the City of Neon has to offer.
Following is a recap of what rates as the biggest hits (and misses) with tourists based on the Las Vegas Convention and Visitors Bureau's annual visitor profile, compiled end of last year for the year prior's top trends.
Showtime!
Vegas is still a great place to catch a show, but either the cost of tickets or too many seasons of American Idol have made show business a tad lackluster there right now: 2011 had the lowest show attendance all around for the last five years.  Shows hit a zenith back in 2008, when 72 percent of visitors caught one, vs. just 60 percent in 2011.
Lounging Around
Maybe retro shows like "Mad Men" have brought the old lounge act back into fashion, along with whiskey and red lipstick; lounge act attendance hit 73 percent in recent years, versus a low of 64 percent in 2007.
Headlining
Again, pricey tickets and a still-crappy economy may be partly to blame, but we also can't help but wonder if an awful lot of people have no flippin' clue who half these people are with theaters named after them in Vegas; whatever the reason, only 17 percent of visitors caught a show in recent years, and that's not too different than the 2007 numbers.
Not So Funny
Maybe the comedians aren't as funny, or maybe people feel like they can watch them for free in their living rooms, but seems 2011 was a sad year for the funny people: only 11 percent of Vegas tourists went to a comedy show. Possibly they were too busy crying over their lost mortgage money.
Paid Attractions
We know that doesn't even sound right, but we're not talking about that kind of attraction; we mean things like Madame Tussaud's and the Atomic Museum. About 18 percent of you were willing to take time out from losing money to go to one of these zany attractions in 2011.
Taking a Gamble
From a high in 2008 of 85 percent (right before the economy went into the outhouse), just 77 percent of people who came to Vegas in 2011 took a chance with their money in a casino.  Since we know the rest of you weren't seeing a show, or laughing at a comedian, that only leaves shopping or things we can't really discuss here.
 You're Supposed to Have a Budget??
Seems some people actually figure out how much they're willing to lose, er, spend, before they get to Vegas; what a whacky concept! The average gambling allotment was about $448 (the lowest in five years, by the way).
What Happens in Vegas Is Now Happening Everywhere
Seems the proliferation of casinos in almost every state is having an effect, and not a good one, on Sin City's popularity: only 27 percent of 2011 visitors said they'd be more inclined to come back given the opportunity to gamble elsewhere.  Back in 2007, that number was 48 percent, so looks like Vegas needs a few new tricks up its sleeve if it wants people to keep coming back.
Wait, that didn't sound right at all, did it?