Just How Easy Is It To Get Married in Las Vegas?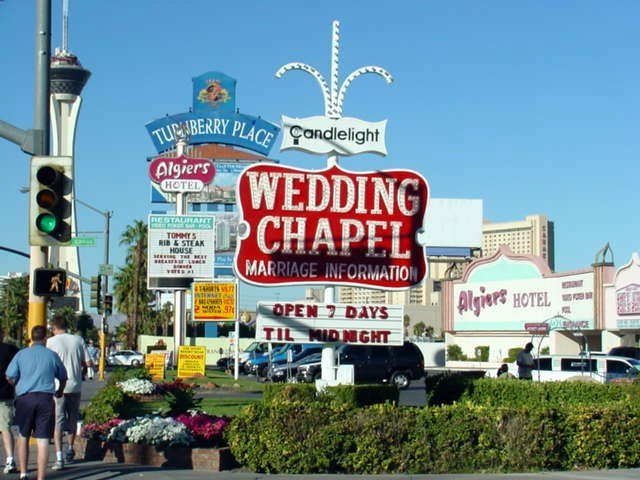 Las Vegas, home of, and famous for, round the clock gambling, extravagant shows, and shotgun weddings.
For some people, thoughts of the big day are about the romance, family and friends, dancing and some cake. For others, it's about a whirlwind elope to the city of sin and a ten- minute "ceremony," sometimes drive-thru, authorized in all likelihood by an unconvincing Elvis impersonator.
Costing around a few hundred dollars, and with a marriage license office that stays open for business until midnight every day, including holidays, Vegas became a mecca for those looking to get hitched quickly and cheaply.
Happily that structure remains in place. It's fast, simple and packages differ to suit every wallet or purse while simultaneously catering for all tastes.
Strangely though, despite people arriving to find their fortune in the vast amount of casinos, its popularity for weddings is waning.
Dry spell for the Vegas Wedding
It's fair to say that business is not exactly booming right now for the once thriving kitsch wedding industry in this bustling gambling desert metropolis.
Despite Sin City's heyday being back in the 50's and 60's, it still remains the most popular destination for weddings in the US, yet the number of ceremonies held there has declined dramatically over the last decade from 128,000 in 2004 to 81,000 in 2014.
This popularity plunge could, of course, be nothing more than a fad of fashion, while customers hunt around for fresher, alternative ideas, as the 2008 recession has unquestionably played its part too.
Perhaps young lovers have been deterred by the less than impressive success rate of celebrity shotgun weddings in the city.
Pamela Anderson's nuptials didn't last and basketball icon Dennis Rodman's marriage stood for just nine days, which, to be fair, is about a week longer than Britney Spears managed. Billy Ray Cyrus' union has held strong, although given that daughter Miley was born within a year, whether or not it can be claimed a success is up for debate.
Either way, estimates believe that this reduction in wedding ceremonies has seen the city lose over $1 billion a year in revenues, forcing many chapels to close.
Revival
On the bright side, despite the drop, that means that there are still 81,000 people out there who do opt for a Vegas tie-up over other possible destinations. What's more, with Nevada recently legalizing same-sex marriage, that number could rise substantially higher still.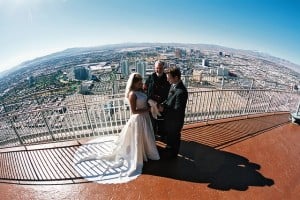 That, in part, is because it remains a conventionally easy thing to do. All that's needed is one single marriage license, valid ID, and as long as you are both over 18 and have as much as $77 for the county clerk's office, you're good to go.
There are no waiting times or the need for medical check-ups, including blood tests. As the official Vegas wedding site says, it's "Easy peasy lemon squeezy". You can even start the process before you go, providing you go there intending to get married of course. Many, as you may have guessed, meet and marry on the whim of a roulette wheel all within fifteen minutes.
Although most venues do not enforce a dress code, for the fancier among you, dresses and suits can, of course, be hired on the day.
There is no need to worry about any passport concerns surrounding surname changes after the ceremony either, as your travel documentation is still valid until you return home, where depending on the length of your stay, your marriage certificate might already be waiting for you.
So does its simplicity give hope for the future? The Las Vegas tourist board certainly believe so, yes.
You would hardly expect a city built with mob money to take such a hit sitting down, and true to form, Sin City is striking back.
Las Vegas has recently launched a promotional campaign aiming to change how people perceive the wedding industry there, with hopes to pull in couples and their new money back into the city, having a particular focus on international tourists.
The point is stretched further still by highlighting the fact that Vegas is also one of the world's most popular honeymoon destinations, and encouraging customers to not only stick around after the wedding, but to also make the occasion an annual event beginning with their anniversaries.
All that remains for the beloved to do now is choose the type of wedding they want. As more and more couples neglect the idea of walking down an isle showered in rose petals, a growing number of unconventional wedding ceremonies have sprung up.
From sky diving to tying the knot submerged in an aquarium, Vegas offers as it always has, something for everyone.  By making the process as simple as possible, it shouldn't be long before many choose to do so once more, in between games of roulette and slots of course.
Viva Las Vegas weddings!