How To Get a Job in a Top Vegas Show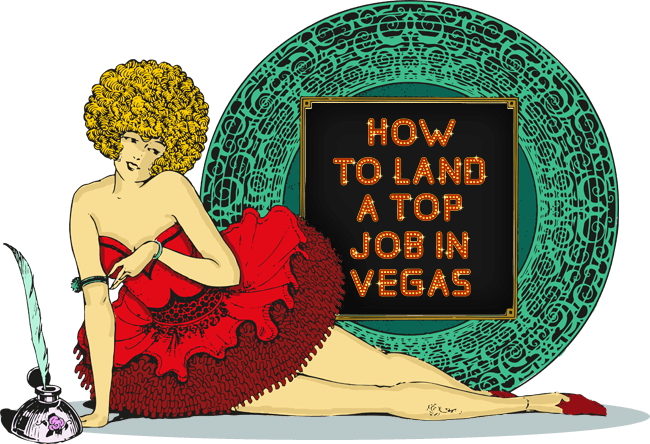 Las Vegas is all about the razzle, dazzle and showmanship so it isn't surprising that thousands of performers make a pilgrimage to Sin City every year to try and get their big break in the entertainment industry.
It's a cut throat world out there, so how exactly do people make it to the big time in show business? Could you become a Vegas star too?

Pick Your Show
The first thing you need to do when deciding how to crack it in Las Vegas is decide which shows you'd love to be involved in.
There are hundreds of lavish performances taking place across the city at a variety of venues every night of the week. Just pin point the ones that take your fancy.
Can you imagine yourself performing in the high-risk acrobatics of Cirque du Soleil in Mystere? Do you have the discipline to be a part of the Blue Man Group at the Luxor? Or can you picture yourself performing as a tribute act in the World's Greatest Rock Show at the Stratosphere?


How to Apply?
There are a number of ways to try and get a job in a top Las Vegas show. The websites of the performance groups are a good place to start with applications available online.
Cynics claim that you can only secure a performance job if you know somebody already in the business. Contacts may be important but the opportunities are still there.
Casting calls and open auditions are a frequent occurrence. You just need to keep your eyes open.
You also need to be patient. Some companies will not hire you unless you have been resident in Las Vegas for three years.
Not sure if you're ready for a life in Cirque du Soleil? You can catch a glimpse of what to expect in this awesome documentary which follows the stories of would-be acrobats as they go through the audition process: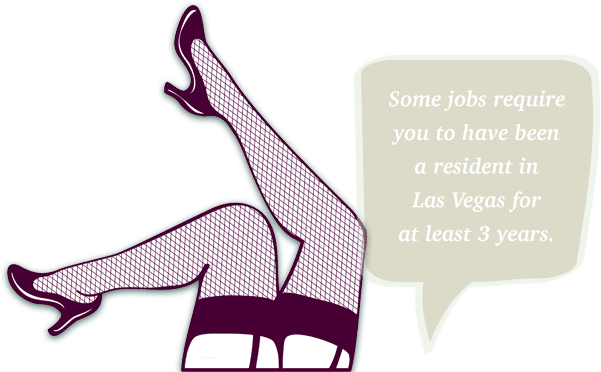 Do Your Research
This is a necessity for any job application. We've all attended a job interview that we're not too bothered about and when it comes to the questions about the company, well we have no idea what to say. If this job is your dream role then you'll have to be prepared to answer anything.
You should know what shows the organisation performs, when they perform, where they perform and what the performances entail. Every little detail from the name of the show to the main performers, to the best and worst reviews should be memorized.
Making a little extra effort like that is what can help make you stand out from the other hopefuls who are auditioning.
The last thing you want to do is turn up to an audition for Le Reve covered in blue body paint or attend a Magic Mike audition without understanding what is required. You'll only embarrass yourself.
You should also be prepared for anything. Reddit user tronk shared a story about how she was asked to sing the American national anthem but in a manner as if they were an escaped convict from an insane asylum



Be Clinical
Your chances of success in securing a job in a Las Vegas show will depend on how clinical you are when identifying your strengths.
Take the hiring policy for Cirque du Soleil as an example. They immediately request your desired discipline. Clowns, dancers, singers, sports performers, actors, circus artists, musicians and a range of other talents are offered for selection.
You just need to work out which one of those categories you are most suited to performing in.


Take Inspiration from Vegas
Why do tourists visit Las Vegas? It's simple. They want to get that authentic feel for the city. A place that is so unique means you will need to tap into that spirit of the city.
Before an audition take a walk up and down the Strip. Enjoy a walk under the LED canopy of the Fremont Street Experience. Take some deep breaths underneath the "Welcome to Las Vegas" sign. Absorb the Vegas vibe.
Shows such as "Vegas! The Show" encapsulate what the city and its history are all about. To stand the best chance of nailing your dream job you'll need to become the personification of Vegas.


What to Expect
Performers in the top Las Vegas shows can earn as little as $15,000 and as much as $250,000 per year depending on their roles and experience.
It is a potentially lucrative career but the demands are very high. The majority of shows offer two performances each night with only a small number of days off each run.
Big money can be made from performing in these shows but you will earn every dime of it.


Learn from Experience
There is no substitute for experience. Showgirl and TV anchor Maren Wade once wrote that "Las Vegas is a land of opportunities!".
She says that the life of a performer in Vegas is better than it is in any other place "Here, it's not uncommon for entertainers to own cars, houses and, most importantly, houses with swimming pools! How many performers in New York and L.A. can say the same?"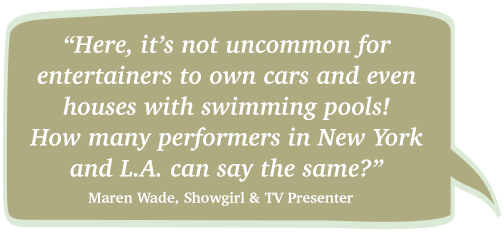 People have this image that if you go to Sin City in the pursuit of becoming an entertainer, you'll just end up in a cheap ass strip club as one of the pole dancers.
Take something from everything. The good, the bad, and the ugly. You may well go to Las Vegas with pie in the sky ideas but in Vegas, anything is possible!