How Much Do Casino Security Officers Earn Around The USA?
The noble security officer is the understated hero of the casino. They work tirelessly to ensure the safety and welfare of us players. They fight against the forces of evil that attempt to cast a dark cloud over the gaming industry and they get access to a whole heap of awesome secrets.
Criminals, cheats and scum bags are prevented from carrying out their dastardly plans by security staff up and down the US. The potential risk for casino surveillance staff is high. Life-threatening in some cases.
So is it a job worth doing? Here's a look at how much casino security officers earn in each US state.
An Average Wage For An Above Average Job?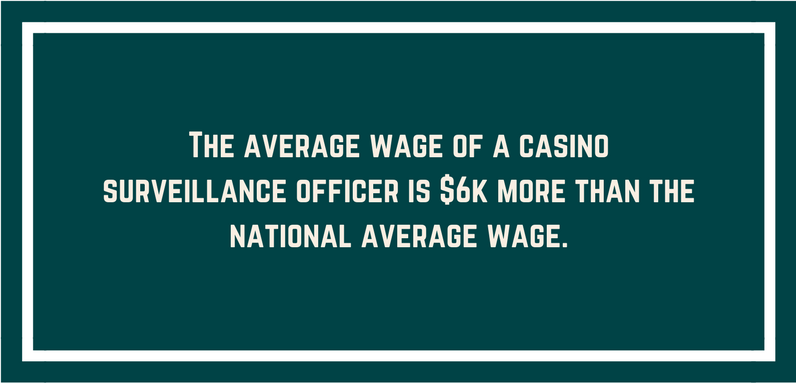 There is a stigma attached to a career in security. Outsiders seem to think that surveillance officers just sit around watching Two and a Half Men (sorry, we mean CCTV footage), as they eat donuts and drink coffee. That stigma is unfair and unrealistic, as any security guard will tell you.
Security officers, particularly those working in the casino industry, need to have the eyesight of a hawk and the patience of a saint. If they take their eye off the ball for just a second, a thief could strike and steal millions from under the nose of the casino.
So, you would think that those individuals that are employed by casinos as security officers would be paid a king's ransom, right?
They've got a high level of responsibility placed on their shoulders, after all. Add in the potential risk of physical and verbal abuse from customers and then sprinkle with a liberal helping of possible death if they get caught up in an armed raid and you've got one seriously specialised and dangerous job.
It is reported that the average US salary is $32,000 a year for a 40 hour week. This will vary widely depending on an individual's qualifications and background but that is the median figure across all groups in the US. The average salary for a casino security officer in the US is only $38,249.
Location, Location, Location?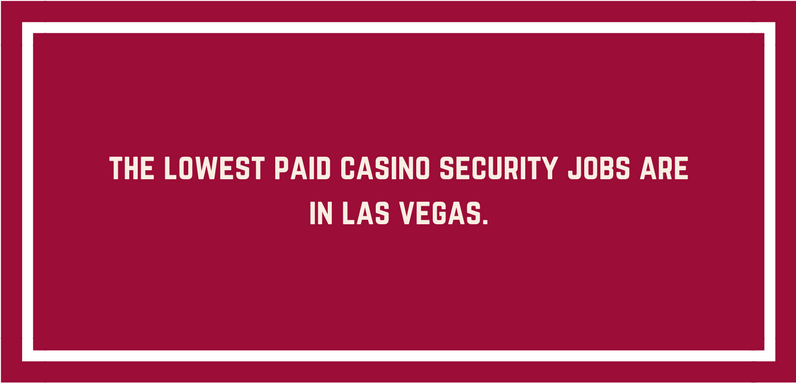 If we take a look at the average salary for security officers at a range of casinos across the US then it soon becomes clear how varied the figures are.
In Las Vegas, the average salary of $38,703 is only slightly higher than the national average. However, 10% of security staff at casinos in the city are earning considerably more, at around at least $57,366. That would obviously be for roles in very important positions at highly exclusive premises.
At least there is some potential to earn big bucks in Sin City without gambling.
If we compare the Vegas salary statistics to other regions in and around the area, it makes for fascinating reading. Reno boasts an average salary for casino security staff of $38,480. 10% of those earn over $57,036.
This is undoubtedly due to the threat to security being lower in the region, thanks to the irresistible lure The Strip has for criminals.
Atlantic City, New Jersey is another big American casino hub. It's not quite the mega power it once was but your average casino security staff member can still pull in $39,807. This higher than the Las Vegas average.
10% of security staff at Atlantic City casinos are also earning more than $59,002 each year.
Interestingly, if we venture out to Mashantucket, Connecticut which is the position of Foxwoods Casino Resort, you will find that the average wage for a casino security staff member is $41,003. 10% of the security staff population in the area are earning at least $60,775.
We can take things up another level by venturing to New York City, New York too. Your average casino security staff member here will earn an impressive $44,279 with 10% of those workers earning at least $65,631 each year.
A Lot To Consider…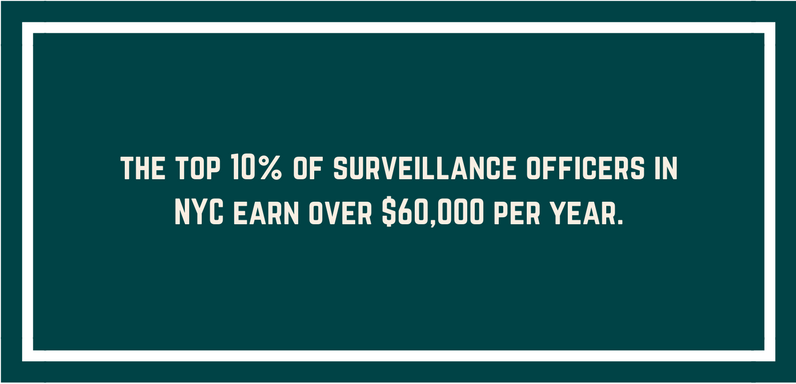 The average wage a casino security officer earns can depend on a lot of factors. Las Vegas surprisingly offers some of the lowest average paid jobs in the sector. This is likely to be due to the fact there are so many casinos within the area and so the the industry is saturated.
It is also likely that in areas where there are fewer casinos, there is less competition to take the revenue. That means casinos have deeper pockets to pay their staff.
Technology is also an influential aspect. The main gambling hubs of Las Vegas and Atlantic City have the know-how and experience to develop technology that can take care of the majority of security. There is a smaller demand for human security with computerized methods becoming more frequently used.
One other factor to consider is also the reputation of a city or state for its gambling.
If you are looking to work as a security officer in a casino then you are more likely to try your luck in Las Vegas or Atlantic City. Casinos can afford to pay less because there is more demand for the positions. In places such as the Mohegan Sun in Boston, Massachusetts or Thunder Valley Casino Resort in Sacramento, California there is not such an overwhelming pool of potential casino security staff, so higher wages are required to attract new employees.
Want to know more about the secretive world of casino security? Check out our glimpse behind-the-scenes of major casinos.