Great Xmas Gifts For Poker Players and Gamblers
Top 10 Gambler Gifts for Christmas 2013
Christmas is around the corner and now's the time to think of a great gift for the gambler in your life. To make your life easier, we've rounded up 10 of the hottest Christmas gifts you'll find online. You can bet all your money that they'll squeal like little kids when they find one of these bad boys under the tree.
1. 8GB Red Poker Chip USB Flash Drive by GadgetMe Brands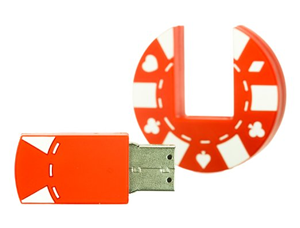 What better way to store all those Christmas carols and assorted holiday songs than in an USB flash drive shaped like a red poker chip.
Let this cool and portable USB flash drive declare your love for the game. With an 8GB capacity you can store all the data, music, pictures and videos in one handy device. This USB flash drive is rubber coated, making it waterproof and shock resistant. Ideal for giving this Christmas, this flash drive also comes in its own gift box.
Buy it now from Amazon: amzn.to/17tVvEL
Price: $12.95
2. 24K 99.9% Gold Plated Playing Cards with Mahogany Box and Certificate by Vgotgifts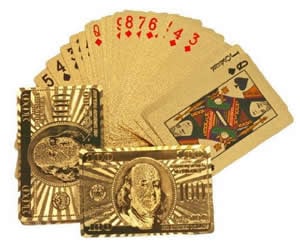 Deck the halls with boughs of holly…
And impress your loved ones with this gold-plated deck of playing cards!
Sporting a shiny 24-karat 99.9% gold covering, these cards will delight and mesmerise the lucky one who finds them under the tree this Christmas. This standard 54-card deck is extremely durable and scratch-resistant, and can be stored in the handsome mahogany box included.
Buy it now from Amazon: amzn.to/1cU59Ts
Price: $18.44
3. Hand Painted Poker Card Guard Protector by Da Vinci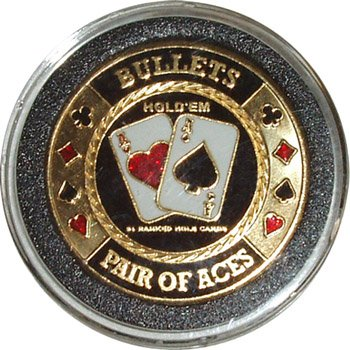 And what better way to celebrate the Christmas season than with a game of poker? Just make sure the chilly winds don't blow away your cards with this awesome hand-painted card protector.
This beautifully crafted card guard is made out of solid brass and has a nice hefty feel to it. It will make sure your cards will stay put wherever you leave them. It also has its own acrylic protective case to keep it safe from the elements… or envious friends!
Buy it now from Amazon: amzn.to/1aoRCPs
Price: $8.49
4. Playing Card Holder Curved Wood (Set of 2) by C.H.H.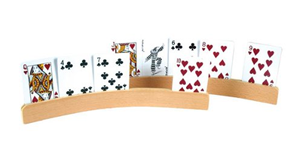 Look ma, no hands!
This set of stylish wooden card holders will go down a treat with any poker player who wants to concentrate on the game without the bothersome balancing act.
Both younger and older players will find this gift a boon to their game. The light and sturdy holder holds up to five cards and can be used for any kind of poker game.
Buy it now from Amazon: amzn.to/1e355hk
Price: $9.94
5. Casino 6-Deck Automatic Card Shuffler by Trademark Poker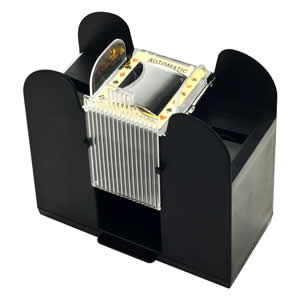 Bring a touch of the real casino experience to your living room. This 6-deck automatic card shuffler is just the ticket to you to make your poker nights even more unforgettable.
Dealing cards is a snap with the automatic shuffler! At the press of a button, it can shuffle standard or bridge-size card using a movement that closely mimics that done by hand by pro dealers. The shuffler requires four C batteries (not included) and it's guaranteed to impress your friends with its quick and efficient shuffling.
Buy it now from Amazon: amzn.to/18rz2TG
Price: $12.00
6. Giant Casino Chip Drink Coasters by Great Big Stuff
While your automatic shuffler is busy at work, sit back and enjoy the cold one that you've been keeping on your casino chip drink coaster.
Show the world you're a true poker aficionado with this unique set of giant-sized coasters. Fashioned after the classic $100 chips at Caesar's Palace in Las Vegas, these will definitely set the mood for your next poker meet and make you look like a winner. These coasters are made of high-quality material and the cork backs help protect your table.
Buy it now from Amazon: amzn.to/1eLsqa8
Price: $20.87
7. EZ Drinker Shot Spinning Roulette Game Set (16-Piece) by EZ Drinker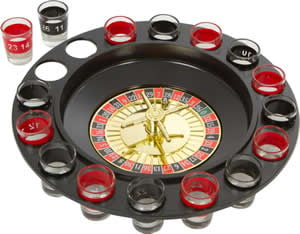 If you need a break from all the poker action or want to add that touch of risk at your party, check out this fantastic drink shot spinning roulette.
Red or black? Winning was never this tasty. By the end of night, the roulette won't be the only thing spinning round! This gift comes with 16 numbered shot glasses and two metallic balls — you know you can't wait to try one out so don't let it slip right out your hands.
Buy it now from Amazon: amzn.to/1fB6Brv
Price: $12.19
8. Poker/Blackjack Dealing Shoe (6-Deck) by Trademark Poker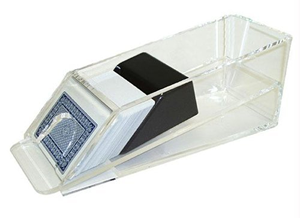 It's the little details that count. And this neat dealing shoe will go you a long way to impressing your friends when they come over for the next game.
This professional dealing shoe is ideal for blackjack or poker and adds that Vegas touch to your home. The heavy-duty steel roller produces a silky smooth action and can handle up to six decks for easy dealing. If you're looking for a great Christmas present, you won't find a better deal than this!
Buy it now from Amazon: amzn.to/1bD59lY
Price: $9.31
9. Two-Sided Texas Holdem & Blackjack Casino Felt Layout by Da Vinci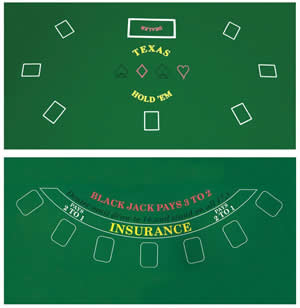 Play it like the pros do and spice up your poker table with this luxurious green felt layout. When the cards are in the air, you know you want only the best felt to catch 'em.
You can turn any ordinary table into a casino-grade poker table in a bat of an eye. Texas Holdem or Blackjack tonight? No worries, you choose! Just flip the felt over and you can play any game in an instant. This two-sided felt measures 36" by 72" and fits nicely over most table tops.
Buy it now from Amazon: amzn.to/1i9cLBw
Price: $16.97
10. The Helmsley Dining/Poker Table & Chair Package by BBO Poker Tables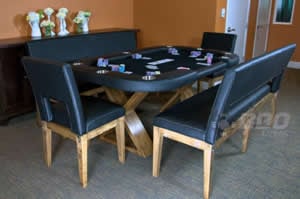 Finally, for those among you who want to splurge it big this Yule, nothing cuts it like a brand-new, world-class poker table… that doubles as a normal dining table!
The dishes can wait. Once you clear up the mess, just open up the dining surface of this table to reveal a unique rectangular poker table with black felted playing surface, ample cushioned armrests, and cup holders for 8.
You'll also get two matching benches and 2 end chairs with the same black leather and rustic wood finish. This table and chair combo gift is one present they will surely never forget!
Buy it now from Amazon: amzn.to/HMvncr
Price: $2,599.99