Footballing Brothers that Have Faced or Could Face Each Other Internationally
International football is packed full of siblings that have both managed to reach the pinnacle of representing their national side together. However, the globalization of the game has now seen an increase in brothers that have not only both earned international caps but done so for different countries. Here are 4 sets of brothers that have or could face each other on the international stage.
Paul Pogba (France) v Florentin Pogba and Mathias Pogba (Guinea)
Some football fans may not be aware that Manchester United midfielder Paul Pogba has twin older brothers who are both also professional footballers. Florentin and Mathias Pogba are not quite worth Paul's £89.3 million fee, but they have still been able to reach the admirable standard of international football. Paul has over 50 caps for France, whereas Florentin and Mathias have represented the Guinea national team 20 and 5 times respectively.
How have the three brothers ended up having split loyalties when it came to international representation? Paul made the decision to play for the country he was born in. Florentin and Mathias did so too, as they were born in their parents' homeland Guinea three years before. The brothers have not faced each other on the international stage yet, but time is still on their side so it may still happen in a future friendly or even World Cup.
Jerome Boateng (Germany) v Kevin-Prince Boateng (Ghana)
One of the more interesting sibling rivalries on the international is that of the Boateng brothers. OK, so they are half-brothers, but it still counts. Jerome is one of the most highly-rated defenders in world football and currently plays for German giants Bayern Munich. He has earned 70 caps for Germany. Kevin-Prince has also played for a number of top European clubs over the years, and is currently in the Bundesliga too with Eintracht Frankfurt. He has represented Ghana on 15 occasions at international level.
The pair are paternal half-brothers, with their father being from Ghana. Both were born in Berlin so had the option to represent Germany or Ghana. Jerome opted for Germany. Kevin-Prince switched to Ghana, after representing the Germans at youth level. Interestingly, these brothers have actually encountered each other at international football twice. The first meeting was a group stage game at the 2010 World Cup in South Africa. Germany won that game 1-0. Four years later, the second meeting took place at the same stage at the 2014 World Cup in Brazil. The game ended in a 2-2 draw but Jerome did go on to lift the trophy with his team-mates. The brothers have been denied the chance of a third meeting, with Ghana failing to qualify for the 2018 World Cup.
Thiago Alcantara (Spain) v Rafinha Alcantara (Brazil)
Football is certainly a family affair in the Alcantara household, with Thiago and Rafinha being the sons of former Brazil international defensive midfielder and 1994 World Cup winner Mazinho. On top of that, both players have earned caps at international level themselves. Thiago is a team-mate of the aforementioned Jerome Boateng at Bayern Munich, and has 25 Spain caps. Rafinha is currently on loan with Serie A side Inter Milan from La Liga club Barcelona, and has made two appearances for the Brazil national team.
It seems rare that not only are two brothers who are sons of a former international footballer playing at international level but representing different nations. Furthermore, it's incredible to think that they've done it representing such prolific footballing nations as Spain and Brazil. Thiago chose to represent Spain having lived there since he was 5 years old. Rafinha went with his birth nation of Brazil. Intriguingly, Thiago was actually born in Italy, so he could have chosen to be eligible for the Azzurri as well. Both Thiago and Rafinha could well be involved with their national sides at this summer's World Cup so there is the potential for a brotherly clash in Russia.
Granit Xhaka (Switzerland) v Taulant Xhaka (Albania)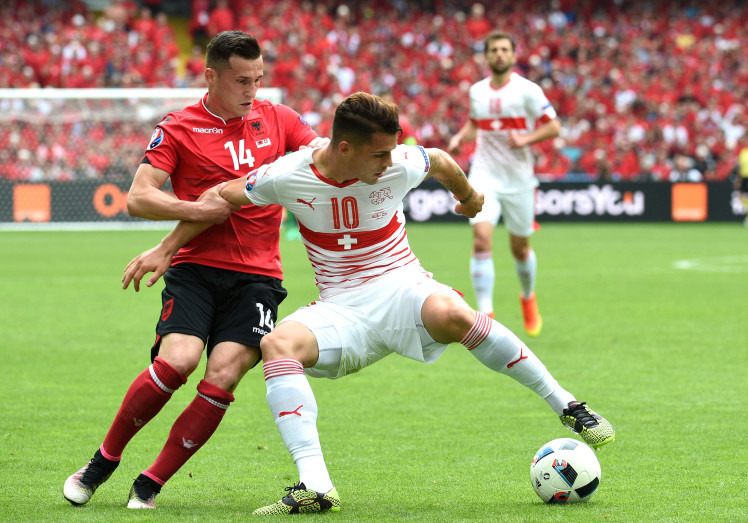 It always seemed that Granit and Taulant Xhaka were destined to rise through the ranks of Swiss international football together. The two brothers represented Switzerland at various age ranges until under-21 level. However, when it came to choosing which nation to represent at full international level the pair held differing views. Granit selected his place of birth of Switzerland, for whom he has since managed to earn 61 international caps. Taulant decided to play for the country of his Kosovo Albanian parents, who originally lived in Serbia. He has played for Albania 20 times.
The two brothers were always likely to come up against each other in an international game at some point, with both of their nations participating in the European section of the World Cup and European Championship qualifiers. Their solitary meeting so far came at Euro 2016 when Switzerland beat Albania 1-0 in the group stage. Their mother watched on as the brothers made history as the first siblings to play against each other at a European Championship. It ended on a sour note for Taulant, who was filmed throwing a bottle of water in anger after being substituted. Any future meetings will have to wait until after this summer's World Cup with Albania failing to qualify through their group.